After its 86-65 win over Texas on Monday, the Connecticut women's basketball team has advanced to the Final Four. The Huskies will play Oregon State in Sunday's first semifinal game. In other news, the sun rose in the East this morning and the Browns don't have a competent quarterback.
This is UConn's ninth straight Final Four, and a week from now, coach Geno Auriemma and his crew will likely be celebrating their fourth consecutive national title. It will be their 11th championship overall (all since 1995 and all but one since 2000) and sixth undefeated season.
Amid all this winning, this year's UConn team feels simultaneously historic and familiar. We've seen the Huskies blow away competition like this before, but the duration and extent of their dominance is special.
In four NCAA Tournament wins, UConn has outscored opponents 382-203, for an average margin of victory of 44.8 points. The team that has come closest to unseating the Huskies in this tournament, 2-seeded Texas, trailed by 15 at halftime. Star forward Breanna Stewart, seeking her unprecedented fourth Final Four Most Outstanding Player Award, has averaged 20.5 points, 12 rebounds, four blocks and three steals a game in the tournament.
UConn's Breanna Stewart is named unanimous AP All-American, becoming 6th women's player to make 3 All-America teams. pic.twitter.com/q255hTa1mw

— SportsCenter (@SportsCenter) March 28, 2016
Clearly, none of the UConn's contemporary foes can compete with this team. The only question of this team's greatness is how it compares to ghosts of Huskies past.
This 2016 UConn team makes many previous title-winners look jayvee squads. No other Huskies group has reached the Final Four with a wider margin of victory and few have come close. UConn's 10 championship teams won their first four games by an average of only 35.2 points per game. Here's the average margin of victory in the first four rounds of the NCAA Tournament for every Huskies Final Four team:
1991 – 5
1995* – 25.3
1996 – 24.8
2000* – 36.5
2001 – 37.5
2002* – 31.5
2003* – 23
2004* – 21.8
2008 – 24.8
2009* – 27.5
2010* – 42
2011 – 25
2012 – 28.8
2013* – 39.3
2014* – 29
2015* – 41
2016 – 44.8
*Won title
You would think that over time, as women's basketball grows in exposure and new generations of kids grow up playing the game, the playing field would level, but UConn actually seems to get even more dominant in the tournament as time passes. This team has won more easily than the ground-breaking 1995 Rebecca Lobo-led team, more easily than the 2002 team with Diana Taurasi, Sue Bird and Swin Cash, more easily than the 2004 team that starred Taurasi at the peak of her powers and more easily than the 2010 team that finished undefeated for the second straight year, behind Maya Moore.
The current Huskies are closing in on the Moore-era team's record for consecutive victories while vying to four-peat for the first time in program history. And they're winning by more than ever.
This is an actual final score in the Sweet 16.

The UConn women are something else. pic.twitter.com/6lK3FbMETh

— CBS Sports (@CBSSports) March 26, 2016
So is this the greatest UConn team ever?
Early in the season, it didn't look that way. The Huskies beat Notre Dame and Maryland by only 10 points apiece and South Florida by only 16. But since that latter "narrow" loss, UConn has had just one game decided by fewer than 20 points: a 12-point win over No. 2 South Carolina. No team this year has come away from a game against UConn with even the dignity of a single-digit loss.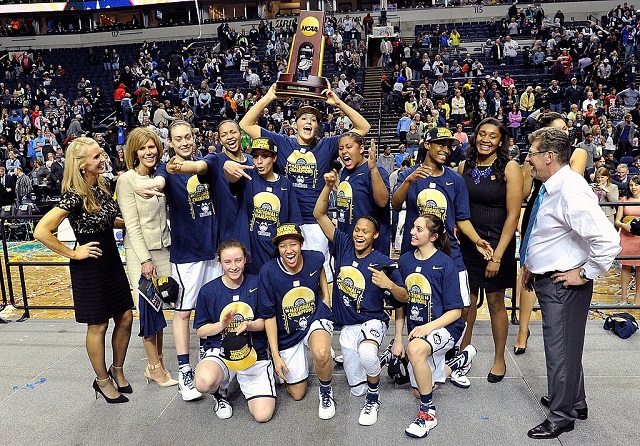 Incredible as that sounds, it's right in line with other great UConn teams. The 2002 Huskies won only a few games by fewer than 20 points, the closest being a nine-point win over Virginia Tech. Auriemma's 2010 group had a similar profile: tons of blow-outs, a 12-point win, a 14-point win, a 16-point win. That team's only single-digit victory came against Stanford in the national title game, which UConn won 53-47. And the undefeated 2014 team, with a sophomore Stewart leading the way, won every game by at least 11.
There's little point in picking a favorite among these teams. To go an entire season without facing even the threat of a loss is an insane accomplishment that can't really be further qualified. The current Huskies team may or may not be the best in program history, but it hardly matters because being on the short list of best in program history is achievement enough.
Now all UConn has to do is win two more games. Not that that figures to be much of a problem.