Sports and fashion are two explosive worlds that have increasingly embraced one another with each passing week. The budding bond is akin to the unbreakable friendship of Beavis and Butt-Head. They go hand in hand now. It works for the player, it works for the brands, and most of the time it even works for the fans.
What true naturals like Joe Namath thought was simply "lookin' smooth" has turned into a giant publicity spectacle, which often leads to various endorsements from brands looking to move that all-important needle. And that's when things inevitably snowball into an attention-forced abyss, like Brian Orakpo insisting on becoming the modern day Namath or Nick Young opting to flash more chest hair than WWE great, Giant Gonzalez.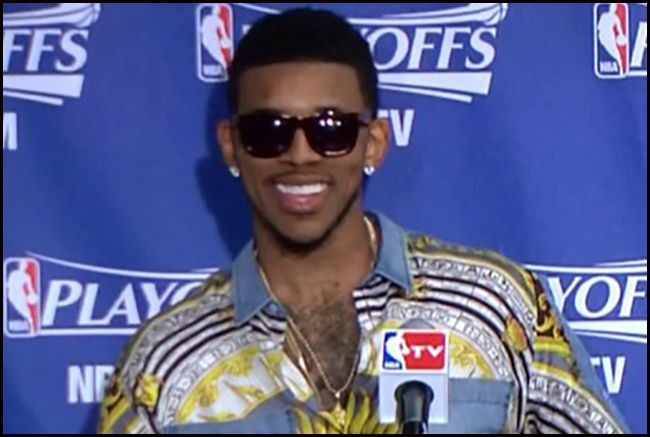 But then there's all of those reliable fans, who — while always clamoring for the camera — never bow to the whims of snooty, highbrow fashionistas. What they do bring is a unique, expressive element of their own choosing, and one that usually coincides with just how bad or good their team is performing.
And that — coupled with athletes, media personalities, and even spirited mascots — is what this very space is here to embrace.
*****
The MSG Network
Cheers to MSG's Jill Martin for challenging Clyde Frazier's shoes. But Crocodile Dundee — and anyone who makes hunting alligators a chief priority — never stood a chance. In the name of healthy feet, please keep challenging yourself.
Helpful Hint: Actually, we ALL win in this rare instance. Keep pushing.
*****
Kevin Weekes
This is beautiful, Kevin. What is that, velvet? Why yes. Yes, it is.
Helpful Hint: Holy crap, that is velvet! You just set the proper tone for the remainder of the season.
*****
Morgan Cox
https://twitter.com/Ravens/status/693934602574925824?lang=en
If you're gonna get invited to the Pro Bowl, these are the shoes that could inspire anyone to STRUT TO THE BEAT.
Helpful Hint: I don't care who you are, use Sunscreen 175. My mom agrees.
*****
The Latest Jordans
And the award for the most amazing shoes of the season goes to … Marquette Basketball? It appears so.
Helpful Hint: Please become the chief advocate of important feet. Mainly, LeBrons, Kobes, and ALL future Jordans.1
*****
The Toledo Walleye!
Question: C'mon, man, really?
Answer: YES. This was an apparent ode to Don Cherry, the lord of any and ALL checker ever played.
*****
Hot Dog Guy!
If you can't appreciate the jarring fact that someone dressed up like a giant hot dog in the name of missed foul shots, I don't want to know you.
Helpful Hint: Add ketchup. Twitter, and the better part of the world, will break.
*****
Don Cherry
Amazingly enough, this is a subdued version of Don Cherry and a BEAUTIFUL version of Don Cherry.
Helpful Hint: Please provide link to said jacket.
*****
I'm not sure what's worse, my willingness to wear either of these hats, or the EXISTENCE of these hats.
Helpful Hint: Seek help.
*****
Clyde Frazier
We're only halfway into the NBA season, so please don't tell me WALT CLYDE FRAZIER of all people is getting bored.
It just can't be…
Oh my GOD, it be..
The idea that Walt Frazier wore the same suit but in different combinations is basically the day the music DIED.
*****
Larry Bird socks! I'm not sure there's anything negative to say about such a wonderful existence.
Helpful Hint: Purchase Chuck Person socks for the sole purpose of breaking Bird's back.
*****
James Jones
A hoodie underneath a splashy jacket? Brilliant,
Helpful Hint: It's an amazing statement, but people hate it. Tread carefully.
*****
Marco Rubio
He's being ironic, right? To get the Brooklyn vote, right? Because — while Under Armour is having an out of this world kind of year — Marco Rubio is doing his very best to make it very awful.
Helpful Hint: It's VERY simple. You either go all-in on casual, or you don't.
*****
Paul George's Shoes
Q: Does anyone have the sudden urge to go bowling?
*****
I'm not sure what's scarier, Cam Newton's WWE inspired pants, or the fact there's a "rock group" called Steel Panther. It's honestly a disturbing tie.
Helpful Hint: Wear pants. Actual pants that don't instantly jolt memories of the nWo's finest moments. Thanks in advance.
*****
Seriously, this getup is amazing. Don't you dare say you wouldn't do the exact same thing. Cam's title run is more fascinating than anything Hogan or Savage ever did.
Helpful Hint: Just don't try to outdo Ric Flair, because Woooooooooooo!
*****
 DeMarcus Ware
DeMarcus Ware is the only person even remotely comfortable in this photo. That chunky chain oozes confidence, while the other guys are left with arm decisions. Very bad arm decisions.
*****
Are you kidding me with these things? LeBron could wear snorkeling equipment and still look miles ahead of whatever this shoe is supposed to be.
*****
Kenny Anderson!
Kenny Anderson dressed in black, head to toe, playing off of Marlo's all white knight? Yes, that warrants commentary and serves as an exemplary form of the embattled sports world we've all come to know and embrace.
*****
The beauty of @NHLTies is that is centers on TIES, and OH MY GOD THAT'S A BAD TIE.
Helpful Hint: Purchase paper shredder. Send tie through said paper shredder.
*****
The Buccaneers
Let's make this a succicbt staement: YES.
Helpful Hint: Seriously, these unis are amazing. All day every Sunday would be a delight.
*****
Bruce Arians
The NFL season is just days away from becoming a memory, so this photo is going to sit here because Bruce Arians is amazing.
Helpful Hint: Absolutely love the style and will pay you to wear a spinner cap. For the love of the people, ya' gottta do it, man.
*****
Honorable Rewind To Glory
---
Previous installments of this weekly feature from freelance writer Tim Ryan can be found right here.