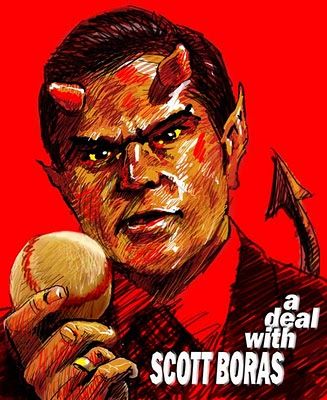 It has been a quiet off-season so far for uber-agent Scott Boras. Aside from some unnecessarily contentious negotiations between the Diamondbacks and Willie Bloomquist, the most successful (and reviled) agent in baseball hasn't really done anything. But that is all about to change because as of today, Boras now has the entire free agent market by the short and curlies, which is exactly how he likes it.
With the bidding for Yu Darvish over, Carlos Beltran signing with the Cardinals and Andrew Bailey getting dealt to the Red Sox, Boras is now the proud representation for the best of anything a MLB team might need this off-season.
Looking to add an elite bat? Then you will have to talk to Scott Boras and read through his 73-page manifesto on the greatness of Prince Fielder if you want to get it done. Even without all the unnecessary reading material, it is plain to see that Fielder is far and away, if not the only, difference making position player available.
Or perhaps you want to bolster your rotation for the next few years? Well then, look no further than Edwin Jackson. He may not quite be as talented and accomplished as Roy Oswalt or Hiroki Kuroda, but he's had a very good career and Boras even has a somewhat convincing argument that bringing in the 28-year old Jackson is actually a better investment than the highly coveted Yu Darvish.
Ah, I see, it is really a closer that your team desires, no? Can Scott Boras interest you in a Ryan Madson perhaps? If you need saves, you can either go with the consistent and dominant Madson or you can sign soon-to-be 37-year old Francisco Cordero and hope someone discovers the Fountain of Youth. It's your choice.
Actually, no it isn't, not with Scott Boras involved. When your dealing with him, there is no choice other than the one he gives you, especially at this point of the off-season. Sure, right now it looks like Boras is trying to find a massive contract for Fielder in a market where nobody has shown any interest in giving him such a deal, but just give it some more time. Last season, Boras found himself in a similar position with Adrian Beltre, but Boras waited out the market until he finally convinced the Rangers that they needed Beltre to push them over the top. Surely he can play the same Jedi mind trick on a club hoping to make a similar leap into contender status (if he doesn't pull the same stunt on the Rangers themselves first).
Ryan Madson's situation may look dire right now in lieu of the last obvious big spender with a need for a closer, Boston, acquiring Andrew Bailey. But the same could be said for Rafael Soriano last off-season. Yes, the same Rafael Soriano who got a fat $35 million deal with the Yankees even though there was "no market" for him. Soriano is a setup man now, but he got paid because Boras clients ALWAYS get paid.
But the best example of Scott Boras' mythical powers might be none other than Edwin Jackson. This entire off-season, Jackson has been almost completely ignored despite a number of teams that desperately need rotation help. Despite Jackson posting perfectly respectable numbers the last three years, he still seems to be viewed as more of a fallback option, the kind of guy you don't really want, but will settle for if nobody better comes along. You know, the kind of guy you sign only when you are desperate.
Welcome to the desperation part of the off-season. This is what Boras has been so patiently biding his time for. Waiting for the Rangers to get desperate to make another big move to match the moves of the Angels, like maybe signing Prince Fielder. Waiting for the Blue Jays to get desperate to finally spend the money they've been saving and doing so rashly on Fielder. Waiting for the big-money Yankees and Red Sox to both finally pull out their wallets and address the gaping holes in their rotations with Edwin Jackson. Waiting for the Orioles to fall into their old bad habits and get desperate to pretend they are real contenders by signing Madson.
It is Scott Boras' world now, the rest of MLB is just living in it.