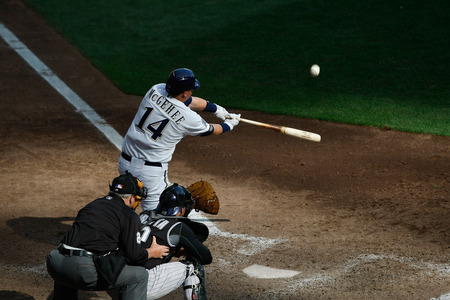 Nobody ever accused Milwaukee Brewers GM Doug Melvin of being slow to the trigger.
Hours after signing Aramis Ramirez to be the Brewers' third baseman for the next three years, Melvin traded the incumbent at third, Casey McGehee, to the Pirates in exchange for reliever Jose Veras, according to the Milwaukee Journal-Sentinel's Tom Haudricourt. The move seemingly clears the way for Mat Gamel to be the Brewers' everyday first baseman next season unless the team can find a way to re-sign Prince Fielder.
It's one of those good old fashioned baseball trades that appears to benefit both teams, at least on the surface.
McGehee needed a change of pace after struggling through a miserable 2011 that saw his average drop 62 points to .223. MLB.com is reporting that Pedro Alvarez will remain the starter at third base until further notice. If McGehee can't wrest the starting gig away from him, he'll provide some pop off the bench, because while at times he struggled to hit the ball out of the infield last season, the man can still hit the ball out of the park.
Veras on the other hand will fill the 7th inning role in Milwaukee that Takashi Saito did last season. Saito is likely out of the Brewers price range after posting a 2.03 ERA and a 1.125 WHIP in 30 appearances, part of a three-headed closing monster that was a big factor in the team's run to the NLCS. Veras posted a 2-4 record with a 3.80 ERA in a career-high 79 appearances. He'll have to improve his strikeout-to-walk ratio though if he's going to be effective in Miller Park. Last season, he struck out 79 while walking 34. The good news is Brewers pitching coach Rick Kranitz has been known to get the most out of his pitchers. He'll also have plenty of veteran brainpower on which to rely in the form of guys like Francisco Rodriguez and Randy Wolf.