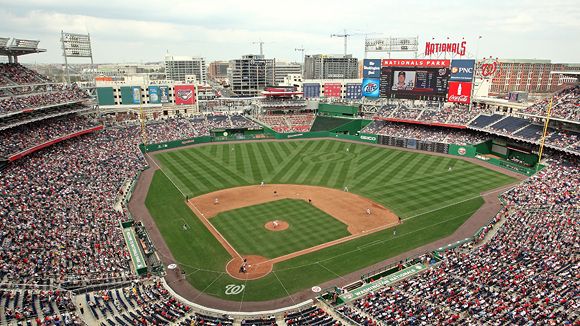 The words "beer vendor" and "hero" aren't used in concert very frequently. Unless of course you're drunk and need another cold one to keep the momentum going.
Then again, rarely does a beer vendor get a moment in the sun quite like the one Emmanuel Marlow got at a recent Washington Nationals game.
The Washington Post's Dan Steinberg has an excellent piece on his blog about how quick thinking by Marlow may have saved a child's life.
Marlow you see was going about his duties during a Thursday afternoon game just like he would on any other game day when he noticed something amiss. Terribly, terribly amiss.
From Bernie, the e-mailer who wrote Steinberg:
"Shortly after the game began, a young man a few seats away started choking on some food he had eaten. Immediately, the man who was selling beer and water in our section put down his blue container and began to perform the Heimlich maneuver. While undertaking this procedure he remained calm and ensured the boy's frantic mother that it was going to be alright."
Marlow then reportedly picked up his tray full of beer and water and went back to work. Because, quite frankly, he's a baller.
Steinberg reports that Marlow had taken a CPR course years earlier, which prepared him for this particular moment. And tonight, at least one mother is grateful that he took the initiative to sign up for said class.
It's rare that beer vendors are heroes but if you're at a Nationals game any time soon and see Marlow wearing his traditional No. 182 around the stadium, make sure you buy a beer from him. And give him a really big tip as well.
After a short period, he was successful and the food was dislodged.