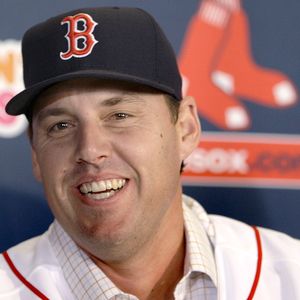 As if John Lackey wasn't already unpopular enough around Boston, the struggling right-hander is now dealing with yet another major public relations debacle. Only this time, it has nothing to do with his performance on the field.
But what could possibly stain his image worse than his line of 12-12, 6.41 ERA, 1.62 WHIP?
Take it away, TMZ:
"Boston Red Sox pitcher John Lackey has filed to divorce his wife, Krista … who is in the middle of battling breast cancer."
Oof. While it's one thing for a player to get divorced – these things happen – the second half of that sentence is probably not going to make Lackey very popular with…well anyone.
It's probably not the distraction the Red Sox were hoping for as they continue to battle for their playoff lives, up one game on the Rays with three to play. TMZ goes on to report that Krista has been undergoing treatment following a double mastectomy back in March. John and Krista have been married since 2008 and do not have any children.
Lackey didn't actually pitch terribly against the Yankees last night, yielding 4 runs (3 earned) while striking out four in six innings of work, helping the Red Sox win the second game of their doubleheader.
However after the game, he would angrily reveal that he had received an unwelcome distraction just prior to his start.
TMZ reportedly texted Lackey in an effort to get a response to their report prior to the game. As you might expect, he didn't take kindly to their decision to reach out.
Per the Boston Globe:
"Lackey, who was the starting pitcher in the second game of yesterday's doubleheader in New York, expressed anger at his postgame news conference over a text message he received inquiring about a personal issue.
"Let me tell you the truth. Thirty minutes before the game, I got a text message on my cellphone from one of you … somebody in the media, talking about personal stuff," Lackey said. "And I shouldn't even be standing up here having to deal with this. I'm sitting here listening to music. I don't know who got my phone number, but that's over the line.""
On the one hand, the man does have a point. An athlete's personal life should be his domain and he shouldn't necessarily feel obligated to talk about it to members of the media. Reporters rarely if ever find themselves answering questions from the general public about their personal lives, and I'm sure athletes would rather talk about what's happening on the field than what's going on off of it.
That being said – and I fully realize I'm about to contradict myself here – for better or worse, professional athletes are public figures. A $16 million annual salary to play a child's game doesn't come without it's fair share of scrutiny. People want to know every last thing about their heroes, from their hobbies to who they're dating, because they want to be able to relate to them on some level.
Lackey has been in the big leagues long enough to know this. He is by all accounts a fairly intelligent guy. He had to have known when he filed the papers that it was going to come up in conversation at some point in time. While professional athletes leave their wives all the time for any number of reasons, the fact that Lackey's wife is currently battling cancer is what makes this story interesting to TMZ and even the mainstream media. It's understandable that he wasn't expecting to receive a text message just before his most important start of the season asking him about his personal life but still, the fact of the matter is that it was going to come up eventually.
How this impacts the Red Sox the rest of the way remains to be seen. It will also be interesting to see if this remains a distraction for Lackey in the playoffs, should the Sox advance. Because while he may want the story to go away, reality is it's not going to. Reporters are going to ask him about it because it's their job. How he handles their questioning will determine how he's viewed in the public eye moving forward.