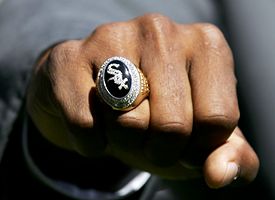 Many of us have dreamed about being a successful, World Series-winning General Manager.
Of course there's only a select few that will ever get to live that dream. Guys like Kenny Williams, who built the 2005 White Sox roster that swept the Astros to win the team's first World Series title in 87 years.
More than a few of us have wondered what it'd be like to spend a few hours in the shoes of a successful World Series-winning GM as well. But few of us are willing to go as far as Chicago-area man Wayne L. Field III allegedly did and actually try on the man's clothes without his permission. That's just all kinds of creepy and wrong, plus it comes with an all-expenses paid trip to this wonderful hotel called jail.
The Chicago Sun-Times has the details on one of the most bizarre breaking-and-entering stories to come out of the sports world in a long time.
Per the Sun-Times:
"Wayne L. Field III, of the 900 block of West Lawrence Ave. is charged with residential burglary after allegedly entering the home and taking several articles of clothing, a set of keys and jewelry, police said.
NBC5 reported the victim was Kenny Williams and that Field was found by police wearing Williams' clothes and his World Series ring."
Of course that's not all Field is alleged to have done after allegedly breaking into Williams' house while he was out of town last week.
In addition to stealing some of the White Sox GM's clothing and World Series ring, Field apparently spent part of a day living like he thought Kenny Williams must have when he was home.
Again, per the Sun-Times:
"Williams told NBC5 that the burglar drank his beer, ate frozen pizza, surfed the internet and kicked his shoes off on the bed. He even defrosted a lobster."
The article doesn't mention what Field is alleged to have done with the lobster after defrosting it, but it's safe to assume he didn't eat it. Perhaps he was defrosting it so it was ready for Williams to cook himself when he arrived home? Or maybe he just wanted to be in the presence of a perfectly defrosted lobster. The possibilities are endless. This much we know — in addition to wanting to be like Kenny Williams (and really, who doesn't?), Field's undoing was that he couldn't leave well enough alone, reportedly returning to the scene of the crime to take a glance at the place where he once lived like Kenny Williams does every day, if only for a couple of hours.
In case you were wondering, Kenny Williams did get his stuff back and Field will have his date in court to explain why he thought it would be a good idea to break in and try on Williams' clothes. To be a fly on the wall in that courtroom would be a spectacular thing.