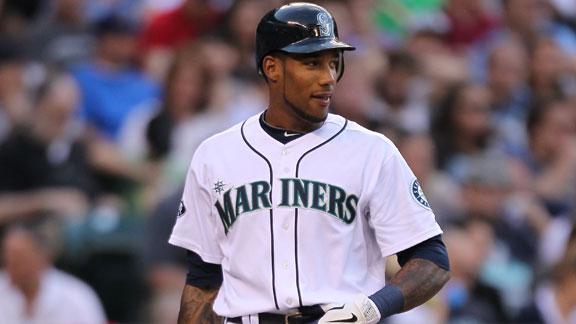 Absolutely awful news coming out of the Netherlands this afternoon where promising Mariners outfielder Greg Halman was allegedly stabbed to death in what appears to be an incident of fratricide. Rotterdam police have arrested his 22-year-old brother Jason in connection with the murder.
Halman, one of the few players from the Netherlands to ever wear a Major League uniform, was coming off a season that saw him hit .230 with 2 HR and 6 RBI in 35 games for the Mariners. He was considered a promising prospect and part of the team's considerable rebuilding effort.
So what would trigger a man to murder his brother? According to the UK Daily Mail, it was music.
Per the Daily Mail:
"'A 24-year-old died this morning in a stabbing and we have arrested the 22-year-old brother of the victim,' said Rotterdam sopkesperson Patricia Wessels. 'From what we have learned so far there was an argument between the two brothers over loud music being played. 'An investigation is underway to determine exactly what happened.'"
That's basically it. Halman allegedly asked his brother to turn his music down and it cost him his life. At Safeco Field this afternoon, the Mariners posted a memorial on the scoreboard in honor of Halman, a solemn tribute illuminating an otherwise empty stadium.
Halman was reportedly very popular with teammates and opponents alike, remembering him as a teammate's teammate who had an engaging personality and a deep passion for the game of baseball. Many took to Twitter to express their grief including former teammate Ryan Rowland-Smith and former opponent Marlins OF Logan Morrison.
@hyphen18Ryan Rowland-Smith Just heard the shocking news about Halman, so sad, can't imagine what his family is feeling! RIP Greg
@LoMoMarlinsLogan Morrison Very sad news abt @Mariners OF Greg Halman. Played vs him in the minors. Always had a big smile on his face & man could he hit! RIP Greg
In addition to being a talented player, MLB.com is reporting that Halman was one of the game's more passionate ambassadors off the field.
Per MLB.com:
"Halman was an integral part of the recent Dutch baseball renaissance, and he worked long and hard to spread the game to a wider segment of the world. Halman, who was born in Haarlem and passed away in Rotterdam, was well renowned for participating in youth baseball clinics in his Dutch homeland and also across Europe."
No word yet on how the Mariners are planning on memorializing Halman in 2012.