The month of Movember, sadly, has come to an end as has our Movember MLB Mustache Madness bracket. Our championship match, as you well know, featured mustached legend Rollie Fingers facing off against the unlikely foe of actor James Gammon, otherwise known as Lou Brown, the manger of the Cleveland Indians in the classic baseball movie Major League. The battle was fierce, the mustaches were fiercer, but in the end there could be only one champion. That very manly man is none other than…
ROLLIE FINGERS!!!!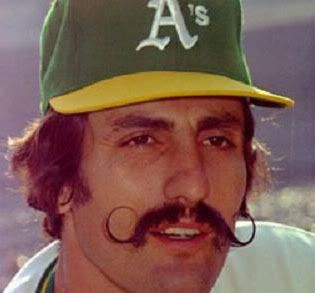 Yeah, I'd like to tell you that there was some kind of upset in our championship match, but it just wasn't meant to be. In fact, it wasn't even close with Fingers getting twice as many votes as Manager Lou Brown did. The Cinderella Story just wasn't meant to be. And really, I don't blame you all for voting so vigorously for Fingers. Rollie's handlebar mustache has often been imitated but never truly duplicated (no matter how much John Axford tries).
Congratulations, Rollie! I'm sure this is the highlight of your Hall of Fame career as a rich and famous baseball player.