Long before Brett Favre became known the world over for his dick shots, there was another Dickshot in professional sports who, to the best of our knowledge, never took any photographs of his manhood.
His name was Johnny Dickshot, his nickname was Ugly, and he played parts of six seasons in the Major Leagues between 1936-45. Yes Pirates, Giants and White Sox fans, had you been following your team back then, you could've found yourself rooting for a left fielder named Ugly Dickshot to come through for your beloved nine. Can you imagine that in today's world? I think it might cause Twitter to explode.
Ugly Dickshot (again, not referring to Favre) was, for his part, a fairly decent ballplayer. He hit .276 with 19 triples and 116 RBI in 332 games, finishing 3rd in batting in the AL in 1945 with a .302 average. He's also not the only ballplayer over the course of history to be saddled with a rather unfortunate name. So after a spirited round of e-mails, we here at TOC came up with a list of players whose names give you a randy chuckle when you hear them, make your mother blush, and allude to things other than a really great ballplayer.
Without any further ado, we give you The Outside Corner's All Innuendo Team, captained of course by Mr. Dickshot.
Woody Held — Woody Held is one of the longest tenured players on this list, having held on for 14 big league seasons spread across seven different teams. Held was a power hitting utility player, a manager's delight who could play any outfield position as well as shortstop and second base. His final line: .240, 179 HR, 559 RBIs. He also struck out more than 100 times in a season three times.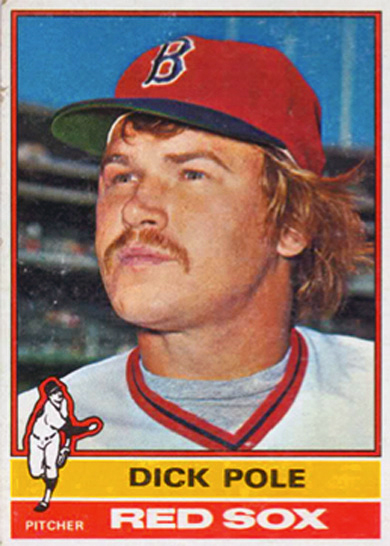 Dick Pole — Long before he became a respected pitching coach, Dick Pole pitched for the Red Sox and Mariners over a career spanning from 1973-1978. His record (25-37, 5.05 ERA in 122 games) wasn't impressive but as you can see above, his mustache sure was.
Elmer Sexauer — En route to an 84-70 record and a 3rd place finish, there wasn't much that was sexy about the Brooklyn Dodgers in 1948. That is of course until they called up Elmer Sexauer in September of that year from Danville of the long-gone Illinois-Indiana-Iowa League, where he had gone 11-7 with a 2.25 ERA in 24 games. Elmer's numbers at the big league level wouldn't be nearly as sexy. Sexauer would face all of four batters in the Major Leagues — Earl Torgeson and Bob Elliott of the Boston Braves and Bobby Thomson and Buddy Kerr of the New York Giants. He was able to get the first two out, he walked Thomson and Kerr back to back and never threw another pitch in professional baseball. His final line: 0-0, 13.50 ERA in .2 IP.
Rusty Kuntz — Currently a special assistant to the GM for the Kansas City Royals, Kuntz was a light hitting outfielder who played seven seasons for the Tigers, Twins and White Sox, winning a World Series with the Tigers in 1984. His final stat line — .236, 5 HR, 38 RBI — may not have been Hall of Fame-worthy but his name sure is.
Pete LaCock — Long before he became the hitting coach the woebegone Lake County Fielders, LaCock was a first baseman and outfielder for the Cubs and Royals from 1972-1980. He'd finish his career with a .257 BA with 27 HR and 224 RBI.
Stubby Clapp — The pride of Windor, Ontario, Stubby Clapp had a cup of coffee with the Cardinals in 2001. The scrappy 2B/OF played in 23 games for the Cardinals, hitting a pair of doubles and driving in one run. In addition to having an awesome name, Clapp is perhaps best known for this epic meltdown with an umpire earlier this season when he was managing the Tri-City ValleyCats.
Steamer Flanagan — Steamer Flanagan had 25 at-bats in seven games for Pirates in 1905, getting seven hits and driving in three runs. Regrettably, none of Steamer's games were played in Cleveland.
Pussy Tebeau — Pussy Tebeau was a right fielder who appeared in two games for the immortal 1895 Cleveland Spiders, collecting three hits in six at-bats. Despite such a stellar beginning to his career, Tebeau would never play another game in the Major Leagues. In fact, sticking with the female anatomical theme…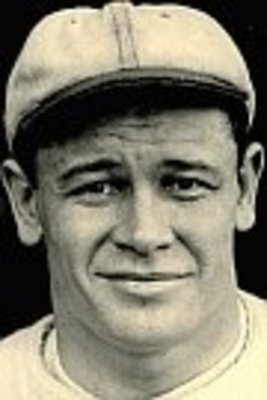 Boob Fowler — Boob played a pair of positions (2B/SS) over four seasons in the mid-1920s for the Reds and Red Sox, hitting .326 with a home run and 18 RBI in 78 games. Regrettably though, Boob's skills with the glove were saggy at best. In 200 chances, he made 21 errors with 18 of those coming in 1923-24.
Doug Fister — Fister was part of a trade that nearly broke the unintentional comedy scale with the next man on our list over the summer. The promising righthander established himself as a force in the Tiger rotation down the stretch in 2011, going 8-1 with 1.79 ERA after being acquired from the Mariners.
Charlie Furbush — Furbush was part of the deal that sent Fister to the Tigers, leading to any number of Furbush-for-Fister jokes on Twitter in the days that followed. In 28 games, the southpaw has gone 4-10 with a 5.48 ERA, with his numbers getting significantly worse after getting traded to the Mariners.
Of course if you're going to have a Furbush, you'd better have a comb to maintain it. I recommend a…
Cannonball Titcomb — Baseball's early days are littered with colorful names and characters. Cannonball Titcomb certainly qualifies in the former. Titcomb was a left-handed pitcher who spent five seasons in the big leagues from 1886-1990. His best season came in 1888 when he went 14-8 with a 2.24 ERA for the New York Giants, striking out 129 and walking 46.
Last but not least, we leave you with a shocker.
Urban Shocker — These days if a guy with the last name Shocker played for the Browns, it would undoubtedly be one of the hottest selling jerseys in all of professional sports. Unfortunately for the St. Louis Browns of the late 1910s-early 1920s, numbers on the back of jerseys let alone names weren't yet en vogue. Shocker was the Browns' ace from 1918-1924, winning a mindblowing 27 games in 1921 for a Browns team that won 81 that year.
Honorable Mention — Randy Johnson, Dick Cox, Rod Carew, Gaylord Perry, Orel Hershiser, Jim Cockman.
Did we miss anyone? Feel free to leave your suggestions in the comments below.