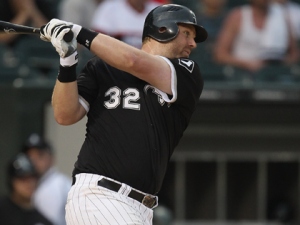 Do a Google Image search for "Adam Dunn" strikeout and you'll receive approximately 34,300 results…or approximately 32,000 fewer images than Dunn has strikeouts.
Since signing a four-year, $56 million contract with the White Sox, Dunn has been more power source than power charge. He's having a historic season at the plate, although hardly the kind of historic season that either he, manager Ozzie Guillen, or GM Kenny Williams envisioned when the club signed him to that massive contract.
Let's look at his numbers this season, shall we? .160 BA, 9 HR, 36 RBI. Those are bad enough, but factor in his .297 slugging percentage and .287 on-base percentage and one wonders if Kenny Williams doesn't do his best Macaulay Culkin impersonation as soon as he gets home.
At $14 million a year, the Sox are paying Dunn $297,872.34 per hit this season. Read that number again. Nearly $300,000 per hit. If that's not a good enough reason for fathers to start teaching their sons to hit left handed for power, I'm not sure what is. If nothing else, the A's and Nationals, both of whom were reportedly finalists in the Dunn derby, owe Williams a Christmas card and a bigger than normal fruit basket as a thank you
The question begs to be asked — is it a mental or a physical issue that's to blame for Dunn's season-long slump? Dunn reportedly told Yahoo! Sports's Jeff Passan that he's thought about quitting if the game stops being fun. Given the fact that he's already struck out 126 times this season in 84 games, an average of 1.5 times per game, one would imagine baseball started feeling like a regular 9-to-5 gig back in May when the problems were really getting started.
The quitting saga took another turn just days later. Dunn clarified his comments in the Yahoo! story in an interview with ESPN's Doug Padilla. Dunn is quoted by Padilla as saying he's having "too much fun" and that Passan took what he said out of context. Given Passan's reputation, I find it hard to believe he'd be pushing an agenda or would intentionaly twist Dunn's quotes for the sake of a story.
The bigger question — what's eating Adam Dunn, how can he straighten things out, and should the White Sox exercise any patience with the veteran? Physically he appears fine. The White Sox hired a sports psychologist to help him get the mental portion of his game straightened out, although it's worth nothing that his average has dipped 10 points since Dunn met with the psychologist.
Other factors that could be having an impact — Dunn is playing in the American League after a decade in the NL and is playing for a man who is easily the toughest manager of his career in Guillen. He's also playing in a bigger market – Chicago – with more intense media scrutiny than he faced at stops in Washington and Cincinnati.
With all that in mind, it might be a better idea for the Sox to simply cut their losses, either trying to trade him to another team (a move that would likely force them to eat a significant portion of his sizable contract) or simply try to buy him out after this season. Top prospect Dayan Viciedo is considered the future of the franchise, a slugger who has been dominating at Triple-A Charlotte (.307, 16 HR, 65 RBI, .500 SLG) .
Given that Viciedo can also play 1st base and franchise cornerstone Paul Konerko only has a couple years left, it might behoove the Sox to either bench Dunn or ship him out if he can't figure things out soon in order to get Viciedo some much needed Major League at-bats. If the White Sox are going to make a run at the Windy City's sports hearts and wallets, now is the time with the Cubs set to be terrible for at least another couple of seasons. Giving Viciedo the at-bats that Dunn is currently wasting might be the best solution unless the Big Donkey can fix what's ailing him.