We took a look at the hitters earlier this week, now it's time to look at the all-prospect team pitchers.
Rotation

1. Matt Moore (Tampa Bay Rays)
Is there anyone out there that doubts Moore is the best pitching prospect in baseball? Some dreamers might say Yu Darvish, but he's not a rookie. Not only is Moore an incredible pitcher, but I don't think I've witnessed one coming out of the minors that was as good as Moore since Stephen Strasburg. That's pretty serious considering in the last few years alone, his own teammates David Price and Jeremy Hellickson came in and were effective immediately. I expect Moore to compete for the Cy Young award and the Rays pitching staff to be rivaled only by the Angels in the AL.
2. Shelby Miller (St. Louis Cardinals)
As a writer that scouts the Angels minor leagues, I remember late last season I skipped out on watching an Angels game to instead watch their AA affiliate Arkansas Travelers play. It was to be one of Garrett Richards' last outings in AA before a promotion. He was set to go against some kid named Shelby Miller, who I had heard of but never seen. From the moment I saw Miller's seemingly leisurely delivery and carefree demeanor on the mound, I knew he was about as confident as a pitcher could be, and that's a disposition that must be earned. Whenever you see a pitcher like that, it usually means the opposing offense is in trouble. It's not as if he was facing an easy lineup either. Clearly, this kid was no longer challenged by AA hitters. His stuff only confirmed this assumption. Miller's fastball never dropped below 95 mph, his curve ball looked like it went from the batters shoulders to ankles pretty quickly, and his change up had more movement on it than most breaking pitches.
3. Trevor Bauer (Arizona Diamondbacks)
When I see Trevor Bauer take the mound, it sort of reminds me of a kid playing a video game that creates a personalized player that's himself. He's a head shorter than every other player on the field but has an arsenal that would make Nolan Ryan blush (Nolan Ryan doesn't blush) and a windup that hasn't been common in 40 years. This of course is an exaggeration, but Bauer is still a relatively small guy with stuff that plays up and a unique "Lincecum-esque" delivery. The reason why I'm specifically excited to see what he might do in the majors is his breaking pitches. Rumor has it he uses two different curveballs, two sliders and a change up, all of which are plus pitches. From this description you'd think he's a junk ball pitcher, but that's not the case. He has a two-seam fastball that moves quite a bit and sits in the low 90's and a four-seam heater that sits in the mid 90's that I haven't seen yet. With such an expansive arsenal, I'm confident he'll find a way to get major league hitters out. It also doesn't hurt that he literally looks like he stepped right out of 1954.
4. Tyler Skaggs (Arizona Diamondbacks)
Again, as a writer most familiar with the Angels minor leagues, I've probably watched Skaggs as much as any amateur writer around. He was drafted by the Angels, and my heart was broken when I saw he was the player to be named later in the Dan Haren deal. I had the privilege of watching him go from goofy, lanky lefty with decent stuff and an unrepeatable windup and delivery to a tall, strong lefty whose composure is well beyond his years. Joining a staff that will inevitably include the aforementioned Bauer and current major leaguers Ian Kennedy, Daniel Hudson and Trevor Cahill will be fun to watch and could only be rivaled by what we as fans are seeing in Tampa Bay right now (tremendous infusion of young pitching talent).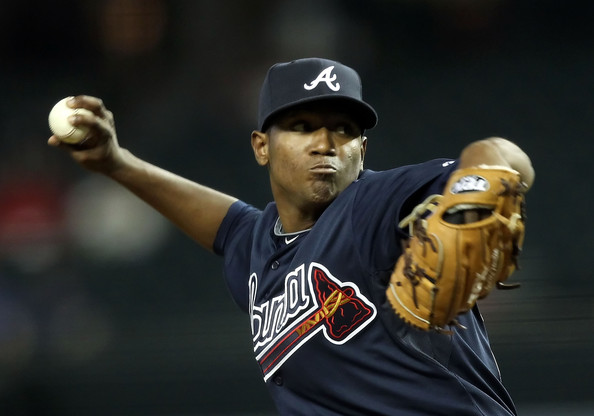 5. Julio Teheran (Atlanta Braves)
Julio Teheran makes this list on arsenal alone. It wouldn't matter if he had a five ERA of an ERA under one, someday soon, this kid is going to be an unstoppable force in the major leagues. I fully acknowledge that he lacks command of his pitches, but he is actually good enough to get away with being more of a thrower and not a pitcher. His mid to upper 90's fastball hasn't been touched at any level and should be similarly successful in the majors. His changeup is his go to off-speed pitch, which works out great because hitters are so keyed in on trying to make contact with his heater. His curve has the potential to be a plus pitch and when he controls it I'd say for sure that it is a strikeout caliber pitch. It's a win-win situation for the Braves, who at the very least have another closer type of arm and at the most have a potential ace.
Bullpen

1. Addison Reed (Chicago White Sox)
2011 MLB – 7 IP 12 K's 1 BB 3.68 ERA
2011 AAA – 21 IP 28 K's 3 BB 1.27 ERA
2011 AA – 20 IP 33 K's 6 BB 0.87 ERA
2011 A+ – 28 IP 39 K's 4 BB 1.69 ERA
2011 A – 8 IP 11 K's 1 BB 1.12 ERA
Yeah, Addison Reed started the year in A ball and finished in the majors.
2. Heath Hembree (San Francisco Giants)
2011 AA – 28 IP 34 K's 13 BB 2.83 ERA
2011 A+ – 24 IP 44 K's 12 BB 0.73 ERA
How often can you find a player in the fifth round whose ready to dominate the upper minors immediately?
3. Chance Ruffin (Seattle Mariners)
2011 MLB – 17 IP 18 K's 9 BB 4.08 ERA
2011 AAA – 14 IP 17 K's 6 BB 1.84 ERA
2011 AA – 34 IP 43 K's 16 BB 2.12 ERA
How many supplemental round draft picks are in the major leagues a year after being drafted?
4. Shawn Tolleson (Los Angeles Dodgers)
2011 AA – 33 IP 55 K's 11 BB 1.62 ERA
2011 A+ – 9 IP 17 K's 3 BB 0.93 ERA
2011 A – 15 IP 33 K's 4 BB 0.00 ERA
When a 30th round draft pick posts a zero ERA with a WHIP under one and a K/9 at 19.8, people tend to start paying attention.
5. David Carpenter (Los Angeles Angels)
2011 AA – 18 IP 16 K's 5 BB 0.00 ERA
2011 A+ – 29 IP 36 K's 9 BB 0.97 ERA
No runs or earned runs allowed in his first 19 consecutive appearances in AA.