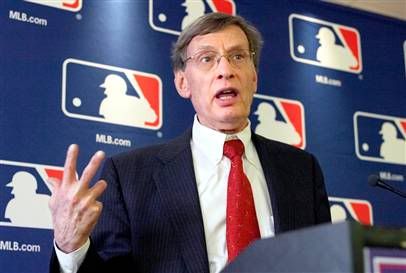 If there is ever a nuclear holocaust, the only thing that will survive will be cockroaches and Bud Selig. I'm not that the commissioner of Major League Baseball is the exact same thing as a cockroach, but, let's just say that there are some distinct similarities.
The polarizing Selig had "promised" to hand over the keys to the commissioner's office at the end of his current contract, which expires after the 2012 season, but it turns out that he must have had his fingers crossed. According to reports, Selig will be agreeing to a two-year contract extension. That extension means that Selig will be running MLB beyond the age of 80. Yeah, like I said, cockroach. You just can't get rid of him.
This, of course, should come as a surprise to no one. After all, Selig's tenure as commissioner began in similar fashion when he was named "acting commissioner" in 1992 after the ouster of Fay Vincent. That interim appointment last until 1998, though he was supposedly searching for a more suitable replacement the entire time, kind of like the way O.J. Simpson searched for the "real killer" after his acquittal. Having shockingly failed to find a replacement, Selig was given the permanent title of commissioner and now it seems like the only way he is going to let that job go is by having it pried from his cold dead hands.
The fact that Bud the Car Salesman has been enabled to hold onto his position until old age simply prevents him from doing so is likely not to be received well by the general baseball public. In his twenty years as commissioner, Selig has repeatedly gone out of his way to antagonize, well, just about everyone. There is the infamous 2002 All-Star Game ending in a tie, the cancellation of the 1994 World Series due to labor strife and, most damning of all, the peak of the steroid era.
A lot of nasty business has gone down on Selig's watch, but he has ultimately proven to be good for the game. The 2011 season saw the league post the fifth-highest overall attendance figures in league history, which snapped a three-year decline in attendance, which is impressive given the state of the American economy. His originally maligned plan to realign the leagues and introduce interleague play and a Wild Card to each league has turned out to be a boon for TV ratings and general interest in the MLB post-season. Heck, he's even seen a rise in parity as 11 different franchises have won championships in his twenty-year tenure. He'll probably screw it all up with his brand new realignment and second Wild Card plan, but that is a topic for another time.
Perhaps more important than any of that is that Selig has presided over total labor peace since the 1994 strike. With the NHL a few years removed from canceling an entire season (and headed towards another nasty negotiation), the NBA playing a lockout shortened season this year and the NFL coming perilously close to doing the same thing, MLB and the players' union negotiating a new collective bargaining agreement without so much as a whisper of animosity. That means everyone in the league, both players and owners, are getting paid and getting paid plenty, which means everyone is happy with the status quo. And if that status quo means keeping Selig in office for as long as possible, then so be it. At this point, it wouldn't even be a surprise if Selig passed away only to have the other owners prop him up Weekend at Bernie's-style so long as the cash is still flowing in.
So maybe it isn't Bud Selig: Commissioner for Life so much as it is Bud Selig: Commission for Life And Then Some?