It's been a pretty good year for Billy Beane, sure, the Athletics are coming off a disappointing 74-win season, but Beane himself has been immortalized on film by Brad Pitt's Oscar-nominated performance in Moneyball and now Billy is on the verge of completing a deal to extend his tenure in Oakland through the 2019 season.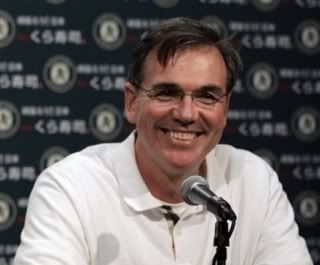 Given Beane's stellar reputation throughout the league, it is hard to argue with the A's wanting to lock him up as long as possible, but through 2019, really? Is that necessary?
Maybe it is just me, but something about this announcement just doesn't add up. Beane hardly seemed like a threat to bolt the Bay Area, in fact, his existing contract didn't expire until after the 2014 season, and that was based on a two-year extension that he signed in 2009 that technically hadn't even kicked in yet. Strange.
Perhaps he had an out-clause in the deal? If so, he hardly seemed inclined to use it. There were several high-profile gigs (Angels and Cubs) Beane could have pursued this off-season, but he was never even linked to those openings outside of idle internet speculation, so it wasn't like owner Lew Wolff needed to sweeten the pot to keep Beane's wanderlust in check. In fact, Beane already has plenty of incentive to stay with the A's since he was given a 4% ownership stake in the club back in 2005. Plain and simple, this is a man that wasn't going anywhere anytime soon.
As cynical as this might sound, this extension smacks of being a desperate attempt to placate dwindling and disgruntled fan base. Despite Beane's supposed genius, the Athletics have not had a winning season since 2006, including this last season which started off with some experts believing Oakland could be a dark horse contender in the AL West. For A's fans, the last five years have been nothing more than a seemingly never-ending rebuilding project and with trades of Gio Gonzalez and Trevor Cahill this off-season, it appears that Beane is hitting the reset button yet again.
Thanks to the Moneyball book and movie, most everyone is keenly aware of the competitive disadvantage Oakland is operating under, but that hasn't stopped their fans from losing their patience. What they see happening now is the team slashing an already meager payroll down from $67 million last year to what should be no more than $45 million this year with the specter of the off-season fire sale continuing at the July trade deadline. Even though Beane has been getting very nice returns on his deals thus far, the franchise seems unlikely to breakout of their losing ways before Beane's new extension takes effect.
The ownership has tried to keep fans hopes up by claiming they are making progress in the quest to relocate to San Jose, but that has provided little solace. So it appears now they are turning to Plan B, promising that they Beane will still be leading the team if/when they finally get their wish of moving to the comfy (and cash-rich) confines of San Jose. I can't image A's fans will be fooled by this clever bit of misdirection, but it certainly doesn't hurt for Oakland management to try.