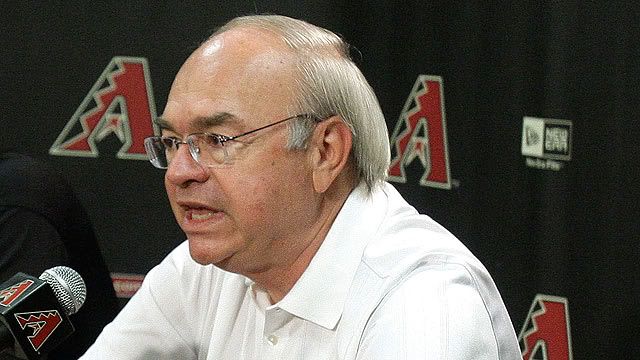 The defending NL West champion Arizona Diamondbacks are off to a rough start this year.  They currently sit five games under .500 and nine games out of the division lead.  As you might imagine, frustrations in the desert have been mounting.  Today though, those frustrations all came to the surface, or at least they did for Arizona managing general partner Ken Kendrick who went on a George Steinbrenner-esque rant during a radio interview today.
He started things off by taking injured shortstop Stephen Drew to task for what he perceives to be an unacceptably slow recovery from the grotesque ankle injury Drew suffered last season:
You know, I'm going to be real direct about Stephen. I think Stephen should have been out there playing before now. And, frankly, I for one am disappointed.
I'm going to be real candid and say I think Stephen and his representatives are more focused on where Stephen is going to be a year from now than going out and supporting the team that's paying his salary.
All you can do is hope that the player is treating the situation with integrity, and, frankly, we have our concerns.
In the parlance of Yosemite Sam, them's fightin' words! You'd think that Drew would get a little more slack considering the severity of his injury, but perhaps Kendrick is familiar with the notorious Drew family philosophy on taking their sweet time rehabbing their injuries and wants to light a fire under J.D.'s baby brother.  Or maybe he is more concerned about that Drew family philosophy on focusing on their next contract, which may well be the case since Stephen could be a free agent this off-season provided the Snakes and Drew don't both pick up his mutual option for 2013.  The odds of that option being picked up by either party suddenly looks a lot less likely now that Kendrick just doused and ignited some gasoline on that bridge after that pretty awesome "integrity" slam at the end.
Drew's agent Scott Boras responded to Kendrick's comments in a statement.
"I think achieving the success that Mr. Kendrick has in his life that he would respect the commitment and focus and the effort of Stephen Drew, who has demonstrated that on the field when he went all out to score for his team from second base and badly injured his ankle at home," Boras said.
"Consistent with that effort, it's pretty clear that a person of that ilk like Stephen Drew would do everything he can by going all out to return."
Boras said to suggest that Drew is focused on free agency "makes no sense."
"If you're talking about what the best thing Stephen can do for himself, that's to play baseball and play a lot of it," Boras said. "I don't think he wants anything different. That's the best thing he can do for Stephen and for his team. Why would he not want to play? The guy's going to be a free agent."
This is typical agent speak from Boras, trying to fan the flames, but his comments do make sense. Why would Drew be focused on free agency while *not* playing? If he's not playing, a team isn't going to give him anywhere near the salary he's worth. However, if Drew is on the field, he can earn that money if he proves he's healthy.
But Kendrick wasn't done there.  Underachieving Justin Upton also felt some of the verbal wrath:
Well, I think Justin is an enigma at this point. I know he had an injury early on, maybe a little bit of a nagging injury. But he's played. He's certainly not the Justin Upton that he has been in the past and that we would expect of him. He's 24 years old, and it's time for him to be a consistent performer and right now this year he's not been that.
That "enigma" was an MVP candidate last season and the cornerstone of the franchise, so this attack, while much milder could cut a little deeper.  Now, Upton is signed through 2015, so there is plenty of time for the team to mend fences with him, but this kind of bashing is clearly ill-advised.  It isn't as if Upton is unaware of his struggles, so for Kendrick to perhaps think that being called out in public by the owner is what Upton needs to get going is just plain moronic.
Or maybe Ken Kendrick wasn't thinking anything at all here and simply let his emotions get the best of him.
Here is the link to the full interview if you want to hear the audio bile for yourself.