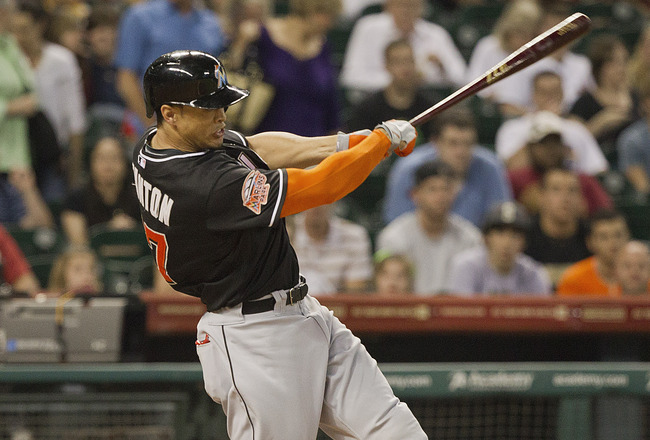 The Home Run Derby contest has gone much the way of the NBA Slam Dunk contest or the NFL Pro Bowl. It's losing its popularity that it once so gloriously carried in the 1990's. Thankfully for Major League Baseball, once every few years, they get an unforgettable performance from someone like Josh Hamilton that revives the luster of this once great exhibition of herculean power. I mean no offense when I say that a home run contest between Matt Holliday and Rickie Weeks would hardly bring out the best in media ratings, attendance or entertainment in general. It's about time Major League Baseball gave its fans yet another night to remember in the 24 hours leading up to the Midsummer Classic. There are two players that can do such a thing and even elevate this event to a place it has scarcely been before: Giancarlo Stanton and Mark Trumbo.
These two players can hit a baseball further than anyone in the game. In the post-steroid era, they are the marquee power hitters of the up and coming generation. This doesn't necessarily mean that Stanton and Trumbo are going to steal any headlines from Matt Kemp or Albert Pujols, but it terms of ability to hit the ball 450+ feet, they have no equal. And essentially, that's what this event needs. The Home Run Derby has turned into two-hour long charade of good players but not necessarily great power hitters goofing off to the tune of 20+ 420 foot homeruns. What Mark Trumbo and Giancarlo Stanton can bring is the same thing, plus a dozen more moonshots that will travel to depths of Kauffman Stadium that have never been graced by a flying baseball before.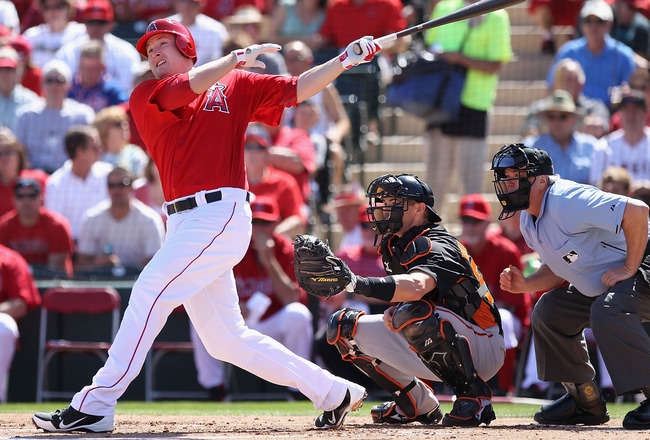 Both Trumbo and Stanton appear on the all-star ballot, yet an appearance in the derby remains highly in question. While Mark Trumbo is putting up all-star numbers so far (.315/.378/.538/.916,, 11 doubles, 6 home runs), he's appearing on the ballot as a third baseman, a position he hasn't played in weeks. There's also the fan voting that can keep him out as he'll be battling with Alex Rodriguez and the injured Evan Longoria for the right to represent the American League. This also happens to be a year in which Edwin Encarnacion decided he knew how to hit and Miguel Cabrera moved back to the hot corner. The manager for the AL team will be Texas' Ron Washington, who more than likely would give the nod to one of his own players if a roster spot were open instead of looking to Trumbo and his greatest rival, the Los Angeles Angels. While Trumbo certainly looks deserving of a spot, the fact that he isn't a true third baseman and isn't playing closer to New York or Boston will certainly hinder this opportunity. Stanton however, looks like a sure thing for the NL squad. He'll be battling Carlos Beltran and Andre Ethier for a spot in RF, so he may not start, but having the star power and entering the league with as much hype as Stanton did, he's a safe bet to receive enough votes to make the team.
Perhaps this Stanton versus Trumbo Derby is just a dream. But it could very well be the best matchup since the epic '98, '99 and 2000 derbies (Ken Griffey Jr, Sammy Sosa and Mark McGwire). If Trumbo and Stanton were to make an appearance in the finals, it could just go down as the greatest Home Run Derby of all time and that my friends, is worth starting a campaign for. So in conclusion, I, Scott Allen, in conjunction with the entire MLB Fan Cave submit my intention to get Mark Trumbo voted into the All-Star Game and more importantly, the Home Run Derby.