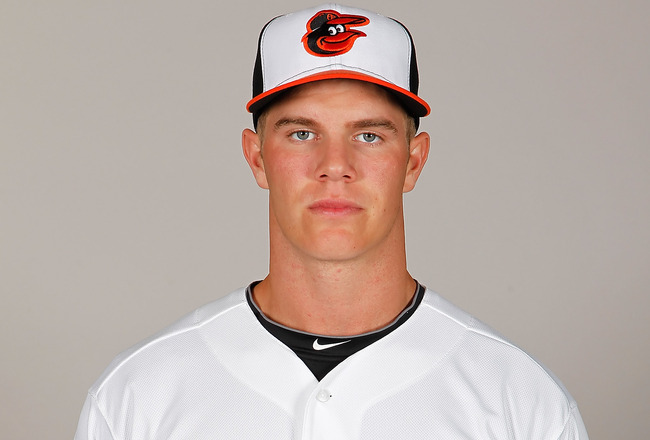 The line reads out of MLB 12: The Show on Rookie setting while using Justin Verlander against a Double-A team: 40 batters faced over 13 innings, no runs, no hits, one walk, 21 strikeouts at Low-A Delmarva.
Go ahead and read that again.
Okay, one more time.
Impressed yet?
Did I mention he's only 19 years old? And that he's doing this in the 4th best run-scoring environment in the minor leagues?
Dylan Bundy is someone who would finishing up a freshman year at college right now. Then again, when you win the National High School Player of the Year Awards from Baseball America, USA Today and that bastion of baseball journalism, Gatorade, you might as well just see if the pros could challenge you.
And right now, he needs a challenge in a BIG way.
It could be possible that Bundy was underrated accross the board. Kevin Goldstein ranked him #6 on his Top 101 coming in to 2012. Baseball America's group of writers ranked him #10. Keith Law ranked him #11. (I also find it funny that the ETA as a Major Leaguer for Bundy in Goldstein's organizational rankings has him in 2014 while BA has him at 2013. Yet BA has him ranked #10.) Now? Considering Mike Trout should no longer be a prospect, Dylan Bundy is no less than the #3 prospect in all of baseball (mileage will vary on Jurickson Profar). I have him at #2 on my list right now (Trout has his own section. So what? It's my column.) and he should be #1 on next year's list.
This guy is unbelievable for 19. BA's scouting report has him with a 70 grade on his fastball, a 65 on his curveball and a 55 on his changeup with 60 control. Those would be plus-plus, plus and above average (x2). It should be noted that the scores are based on projection at the Major League level. And his current stats (video game or not) are coming against the lowest grade of full season minor league baseball players.
But it's hard not to get excited about three types of fastballs that are all fantastic, a hammer curve and a changeup that is ever-improving. Oh, and how about the fact that he has the drive to get better and better, too? (Makeup notes have been off the charts for him) I'm not sure how his preparation for this season flew under the radar, but the Orioles have to be mighty happy about the off-season developments and I'm sure they played it close to the vest in how excited they were to see him throw this year in his pro debut.
He'll be pushed to High-A Frederick soon enough (hopefully before his next start) and I wouldn't put it past anyone to see him join fellow 19-year-old Manny Machado in Bowie sometime soon (Although he might be 20 by the time Bundy gets there). After the junket of young arms the Orioles hoped they would have by now when they featured an entire staff full of Major League pitchers in the making, they might be looking at someone who not only becomes an ace in the end, but a franchise cornerstone with the likes of Machado, Matt Wieters and Adam Jones. Championship teams are built up the middle, and the Orioles soon might be starting the makings of one if Bundy continues his supernova trajectory.