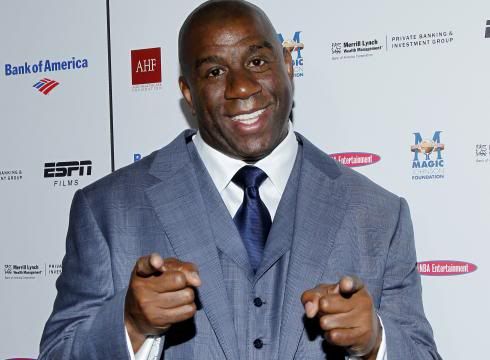 Only in Hollywood can one of the premier franchises in baseball get sold to a legendary basketball star for a record sum of $2 billion. Yep, the Magic Johnson fronted ownership group is about to become the new owners of the Los Angeles Dodgers. The ownership group, which also includes former NBA and MLB executive Stan Kasten, is also about to become heroes in Los Angeles because they are replacing the villainous Frank McCourt. If that is the kind of news that sounds like it could only be possible in movies, that is probably because the ownership group also includes big-time movie producer and part-owner of the Golden State Warriors, Peter Guber (not the one that got booed by the fans last week, that was the other part-owner, so don't worry).
But even with all those big names involved, it is the $2 billion purchase price that is going to get all of the attention. Not only is that just a preposterous number in its own right, but it is also significantly more than anyone predicted the Dodgers would sell for. Forbes recently valued the Dodgers franchise, which includes Dodger Stadium, at $1.4 billion while most experts predicted that the bidding would max out at $1.6 billion. $2 billion is a lot more than $1.6 billion. It is also a new record for the sale of any American sports franchise. It is also more than enough to ensure that Frank McCourt walks away from the mess he made an incredibly wealthy man, even after he finishes paying off his significant debt, which probably takes harshes the high Dodger fans have to be feeling right about now, but only a tiny bit.
Per the agreement with Major League Baseball, McCourt will have until the end of April to close the deal, but that seems like a formality since MLB already approved the ownership group earlier in the day. Once that happens, Dodger fans can rest easy that their team is now in the hands of the insanely popular Magic Johnson, though he may end up being little more than a figurehead included in the ownership group in order to win back the goodwill of LA baseball fans. It is Kasten who figures to be running the show from the baseball side, which should be just as exciting since Kasten presided over the Atlanta Braves during their huge run of success from 1987 through 1993.
Once the new owners take over, they will have quite a lot on their plate. First and foremost will be to decide what to do with the current front office and subsequently what to do with the on-field product. The biggest decision though could be handling the Dodgers next television deal, a looming financial windfall that helped drive the purchase price up so high. In order to make their massive investment look good, Magic and company better get all they can out of that deal.
(H/T Hardball Talk)