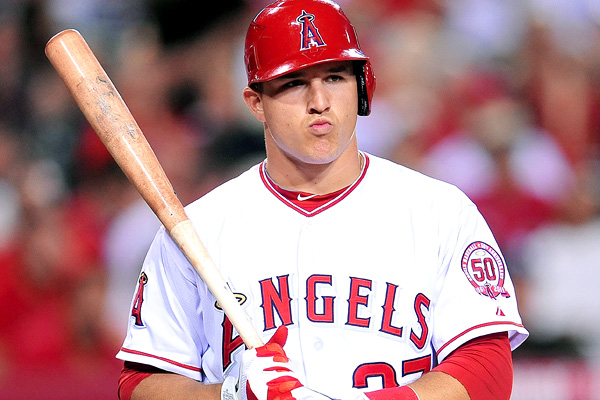 Are we witnessing history in the making with the 2012 rookie class? It certainly seems possible. There's no real debate that the 2001 class appears to be the best most folks can remember. Future Hall of Famers Ichiro Suzuki, C.C. Sabathia and Albert Pujols all debuted that season. Perennial all star candidates Alfonso Soriano, Roy Oswalt, Jimmy Rollins and Adam Dunn even debuted that year, though they failed to receive the recognition that Ichiro and Pujols garnered. So what does 2012 have that can stack up?
A lot actually. No one can say for sure if there are any Hall of Famers in the mix (can you say that about any rookie?). But on the surface there looks to be as much talent as any class since 2001 and possibly ever. The National League class is led by….
Padres 1B Yonder Alonso (.300/.366/.427 with 11 doubles in 31 games)
Teen sensation Bryce Harper (.233/.333/.372 with 6 doubles in 51 plate appearances).
The American League offers a somewhat deeper rookie class with
LHP Matt Moore (numbers too ugly to post, but most believe he's an ace in the making)
Cuban import Yoenis Cespedes (.245/.319/.434 with 5 doubles, 5 home runs, and 4 stolen bases in 28 games. He's missed the past couple of games with a hand injury, though)
Designated hitters Jesus Montero (.267/.281/.440 with 5 doubles and 5 home runs in 30 games)
Japanese legend Yu Darvish (44 1/3 IP, 51 K, 2.84 ERA, and a 5-1 record)
5-tool candidate Mike Trout (.317 BA, .968 OPS, 5 doubles, 2 home runs and 2 stolen bases in only 11 games).
That's not to mention other notorious rookies that may qualify before the end of the season like Jarrod Parker, Trevor Bauer, Tyler Skaggs, Drew Pomeranz and Anthony Rizzo. You have to figure that Alonso may garner some votes as he's on pace to hit over 50 doubles. Harper has cooled off significantly and took his frustrations out on his head (10 stitches from a bat that bounced off a wall and smacked him up the noggin) but he'll get votes because he's the 2012 MLB version of Lebron James. In the AL, Matt Moore may pitch his team to the playoffs, Cespedes could possibly hit 30 homeruns and steal 30 bases in his rookie season, Montero should get some votes because of his catcher eligibility, Darvish may contend for the Cy Young and Trout may hit .300, contend for gold glove, hit 20+ homeruns and steal another 20 or 30 bases.
There's a lot of baseball left to be played, but this 2012 group looks like it may have at least half a dozen superstars in the making and may rival 2001 as the greatest rookie class of this generation. Keep watchin' folks, this kids make the game exciting.