Catcher – Devin Mesoraco (Cincinnati Reds)
Some may wonder why not Jesus Montero. The answer is simply because Montero is a not a legit catcher. I understand Seattle intends to play him over there part time, but that's essentially an open invitation for teams to steal bases at will and pitchers will be cognizant of the fact that any ball in the dirt has a good chance of reaching the backstop. None of these worries are present with Mesoraco. He looks poised to grow into an above average major league catcher
First Base – Matt Adams (St. Louis Cardinals)
The minor leagues have reached a rare point where there really aren't many good first base prospects left. Too many have recently graduated (Morrison, Freeman, Alonso, Rizzo) and not enough have separated themselves from the pack enough to be considered "elite". Except for maybe Matt Adams and CJ Cron. Adams deserves the title of "Best First Base Prospect" though after ripping 32 HR's in AA. His upside may not be as high as Cron's but Adams looks like a safe bet to be a Top 15 first baseman in the major leagues.
Second Base – Steve Lombardozzi (Washington Nationals)
The switch hitting Lombardozzi has proven capable of handling 2B, SS and 3B any time he's counted on. He's a steady hitter with impressive discipline and is able to contribute in all offensive aspects. Oddly enough, Lombardozzi may not even have a future playing second base for the Nats. Danny Espinosa may be an imperfect player but it's hard to argue with 29 doubles, 21 HR and 16 SB from a rookie with Ian Kinsler type of potential. There are also rumors that college slugger Anthony Rendon may shift from third base to second if Zimmerman is extended.
Shortstop – Jurickson Profar (Texas Rangers)
Elvis Andrus' job is safe for now, but his eventual replacement looms large on the horizon. I was extremely skeptical of Profar coming into 2011, but for once it appears the scouts were right, this kid is going to be a 5-tool shortstop. His offense is currently a notch above what he brings defensively, but the tools are there and no one is worried about his ability to stay at short. Perhaps what's most impressive is the polish in Profar's game, he's not raw like most Latin American prospects that come to America for the first time.
Third Base – Anthony Rendon (Washington Nationals)
The hot corner is surprisingly empty of its usual supply of heavy hitting prospects after the promotions of Lonnie Chisenhall and Mike Moustakas. Some names offer a degree of promise in one or two categories like Nolan Arenado and Mike Olt, but none offer the complete package Rendon brings. Power, defense, batting average, patience, discipline and experience, Rendon really has it all. Reports indicate his shoulder is fully healed. If these are true, Rendon could force his way into the lineup within a year or two.
Left Fielder – Brett Jackson (Chicago Cubs)
Jackson is an impressive specimen right now but I still think he may get even stronger as he reaches his mid-20's, which is a scary thought for opposing teams. I don't expect he'll ever hit for a high batting average, but he plays good defense, gets on base, hits home runs and steals bases well enough to make up for one lacking stat.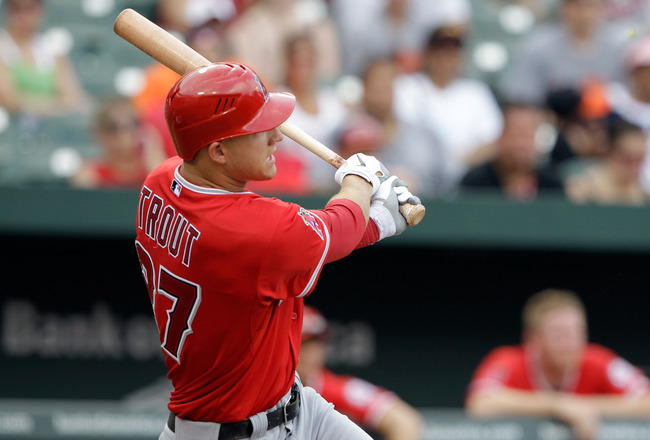 Center Fielder – Mike Trout (Los Angeles Angels)
In my mind, Trout is the unquestioned top prospect in the game. There's no weak spot in his game. Scouts and coaches alike rave about his mental makeup and work ethic, he's young and he's only going to get better. Trout is one of those generational talents that even the most untrained observer can tell will have a productive MLB career, much like Alex Rodriguez, Derek Jeter, Justin Upton and Jason Heyward. He truly is a man among boys when steps onto the field, which is kind of ironic because technically last year he was young enough to be a college freshman when he received his promotion into the majors.
Right Fielder – Bryce Harper (Washington Nationals)
Like him or hate him, it doesn't matter (or so he tweets), one thing you can't deny is his bat. It's honestly a good thing he left high school early because he might have ended up killing someone being allowed to swing a metal bat. Everything you've heard about the bat speed is true. I have doubts as to his ability to hit for average but have no doubt in his physical ability to drive the ball. The only person I see in baseball today that matches his physical prowess and ability would be Josh Hamilton.
Designated Hitter – Jesus Montero (Seattle Mariners)
This one was actually a tough choice because there are a lot of good hitters in the minors that are shaky at their respective defensive positions. But, at the end of the day Montero can hit and has proven it at every level, whereas other prospects aren't as close to a sure thing. I won't buy into the Miguel Cabrera hype for one second, but you don't have to be Miguel Cabrera to be a good hitter. Montero has a good-looking swing with an advanced approach and a decent eye. He swings and misses too much, but rarely will a 21 year old in AAA not fall victim to advanced competition.
Bench – Wil Myers (C/OF Kansas City Royals), CJ Cron (DH/1B Los Angeles Angels), Manny Machado (SS/2B/3B Baltimore Orioles), Gary Brown (OF San Francisco Giants), Yonder Alonso (1B/LF San Diego Padres).
We'll be back with the pitchers later this week