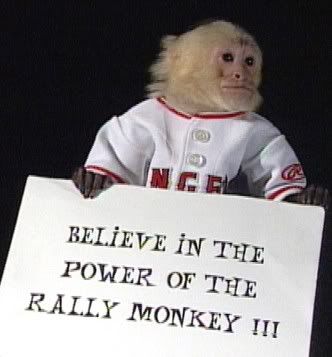 Matt Kemp may be the best player in the National League with almost no holes in his game. Pitchers will surely be looking for any way they can get an advantage against him, which is why he may regret an admission he made in an interview yesterday:
"I don't like the rally monkey," Kemp said. "I'm scared of the rally monkey. Out in the outfield, the monkey just pops up on the screen, and that can be scary. The rally monkey has gotten us sometimes. Hopefully, it won't happen this year."
Ah ha! We finally know his kryptonite!!! Too bad for the NL West that the Los Angeles Angels have a trademark on their precocious primate mascot. Of course, that does leave the Angels looming as a threat to Kemp and his Dodgers, and isn't that what this is really all about?
That's a rhetorical question, that literally is what that interview was about. Kemp has been in camp for less than 48 and he and the rest of the Dodgers are already being forced to field questions about the Angels muscling in on their baseball supremacy in Los Angeles. These are the kind of things that happen when one franchise signs the best player in baseball to a $250 million contract while the crosstown rival franchise slogs through a messy divorce/bankruptcy/auction sale proceeding.
From my own personal standpoint, I can assure you that the question of which baseball team "owns LA" is a significant one. The answer to the question isn't nearly as significant as the mere fact that it is being asked. Having grown up as an Angel fan in the San Fernando Valley, which is firmly in Dodger territory, it blows my mind that this is even a debate, much less one that doesn't have a clear answer.
The Dodgers clearly have a healthy head start over the Angels since their franchise history is much richer. It definitely doesn't hurt that they are, you know, actually in Los Angeles either. But make no mistake, the tide is turning.
Just look at last year's attendance numbers. The Dodgers failed to draw over 3 million fans for the first time in the 21st century while the Halos capped their tenth consecutive year of 3+ million fans flocking to Orange County and parlayed that continued surge in local popularity into massive $3 billion TV deal. Even the national baseball market is taking notice as the Angels are already slated to be nationally televised on FOX and ESPN ten times this season while the Dodgers have just five such broadcasts lined up. The Angels may not be the #1 team in the market, but they have closed the gap considerably.
Considering the infamously fair-weathered nature of Southern California fans (and before you tell me that's not true, you might want go outside and take that Clippers flag off your car), the balance in team loyalty could continue to shift quickly. Imagine what could happen if a Pujols-fronted Halo team makes a World Series run culminating in owner Arte Moreno, the polar opposite of Frank McCourt, hoisting the Commissioner's Trophy over his head in exultation while Dodger fans sit at home watching and wondering what their new owner, who should be in place by May, will do to pull what was once a marquee franchise out of the holding pattern of mediocrity that they find themselves in.
Should such a scenario unfold, it might be all Los Angeles baseball fans need to stop thinking Dodger Blue and start bleeding Angel red, leaving the Dodgers to join Matt Kemp in cowering in fear at the power of the Rally Monkey.