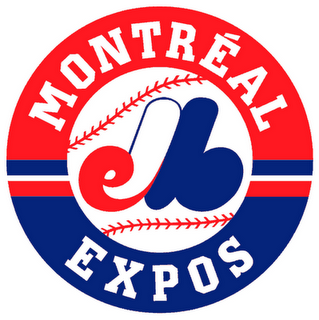 Another one bites the dust. With Orlando Cabrera announcing his retirement yesterday, we lose one of the last few players that can be largely identified with the now defunct Montreal Expos. It is a club that might soon be extinct, actually. Out of all the remaining "true" Expos, just Vladimir Guerrero and, arguably, Javier Vazquez remain and both of those players are staring straight down he barrel of retirement as well. While the Expos have since morphed into what is currently a promising young Washington Nationals team, it is a shame to see their remnants inching so close to extinction.
Alas, there is still some hope. While Vlad and Javy are probably the last full-blooded Expos on earth, there are still a handful of Major Leaguers left that at one time or another, even if only for a few games, donned Expo uniform. In fact, there 19 former Expos that played in the majors in 2011 (assuming I didn't miss anyone) and as odd as it may seem, you could almost field an entirely new MLB franchise with those players.
Here is that team with each player listed by their current team and age on Opening Day:
C – Brian Schneider (PHI, 35)
1B – Val Pascucci (NYM, 33)
2B – Jamey Carroll (MIN, 38)
3B – Geoff Blum (Free Agent, 38)
SS – Maicer Izturis (LAA, 31)
LF – Juan Rivera (LAD, 33)
CF – Endy Chavez (Free Agent, 34)
RF – Vladimir Guerrero (Free Agent, 37)
SP – Carl Pavano (MIN, 36), Javier Vazquez (Free Agent, 35), Bartolo Colon (OAK, 38), Ted Lilly (LAD, 36), Bruce Chen (KC, 34), Livan Hernandez (Free Agent, 37?)
RP – Jon Rauch (NYM, 33), Scott Downs (LAA, 36), Guillermo Mota (SF, 38), Miguel Batista (NYM, 41), Luis Ayala (Free Agent, 34)
OK, it would be a pretty terrible team, but I bet they could give the Astros a run for their money, especially if they can fill out their bench with other former Expos like Nick Johnson, Ryan Church and Brendan Harris who are still active but played in the minors last season.
With Les Expos ceasing to exit after the 2004 season, the roster is understandably aged, but it still has some fight left in it yet. Vazquez, Hernandez and Guerrero may have unknowingly played their last games, but the Montreal legacy still should live on for another few years. The baby of the bunch, Maicer Izturis is just 31, so he should have a few more seasons left in him, even if (as any Angel fan will tell you) he is made out of glass. Jon Rauch who is "only" 33 looks like he isn't going anywhere anytime soon either. Plus, who knows how long Livan Hernandez and Miguel Batista will hang around as they each attempt to become MLB's version of Methuselah (oh, never mind, that's still Jamie Moyer). And there is always the possibility that Scott Downs will go all Jesse Orosco on us and keep mowing down left-handed batters into his late-forties. All thing considered, barring anything drastic, it would seem that we have at least five more seasons before the Montreal Expos are truly extinct.
But wait! There's more. While the active players will be all gone soon, the Expos still have some longevity beyond that as far as our collective baseball consciousness goes. Fittingly, right about the time that the last former Expo hangs up their cleats, we should be looking at Vladimir Guerrero hitting the Hall of Fame ballot. He seems like a Hall of Famer right now, but there will probably be some lively debate about whether or not he makes the cutoff. More importantly, his candidacy will carry with it the larger topic of whether or not he should go in wearing an Angels hat or an Expos hat. Couple that dilemma with what will unfortunately be epic amounts of hand-wringing in regards to whether or not Expo legend Tim Raines should finally be let into the Hall before his last few years of eligibility expire, toss in a similar, but much weaker, argument for Larry Walker and the memory of Montreal should still keep on breathing for a good decade or so.