Everyone is overloaded with trade talks regarding Giancarlo Stanton. Hell, I wrote a monstrous piece about what the Marlins would need in return for Stanton yesterday. But that doesn't mean that fans of every team in baseball aren't fantasizing about the possibility of Stanton in their team's outfield on Opening Day this year. I hate to break it to you, but it's not going to happen. Your team isn't going to trade for Giancarlo Stanton, and here's why.
Arizona Diamondbacks. Bringing a fifth outfielder into the fold is a little much, even for Kevin Towers. Besides, if the Diamondbacks *did* trade for Stanton, they'd then probably trade Justin Upton…and next winter, they'd look to trade Stanton after signing Nelson Cruz to a three-year deal.
Atlanta Braves. Frank Wren hoards prospects like they're military rations in a fallout shelter. But then again, Wren did acquire Dan Uggla from the Marlins two winters ago for a utility infielder and a middle reliever…
Baltimore Orioles. If Dan Duquette built a package around Manny Machado or Dylan Bundy for Stanton, an angry mob would probably begin the march to Camden Yards with the goal of burning the place to the ground. Ray Lewis retiring was enough, but don't deal the prospects too!
Boston Red Sox. Stanton is about ten years too young for Ben Cherington's offseason plan.
Chicago Cubs. Theo Epstein and Jed Hoyer would mention Alfonso Soriano in every conversation about Stanton, so much so that they'd forget Soriano makes more than the entire Marlins starting lineup in 2013.
Chicago White Sox. Really, what do the White Sox have to trade? One of the worst farm systems in the game, a veteran team, and their Cuban star (Alexei Ramirez) plays a position that's taken up in Miami.
Cincinnati Reds. If the Reds *did* trade for Stanton, they probably would have played him in center field like they're doing with Shin-Soo Choo. And in that case, Stanton would probably suffer a career-ending injury within three months of making his Reds debut.
Cleveland Indians. After signing Nick Swisher, the Indians aren't overly desperate for a corner outfielder. Cleveland has more experience with *selling* players rather than buying them though, and after the Ubaldo Jimenez fiasco two summers ago, Mark Shapiro might not want to trade for another potential star while sober.
Colorado Rockies. Stanton can't pitch, thus the Rockies have no use for him. But imagine hiim playing 81 games a year at Coors Field. In seven career games in Denver, Stanton has six homers and a 0.760 ISO. A lot of that has to do with him facing the Rockies pitching staff, but dear lord.
Detroit Tigers. Dammit, it wouldn't be fair to hit either Prince Fielder, Miguel Cabrera, Victor Martinez, or Stanton sixth in that lineup.The Tigers are supposed to be saddled with huge contracts attached to older players, not young and exciting power hitters like Stanton!
Houston Astros. The Astros need a superstar, they need offense, so Stanton would be the perfect fit for this team. With Stanton in the fold for the next four years, the Houston Astros would move into a new era in team history in the AL West, perhaps even managing to hit the 65 win mark during Stanton's tenure with the team!
Kansas City Royals. If the Royals did trade for Stanton, Dayton Moore would still demand that Ned Yost plays Jeff Francoeur every day, relegating Stanton to AAA where he would hit approximately 60 homers in the first half of the season.
Los Angeles Angels of Anaheim. If Jerry DiPoto acquired another outfielder, Peter Bourjos would probably wonder what the hell he did to piss his boss off.
Los Angeles Dodgers. Because the Dodgers would actually have to give up talent to acquire Stanton instead of just handing him a blank check, Ned Coletti would get extremely confused and likely just start offering equity in the club to Jeffrey Loria.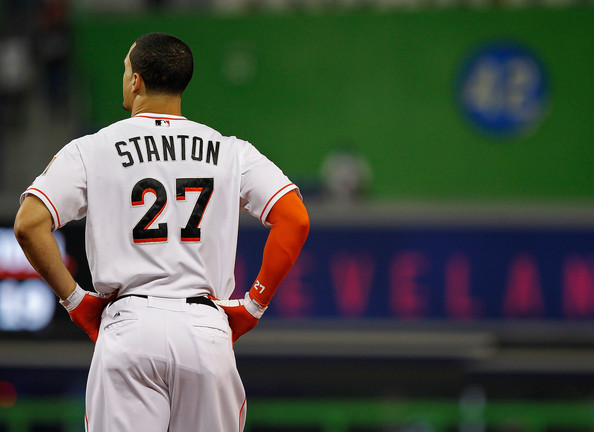 Milwaukee Brewers. As a Brewer, Stanton and Ryan Braun would form one of the most dominant lineup cores in baseball along with Aramis Ramirez and Corey Hart. Of course, Milwaukee's pitching staff would probably end up allowing 800 runs anyway.
Minnesota Twins. Stanton isn't a speedy centerfielder and thus, can't fill the vacancies created this winter after the Twins traded Denard Span and Ben Revere. Plus, he can't catch or play first base, which is apparently mandatory for all outfielders that the Twins acquire.
New York Mets. Stanton as a Met would be pretty hilarious, because Mets fans would *still* find something to complain about. And let's be honest, as soon as he jogs onto Citi Field, something catastrophic would happen to him.
New York Yankees. The Yankees farm system really isn't that great right now. That won't stop armchair GMs from proposing a trade of Ivan Nova, Manny Banuelos, and David Phelps, and wondering why Brian Cashman can't get that deal done.
Oakland Athletics. Stanton isn't an under the radar enough acquisition for Billy Beane. Then again, we said the same thing about Yoenis Cespedes, and he signed with the A's out of nowhere.
Philadelphia Phillies. Even if Stanton was acquired, Phillies fans would scream to the heavens about Darin Ruf and Domonic Brown not getting a shot in the majors. Also, the wind caused by all the strikeouts that Stanton and Ryan Howard would provide in 2013 would drop the average temperature of Citizens Bank Park by ten degrees.
Pittsburgh Pirates. The Pirates go all-in by acquiring Stanton, win 80 games in each of his four seasons with the club, and Neal Huntington still gets killed for trading Joel Hanrahan.
San Diego Padres. As the Padres only capable hitter aside from Chase Headley, Stanton would be intentionally walked 150 times and would somehow manage to hit under 20 homers playing half of his games in Petco Park.
San Francisco Giants. Stanton definitely doesn't have enough veteran presence for Brian Sabean. We know that for sure.
St Louis Cardinals. Everyone outside of St Louis doesn't need another reason to hate the Cardinals.
Seattle Mariners. The Mariners could put together a very competitive package for Stanton, but the Marlins would continue to demand Felix Hernandez in every dicussion between the teams.
Tampa Bay Rays. Andrew Friedman's Jedi mind tricks won't work with Jeffrey Loria, because he has no soul.
Texas Rangers. Jon Daniels still won't trade Jurickson Profar or Elvis Andrus, and that will potentially lead to a middle infielder playing first base for the Rangers in 2013 while the team has a degrading outfield. Oh wait, that actually might happen.
Toronto Blue Jays. After the megadeal between the two teams, the Blue Jays have nothing left that the Marlins want in their system. Besides, the Marlins probably would have included Stanton in the original trade if the Blue Jays were willing to get the Maple Leafs to trade Phil Kessel to the Panthers.
Washington Nationals. If Giancarlo Stanton, Bryce Harper, and Stephen Strasburg all sat in the same dugout for 162 games a year, the sheer amount of talent would rub off on the rest of the Nationals and they'd win 130 games a season.