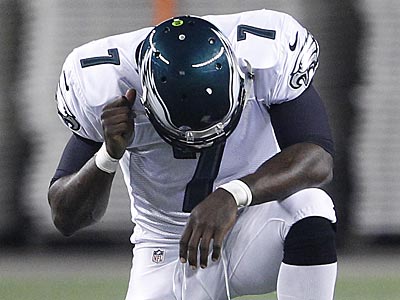 Michael Vick reminded his fans that he can be … fragile. Vick took a wicked hit from Patriots linebacker Jermaine Cunningham in the worst moment of a horrid first quarter preseason game against New England.
The hit sent Vick to the sidelines, then to the locker room for x-rays on his ribs. The results were negative, but Vick would not return for the rest of the game. It is unlikely that Philadelphia Head coach Andy Reid will risk his star in the last two preseason games.
New England Head Coach Bill Belichick held Tom Brady and a host of Patriots stars out of the contest and watched his team build an 11-0 lead, the result of a Stephen Goskowski field goal and a two-point conversion after a Ryan Mallet to Alex Silvestro touchdown pass. New England's threes and fours dominated the Eagles, which led to an entertaining shouting match between Reid and DT Cullen Jenkins. That lit up the Eagles who scored two touchdowns to tie by halftime and then dominate for the rest of the game for the 27-17 win.
But, Vick dominated the news. He took the hit when he stepped into a deep throw to DeSean Jackson after eluding the Patriots' pass rush. The football world gasped.
In the prior series, Vick made something on a broken play when he slid head first for a first down. Vick's fans love the recklessness. His coaches do not because it leads to Vick's unavailability at the wrong time. Injuries in the regular or post-season are always at the wrong time.
Tweets were fast and furious after the injury. Some of it was gloating, but most were reassessments of the Eagles as potential Super Bowl contenders if Vick is out.
I think the Eagles are being removed from my playoff contenders list. Michael Vick will never play a full NFL season.

— Omar Kelly (@OmarKelly) August 21, 2012
That could be premature as the game itself showed. Philadelphia's offense is rife with playmakers – no one in Philly misses Brian Westbrook. The Eagles are better able to cope with the loss of their starting quarterback than 12 other NFC teams. Mike Kafka has been credible as Vick's back-up, albeit in preseason games. Rookie Nick Foles threw for 217 yards and two touchdowns with one interception. The Eagles defense exerted its will after Reid lit them up.
The Eagles are loaded, but they need Vick to play to his potential as a passer to be a super team. Vick said he got the message about avoiding injury. His play tonight shows that he has yet to internalize it. NFC East rivals and AFC North opponents are watching.