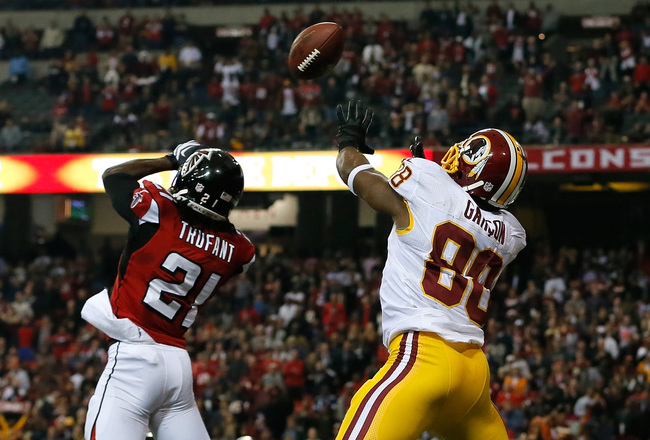 With two weeks left to go the 1st round pick rankings are coming to a close. Overall this class was decent at times but disappointing in whole. The highest graded 1st rounder this week is Desmond Trufant who's been a real gem for the Falcons depsite their miserable season. Make the jump for the updated standings as of week 15:
1. Sheldon Richardson, DE for the Jets, originally drafted 13th: He recently made the proclamation that in a re-draft he would go first overall. I agree with him as there is no question he brings an elite level of performance each and every week. Getting him with the 13th pick was a huge steal, this much is clear. He's not only been outstanding in many games, he's also been incredibly consistent. This week he had a complete game, with 4 tackles, but didn't make enough of an impact to help his team win the game.
2. Alec Ogletree, LB of Rams, originally drafted 30th: The Rams held the Saints to 16 points and Ogletree played a big part in that with 7 tackles, one for a loss and a defended pass. On the PD he read a play action short yardage flare pass to the fullback and almost intercepted it, jumping the route perfectly. The Saints like to run that play in short yardage situations and clearly he did his homework.
3. Eric Reid, S of 49ers, originally drafted 18th: The 49ers are playing some good ball lately and will be a scary team to host in the playoffs. Reid is actually neck and neck with Ogletree for 2nd place so these last two games will dictate how they end up. This week against the Bucs Reid had three tackles and a big time interception. He continues to make big plays.
4. Kenny Vaccaro, S of Saints, originally drafted 15th: He traded spots with Reid this week, so he's down one, but I can only imagine how horrific the Saints' run defense would be without him. They are bad as is, but Vaccaro is one of the few that does an amazing job of finding the ball and tackling soundly. His coverage continues to get better, too, but his tackling around the line of scrimmage in run support is clearly a superior strength of his game. He had 6 tackles.
5. Desmond Trufant, CB of Falcons, originally drafted 22nd: He's back up a spot and into the top 5 for his stellar performance against the Redskins. He had 7 tackles, two defended passes, and his second interception of the season. He did get penalized once, the only negative. He was also in coverage on the final 2 point play pass that fell incomplete which handed the Falcons the win. The Falcons really got an upgrade from Dunta Robinson (who left in the offseason) this year in Trufant.
6. Star Lotulelei, DT of Panthers, originally drafted 14th: After being in the top 3 most of the season he's dropped off a little bit of late. He's not playing poorly, he's just been a lot more quiet. Perhaps the toll of a 16 game season is starting to add up on him. He had an unusually quiet game for him and just two tackles, but he did play the run pretty well.
7. Travis Frederick, C of Cowboys, originally drafted 31st: Man, I hesitate to say anything about the Cowboys right now, what a weird thing that team is in December. Frederick played awesome in this game, particularly in run blocking, but he did give up a sack. He's having himself a very solid season overall.
8. Cordarrelle Patterson, WR of Vikings, originally drafted 29th: The Eagles wanted no part of his return abilities and kicked away from him. His continued involvement on offense in recent weeks proves he's not a one trick pony anymore. He made another meaningless impact with 2 carries for 17 yards and 5 catches for 35 yards. Patterson should be a really good player next year. As the season progresses we're seeing clear improvement each week.
9. Tyler Eifert, TE of Bengals, originally drafted 21st: A big jump back into the top 10 for Eifert, up 4 spots, despite a disappointing loss to the Steelers. He had 3 catches for 35 yards and a touchdown, and his contributions in the passing game are on occasion very good.
10. DeAndre Hopkins, WR of Texans, originally drafted 27th: What a disaster week it was for the Texans, held to 3 points by the Colts defense. Hopkins quietly had 3 catches for 52 yards. He stays put in the standings.
11. Ziggy Ansah, DE/LB of the Lions, originally drafted 5th: He's down 2 spots after being completely dominated and shut out in the game against the Ravens. He had no tackles and did absolutely nothing. As hot as he's been lately this was a big surprise.
12. Barkevious Mingo, LB of Browns, originally drafted 6th: He's down a spot after a 3 tackle game, one for a loss. He just doesn't play the run well and gets run over way too much. His stock in trade as a pass rusher was not showcased at all this week.
13. Matt Elam, S of Ravens, originally drafted 32nd: He's up two spots as, for the most part, he backed up his big mouth with his play. He talked this week about shutting down the "old" Megatron. Indeed, while Megatron did end with 98 yards receiving, it can be characterized as a bad game with numerous drops. Elam had 10 tackles, including one for a loss, and played reasonably well on the back end. He was saved by Tucker's 61 yard game winning field goal, though.
14. Xavier Rhodes, CB of the Vikings, originally drafted 25th: He's down two spots as he did not play due to an injured ankle. The Vikings could have used them as they played poorly defensively, but fortunately for them they put up 48 points without Adrian Peterson or Toby Gerhart in the backfield in an upset win over the Eagles. Weird.
15. Tavon Austin, WR of Rams, originally drafted 8th: He's also down a spot due to not playing from an ankle injury. Not that the Rams needed him, though, putting up 27 points on the Saints in a win. I think it's pretty clear who is the offensive rookie that carries that team, and it's Zac Stacy.
16. Lane Johnson, T of the Eagles, originally drafted 4th: He gave up a sack and his pass blocking was so-so this week. The Eagles' defense is the main culprit in the shocking loss to an undermanned Vikings squad, though.
17. Kyle Long, G of Bears, originally drafted 20th: He was the weak line on the Bears' line this week. His run blocking continues to be very up and down. Week to week I'm never sure what to expect from Long.
18. Justin Pugh, G/T of the Giants, originally drafted 19th: What a horrific performance by the Giants from top to bottom. The Seahawks' defense is scary, but the Giants completely imploded and were shut out. Eli Manning was horrid, but he also had no protection. Pugh was terrible. He gave up a sack and was owned all game long. He won't have such a high degree of difficulty again, one would think.
19. Dion Jordan, DE of Dolphins, originally drafted 3rd: He's into the top 19, up a spot no thanks to another poor performance. He had 2 tackles but still can't get a pass rush going at all. I'm afraid we're left to conclude he was drafted way too high, he hasn't even shown much potential this season as a 3rd overall drafted player.
20. Sharrif Floyd, DT of Vikings, originally drafted 23rd: He was non existent and made no impact this week. A familiar refrain for Floyd. He's down a spot.
21. Chance Warmack, G of the Titans, originally drafted 10th: He was headed in the right direction the last couple of weeks but that's kind of been his season – one step forward two steps back. While the Titans offense did well overall, he struggled in their overtime loss to the Cardinals and once gave up a sack.
22. D. J. Fluker, T of Chargers, originally drafted 11th: After two back to back abysmal showings, likely due to him being compromised physically, he bounced back this week in the stunner win over the Broncos. He gave up a sack but played fairly well. He's up a spot.
23. Jarvis Jones, LB of the Steelers, originally drafted 17th: He's down a spot and continues to be a non factor as a pass rusher. He had 1 tackle.
24. Datone Jones, DE of Packers, originally drafted 26th: He's up a spot after having 2 tackles and half a sack in the miracle win over the Cowboys. As poor of a season as he's had, I'd consider that a monster performance.
25. Dee Milliner, CB of Jets, CB of Jets, originally drafted 8th: He's up a spot as he continues to dig himself out of the cellar. He's been poor all season but at least he's starting to hold his own now. He was up and down in coverage this week and had 6 tackles.
26. Eric Fisher, T of Chiefs, originally drafted 1st: His offense did put up 56 points, but his pass protection continues to be extremely poor. The last two weeks were much better but he reverted back to his old ways this week. He drops two spots and he's clearly, by far, the weakest starter on the Chiefs' offense. He has not played up to his draft status this year at all.
27. E. J. Manuel, QB of Bills, originally drafted 16th: This was one of his better games but he stays 27th overall. He did have an interception and two fumbles, including one lost, though, so it was exactly stellar. Still, he was 17 for 24 for 193 yards, 2 touchdowns and he also rushed 10 times for 37 yards and another touchdown. He did enough to help his team beat the Jaguars 27-20.
28. Sylvester Williams, DT of Broncos, originally drafted: In the Broncos loss, out of nowhere, he had 5 tackles and a sack. By far his biggest contribution of the season. It rockets him up two spots. Who knew he had this in him? Definitely a silver lining in the loss for the Broncos that maybe, just maybe, their first round pick wasn't an utter bust.
29. Bjoern Werner, DE/LB of Colts, originally drafted 24th: He had 3 tackles and a sack. For him that is a monster game. Nice to see him show up for a change. It's been a rough season for him.
30. D. J. Hayden, CB of the Raiders, originally drafted 12th: He's down two spots and has been on IR a few weeks now. He'll end the season at this spot.
31. Luke Joeckel, T of the Jaguars, originally drafted 2nd: Out for the year with an injury.
32. Jonathan Cooper, T of Cardinals, originally drafted 7th: Due to a season long injury, he will occupy this spot all season.
Who's Hot:
Tyler Eifert +4
Matt Elam +2
Sylvester Williams +2
Who's Not:
Ziggy Ansah -2
Xavier Rhodes -2
Eric Fisher -2
D. J. Hayden -2