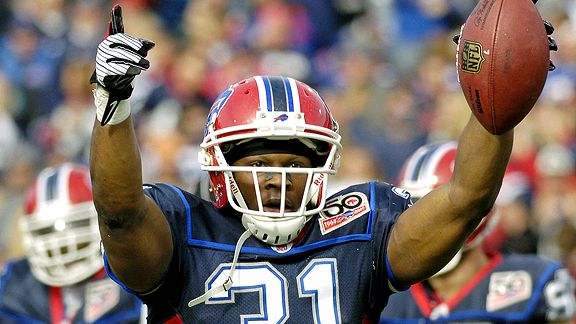 The Saints surprised pretty much everyone that has at minimum a passing interest in NFL free agency by grabbing who was largely viewed as the top player on the market in Jairus Byrd. The deal didn't come cheap, however, as the Saints spent handsomely in order to land him.
Indeed it took every bit of 6 years for $54 million, or Byrd's pie-in-the-sky asking price of $9 million a year, to bring him to New Orleans. That's the biggest contract in NFL history for a safety. The reason that was such a huge surprise was the constant post-Super Bowl media narrative that the Saints are not in a financial position to make any sort of splash in the free agency market given their salary cap issues, especially considering the Jimmy Graham situation.
But the Saints have consistently shown that if they see a player they like, they will go get him. Despite significant cap issues a year ago, they still managed to land high ticket cornerback Keenan Lewis on a 5 year $26.3 million deal last offseason. So how did the Saints even pull this off?
The Saints had roughly $2 million in cap room coming into free agency. This was before parting ways with Darren Sproles which has already been a foregone conclusion based on every media outlet's announcement and Darren Sproles himself tweeting his goodbyes to the fans. While nothing has happened officially, yet, that move will immediately put the Saints a little over $5 million under the cap once completed.
It's looking more and more like Sproles will be traded for a draft pick in short order. And that's all it will take for Byrd to fit in.
The signing bonus for Byrd was $11 million, which will be prorated as a $1.83 million cap hit per year. If the structure of Byrd's is anything like Drew Brees's contract (those specific details are yet to be released), then the first two years in salary are manageable numbers with significant escalations in following seasons.
Let's say Byrd's salary was $2.5 million in year one, that would give him a cap value of ~$4.33 million. It is assumed the contract won't officially be turned into the league office until Sproles is dealt, which should happen today. Brees's contract in year three (next season) has an astronomical jump, one so significant the team will have to restructure (goes from $18.4 million to $26.4 million). And when they do, that will give them a lot of cap flexibility for 2015 and beyond. Brees has already said publicly he is completely open to that and he will do whatever it takes to help the team win. Jairus Byrd's contract is likely similar, with a significant jump in 2016 that may need to be re-negotiated.
So the Saints can fit Byrd under the cap, but they won't be able to sign anyone else and now more in jeopardy than ever is the Jimmy Graham situation, right? Nope. Last offseason the Saints were able to make room for Lewis and retain a slew of veterans on high salaries by restructuring a number of players on the team.
While Brees' contract needs to wait till 2015 for a re-structure, that doesn't mean the Saints can't get some significant cap room immediately by doing the same exercise with other players. The Saints can restructure Jahri Evans, Ben Grubbs and Marques Colston to get about $10 million worth of cap space in 2014. Add Brodrick Bunkley to that list and they would gain about $3 million more.
That's more than enough room for Graham and if the Saints sign him to a deal with a manageable cap hit in year one that should still leave plenty of room to add other players as well. The Saints still need a starter at right tackle, cornerback and center.
So the team would be doing all this and have to pay for it at some point, right? Surely they are mortgaging the future to win now? Not necessarily. As things stand the Saints have roughly ~$20 million in cap room for 2015. That's before a Brees re-structure which would give them signficantly more cap room, but also before a long-term deal with Jimmy Graham which would give them less.
They'll also have to sign Cameron Jordan to a big-time deal at that point, but the cap is looking OK for the Saints in future years. And like anything else, as players age, get worse and carry enormous contracts they can't live up to, they'll be cut. And sure, those cuts will carry cap hits, but they'll also give the team a lot of room to play with.
Don't forget the Saints let go of Roman Harper, Lance Moore, Will Smith and Jabari Greer this offseason. None of those four players had an impact on the 2013 season and all four were injured for at least a good portion of it. Losing those players won't have a major impact on the 2014 season from a competitive standpoint, but it gave the team the financial ability to go get Byrd and sign Jimmy Graham. Scenarios like that in the future are what will continue to keep the Saints competitive as long as Drew Brees is performing at a high level.
Losing Darren Sproles, on the other hand, should be interesting. The Saints seem to be on a bit of a decline offensively, and the changes suggest they may be moving more towards a power running game with Mark Ingram and Khiry Robinson. If that's the case, they may be leaning on a defense that was 4th in the NFL last season with Rob Ryan at the helm. While that defense was dominant from a yards perspective, the one thing that was really missing was turnovers.
That's where Jairus Byrd comes in as a premiere ballhawk. With the amount of pressure the Saints have been getting on the quarterback, led by Cameron Jordan and Junior Galette, Byrd figures to get numerous opportunities to showcase his skills. An elite defense just got a lot more dangerous.
So don't count on the Saints going away anytime soon. Sean Payton made that clear to those of us listening: "Honestly, the window, as long as I'm head coach here, we're trying to slam it open always. And so, you can take each individual player and say when's the window of opportunity. I think I've heard that the last three years. Now with regards to a specific player like Drew, I get that. And yet, that window's still all the way open. And I mean that. So we're always in a constant change, if you will, of taking in the new players, evaluating this team … but that window for us is each year slammed open."