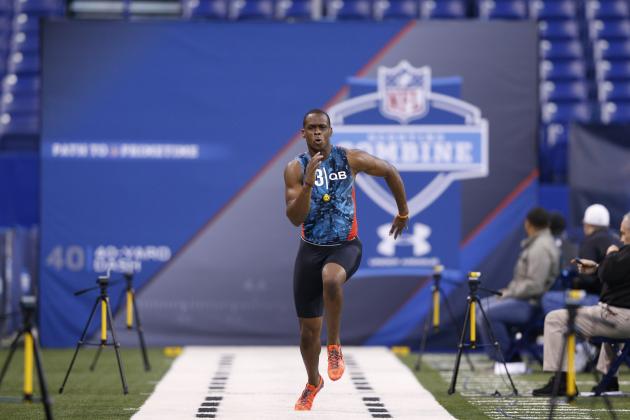 Let's voyage beyond the super-hyped storylines of the 2014 NFL Combine, shall we?
Sammy Watkins is going to light the 40-yard dash on fire. As will Jadeveon Clowney, and probably some running backs and corners. The quarterbacks will be out of sync with receivers to which they've never thrown.
A small-school prospect will show off serious, 40-inch hops. Like 360 dunk-hops.
Rich Eisen, Mike Mayock, Charles Davis and Co. will comprehensively cover the Under Armour Olympics, but here are the eight storylines worth watching that might not be hammered into your brain over the next five days.
How much "more athletic" will Greg Robinson be than Jake Matthews and Taylor Lewan?
Robinson's film shows a tremendously agile, 6'5'', 330-pound left tackle who was devastating as a run-blocker but needed some refinement kick sliding in pass protection.
Texas A&M's Matthews and Michigan's Lewan can move, but Robinson rocketed up draft boards with the fleet-footed power he exhibited down the stretch for the Tigers.
Many believe Robinson will shine inside Lucas Oil Stadium this weekend, and he probably will. But how much more athletic will he be in the on-field drills and how much faster will his 40 time be than Matthews and Lewan, his "Top LT" competition.
Which 4-3 defensive end will impress after Jadeveon Clowney?
Yeah, yeah, yeah, all eyes will be on Clowney when he runs the 40, does the vertical jump and all that stuff. He's going to put on one of the most ridiculously athletic performances in combine history. Be ready.
But who will be the second-most impressive defensive end?
Missouri's Kony Ealy is probably the second-best pure 4-3 defensive end on tape, yet will he test out as the second-best athlete at the position? Don't be surprised if Scott Crichton from Oregon State leaves the combine with a rising stock. Other names to consider here — Texas' Jackson Jeffcoat, and the much smaller Dee Ford of Auburn. He's more of a 3-4 outside linebacker, though.
How fast will De'Anthony Thomas run?
Because Oregon fell off at the end of the 2013 season, the draft buzz for nimble scat-back De'Anthony Thomas dissipated by December. He's small, but remember, the similarly sized Tavon Austin with a comparable skill set went No. 8 overall in 2013, and the St. Louis Rams traded up eight spots to get him.
Thomas' change-of-direction ability, track star burst and long speed make him an ideal candidate for today's increasingly spread out NFL.
Will he run fast? Like super fast? Like sub-4.40 fast? We'll see.
Thomas is an interesting prospect because of the position he plays and his diminutive size—he might be undervalued on draft day and emerge as a Darren Sproles-type player.
I could have written this about Kent State's Dri Archer, too. Keep an eye on him.
Comparing Mike Evans and Kelvin Benjamin
Thanks to guys like Alshon Jeffery, Brandon Marshall, A.J. Green, Jordy Nelson, and the grandfather of the group, Anquan Boldin, NFL teams are giddy about the possibility to draft a large receiver who's "open when he's not."
Texas A&M's Mike Evans and Florida State's Kelvin Benjamin are wideouts in small forward bodies who routinely "out-jump" smaller corners—duh, all corners are smaller than they are—and proved to be sound "high-pointers" in college.
Because of some drop issues, at this point in time, Benjamin seems to be slightly "behind" Evans in the eyes of many, but if the Seminole star runs considerably faster or demonstrates more fluid movement than Evans in the agility drills, he could be the big-bodied receiver everyone wants in Round 1.
Chris Boyd
Remember this name. Write it down in Notes on your iPhone. Boyd's a former Vanderbilt wideout who caught 81 passes for 1,247 yards with 13 touchdowns in two seasons with the Commodores.
The only problem—those two seasons were in 2011 and 2012.
He was dismissed from the football program prior to the 2013 campaign for his involvement in an off-field incident.
Sure, the red flags have been raised, but when he's working through the on-field drills, he won't have to worry about what teams think of his character.
Boyd's a 6'3'', 205-pound wideout who was productive in the SEC.
If he tests well, teams will be very intrigued.
Remember Marqise Lee?
Lee is following an eerily similar path to the NFL as former teammate and 2013 second-round pick Robert Woods. In 2012, Lee was a downright stud—the best wideout in college football.
His age made him ineligble for the draft, but after a 118-catch, 1,721-yard, 14-touchdown season, many believed Lee was bound to be a high pick in 2014.
Like Woods, when Lee returned to USC, the team regressed initially, and he dealt with an assortment of nagging injuries. Unsurprisingly, his numbers weren't as outstanding.
For a 6'0'', likely sub-200-pound wideout, Lee, who appeared to be tremendously dynamic and fast in the open field two years ago, should be watched closely at the combine.
This year's wideout class is very deep and many of the pass-catchers have larger frames than the former Trojan star.
A 40-yard dash under 4.5 would be fantastic for him.
The Standout Offensive Lineman
In the past couple of years, an offensive lineman emerges from relative obscurity with a unfathomably fast 40-yard dash time. Bruce Campbell and Lydon Mutha instantly come to mind. In 2007, it was Allen Barbre. Last year, it was Terron Armstead.
There's a stud athlete in the offensive line group somewhere, and he'll be one of the first guys to create "buzz" in Indy.
The Linebackers Who Run Slowly
This is always fun. Take note of the linebackers who run in the 4.65 to 4.9 range in the 40-yard dash. The analysts will spontaneously combust. Fans will laugh hysterically. Draft stocks will plummet into the depths of the Earth.
Sure, some of those second-level defenders could be drafted on Day 3 and never be heard from again.
But the "slow" linebackers don't always fizzle in the NFL.
Not at all.
In 2012, Vontaze Burfict ran a—ready?—5.09. In 2010, NaVorro Bowman was clocked at 4.70, and Sean Lee sprinted to a 4.72. Curtis Lofton ran a 4.79 in 2008.
Last year, Kiko Alonso ran 4.74 at his Pro Day.
You get the picture.