There are literally thousands of Minor League Baseball caps out there, ranging from plain, boring old logos (hello, Gwinnett and Mississippi Braves!) to some that are truly insane. And the majority of them are so cool, anyone who collects hats could go broke with one big shopping trip. Not that there's anything wrong with that.
There are so many minor league hats that it's pretty much impossible to make any kind of top 10 list. So of course, here's a list of the 10 best caps in Minor League Baseball. This list is purely, totally subjective. Someone else could make a top 10 list, have ten totally different caps listed, and it'd be hard to argue with their choices. But it's fun to argue, so let's have at it.
Without any further ado, the ten best caps in Minor League Baseball. And go ahead and click the team name to buy the hat! We're not getting a cut, so don't worry about that.
Doesn't he look happy? There's something oddly comforting about seeing an anthropomorphic biscuit with googly eyes holding out his hands as if to say, "Here I am!" But what really puts this one over the top is the pat of butter that doubles as his tongue. Just a genius touch. The hat colors are nice too, and they scream "minor league" in the best possible way.
Yes, yes, they're actually the Fresno Grizzlies. But every year, they turn into the Tacos for a game in honor of the region's amazing taco trucks, and the cap that they wear for the event is fantastic. Bright, bold colors and a delicious-looking taco logo make for one of the most memorable caps in all the minor leagues. They should change their name to the Tacos permanently. Are there even grizzly bears in Fresno? Who knows? There are definitely tacos, though.
You know a minor league team has a good cap when it could replace one of the parent club's caps and be an instant upgrade. The Senators' "Uncle Slam" cap fits the bill, as it would add a little life to the Nationals' rather boring uniform set. It's a great logo, and blue and red always work well together.
If you're going to have a silly name like Chihuahuas, you might as well have a ridiculously fierce looking logo to go with it. And it totally works on an all-black cap with angry red outlines and a red-eyed, snarling little yap dog. It's a hat that starts conversations and makes people ask what it is, which is something all minor league teams should strive for.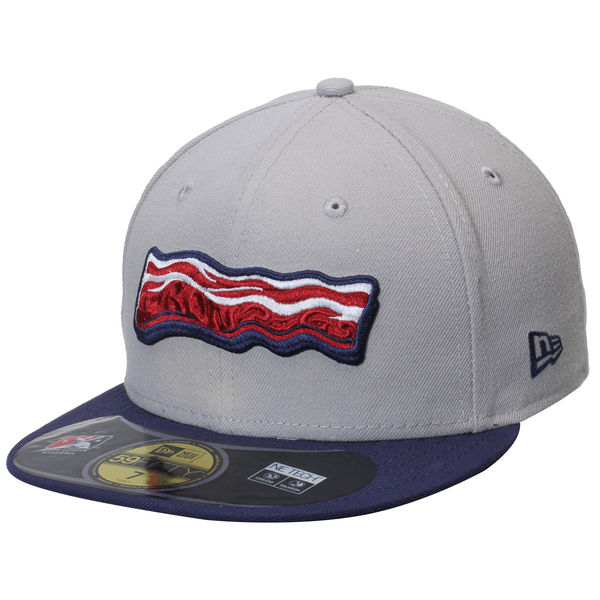 A big, honkin' slab of bacon in the colors of our nation's flag. What could possibly be more American than that? This is a great idea for an alternate cap, playing off of the "Pigs" name while incorporating something everybody loves: Bacon. It's a masterpiece.
Our nation's 26th President, dressed in his Rough Riders cavalry uniform, swinging a bat and admiring what was surely a monster dinger. It was a stroke of genius to turn President Roosevelt into the team's logo and it works perfectly on the dark crimson cap, which is a color you don't often see teams use. Another cap that will surely start a conversation.
It was impossible to choose between these two: a badass hot dog with an attitude, and a badass ostrich putting up his dukes. What do they have to do with the Reading Fightin' Phils? Something about a hot dog vendor who rides a stuffed ostrich, but do you really care about the back story? No. You just want a hat with a mean-looking hot dog and a fighting ostrich. That's all that matters.
Another hallmark of a good hat and logo is that it's easy to tell who the team's parent club is without being overt about it. The Marauders encapsulate this by using the Pirates' colors and a Pirates-esque logo, but putting their own spin on it. It works beautifully, and the logo looks like it could be a secondary logo for the Pirates – it's that good.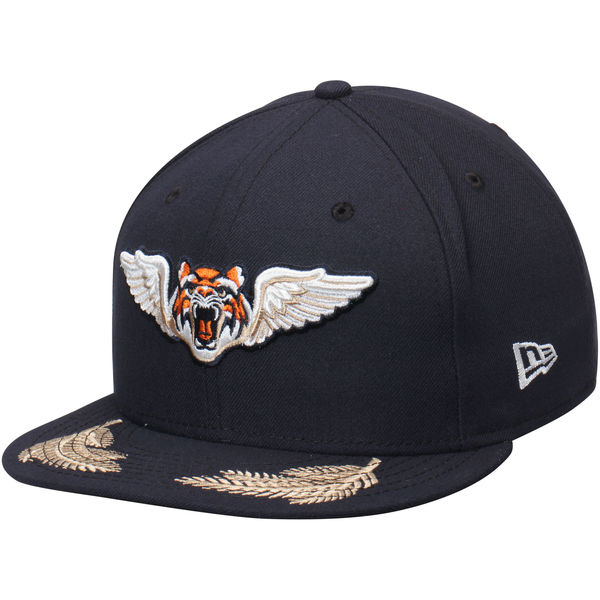 This is actually the manager's cap, as evidenced by the scrambled palms on the bill. Another great touch that pays homage to Lakeland's WW2-era aviation history while giving the team a unique element that calls back to the old Seattle Pilots caps. Plus, the actual logo and colors are great on their own, even without the palms.
Anyone who's ever been on Big Thunder Mountain Railroad at Disneyland will have flashbacks when they see this cap, since the goat looks exactly like the goat holding a stick of dynamite at the top of the ride's second lift hill. Maybe that's why I like it so much. Great colors, too, and the goat looks just deranged enough to be fierce.