Game 7 of the 2016 World Series between the Chicago Cubs and Cleveland Indians was exceedingly better than anything Hollywood could ever produce. We already know the 30 for 30 on the series will be absolutely amazing, but a sports event like this also calls for a dramatic biopic.
You know it's coming, so we're going to try and beat Hollywood producers to the punch. Or they can use our suggestions. Here are our picks for the cast of the 2016 Chicago Cubs movie.
Theo Epstein played by Michael Shannon

Shannon played an integral part in HBO's Boardwalk Empire, one of the best shows of the past decade. Epstein has built what looks to be one of the best teams for the next decade. Epstein is almost too cool, except when he's guzzling champagne and celebrating a World Series win. Shannon plays cool and calm as well as anyone, and he'd nail the part of Theo Epstein.
Joe Maddon played by Ted Danson

Ted Danson not only looks like Joe Maddon, he has experience playing a big leaguer on TV. Danson played former Red Sox relief pitcher/bar owner/Lothario Sam Malone in Cheers, which enjoyed an amazing 12-year run and won an insane amount of Emmys and Golden Globes. Danson is perfect to play the calculating but chill Maddon.
Chris Bosio played by Jonathan Banks

Chris Bosio looks like a man you wouldn't mess around with. A poll of big leaguers he played against during the 80s and 90s would certainly confirm that. Jonathan Banks plays a similar character in Breaking Bad and Better Call Saul, the disaffected and dangerous Mike Ehrmantraut. We don't know how much screen time a Bosio character would get in the film but Banks will steal the scene. Besides, every baseball film has a scene where the pitching coach goes to the mound for a pep talk.
Anthony Rizzo played by Salvatore Esposito

If you haven't seen IFC's Gomorrah, you've got a new show to binge-watch. It slid a bit under the radar this summer, but Salvatore Esposito's performance as Genny Savastano was definitely award-worthy. His character begins as an immature kid that morphs into the leader of the famed Savastano crime family. He'd be great in the role of Anthony Rizzo, who shook off a very rough rookie year to become one of the leaders on this Cubs team. Much like Esposito's Genny, Rizzo is all grown up now.
Javier Baez played by Michael Mando

Mando is known for his Nacho Varga role on Better Call Saul, as well as his voice acting in the Far Cry 3 video game. Baez plays second base like he's playing a video game, always making it look much too easy. While the days seem numbered for Mando's Varga character, the sky is the limit for Baez.
Kris Bryant played by Taylor Kitsch

Kris Bryant: dreamy and athletic. Taylor Kitsch dreamy and athletic. Kitsch was fantastic as fullback Tim Riggins in Friday Night Lights, and he'd be money playing Bryant. He'll nail the smile Bryant had on his face when he made the assist on the final out of Game 7.
Addison Russell played by Tristan Wilds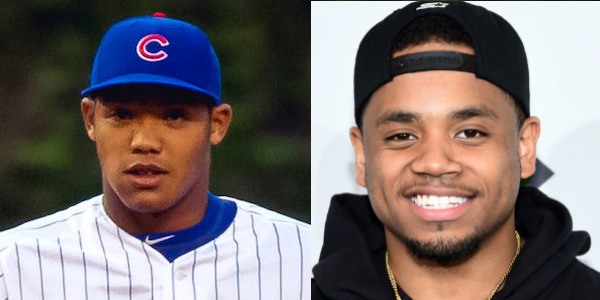 You likely remember Wilds from his Michael Lee character on The Wire. Lee was quiet and business-like, just like Russell. He was growing into a star as a protege under Marlo Stanfield, just like Russell is becoming a star on this Cubs team. Remove the facial hair and throw Wilds in a Cubs uniform and you have a pretty good fit for the role of Russell.
Kyle Schwarber played by Kevin Heffernan

Many liters of cola were downed by Heffernan's Farva character in the hilarious Super Troopers. I guarantee many liters of champagne were chugged by Schwarber after the Cubs won it all. Schawarber is loose and goofy, and who better to play that than Heffernan?
Dexter Fowler played by Mahershala Ali

Ali is one of the "it" actors in Hollywood right now with his role in Luke Cage and his excellent portrayal of Remy Danton in House of Cards. Fowler might be the "it" player of the hot stove league, the free agent that many teams will try to sign. It will be interesting to see if the Cubs try to keep Fowler after he declined his contract option.
Ben Zobrist played by Nick Stahl

Stahl has hit some rough times of late, but he was completely underrated as Ben Hawkins in HBO's Carnivale, much like Zobrist was underrated until the Cubs' series win. Stahl also played John Connor in the third edition of The Terminator, and Zobrist pretty much terminated the Indians with his MVP performance in the World Series.
David Ross played by Jamie McShane

McShane, always seen wearing a ball cap in Netflix's excellent Bloodline, is a great doppelganger for Cubs catcher and leader David Ross. McShane looks like he was born to play a catcher in a baseball pic, and he can do rowdy and heady, just like Ross does for the Cubs. He will be greatly missed by the Cubs unless he scraps the retirement plans.
Jon Lester played by Leo DiCaprio

DiCaprio has always excelled at playing tough alpha males in films like Wolf of Wall Street and The Revenant. Initially, I thought this one didn't fit too well, but then I remember I said the same thing about Robert Downey Jr. as Iron Man. It's DiCaprio. He'll kill it.
John Lackey played by David Harbour

David Harbour is getting ready for the second season of the breakout hit Stranger Things. There was no bigger breakout this year than the Cubs and certainly there has never been a stranger thing than a Chicago Cubs World Series win. As someone who was born in Chicago and has lived here his whole life, believe me when I say there has been nothing stranger. It still doesn't feel real.
Kyle Hendricks played by Aaron Staton

Hendricks doesn't throw as hard as the other Cubs pitchers, but he's as effective or better than some of his fellow starters. Staton's Ken Cosgrove character in Mad Men was Ivy League-bred at Columbia, while Hendricks cut his teeth at Dartmouth. Both have that quiet confidence. Staton's Cosgrove was fired on Mad Men, but there's no chance the Cubs get rid of Hendricks — he's the new Greg Maddux.
Carl Edwards Jr. played by Anthony Mackie

Joe Maddon put huge trust in Edwards Jr., opting to use him ahead of veteran pitchers like Pedro Strop during the postseason, much like Mackie's Falcon was leaned on by Iron Man in The Avengers. While Mackie is best known for his turn in that film, he's no stranger to sports movies. He had roles in We Are Marshall and Million Dollar Baby, and even narrated one of ESPN's 30-for-30 documentaries.
Aroldis Chapman played by Michael Potts

Michael Potts was fantastic as Brother Mouzone in The Wire, and played Detective Maynard Gilbough in the first season of True Detective. His main job in that role was breaking down Rust Cohle's testimony. Chapman's main job was breaking down the other team's spirit. When he comes walking in from the bullpen, it's usually game over.