Major League Baseball has been doing special holiday caps and jerseys for each team for a few years now. On Monday, the league released details of their 2018 plans for those holidays. Chris Creamer of SportsLogos.net has the full breakdown, but it's particularly interesting that unlike the last few years, Mother's Day and Father's Day will only have distinct MLB caps rather than jerseys. Here's more on that from Creamer:
Starting with the holiday uniforms, special caps will be worn for Mother's Day, Memorial Day, Father's Day, and the Fourth of July weekends as has been the case the past several seasons. However, unlike the last two seasons seasons not all of these holidays will get their own special jerseys — Mother's and Father's Day reverting to their pre-2016 style of just adding blue or pink ribbon to the top left corner of the jersey. Memorial Day and the Fourth of July will both still have special designs but they are very similar to what was worn last year.

Why the lack of variation in jersey design this season? Could be in preparation for the transition from Majestic Athletic to Under Armour as league-wide jersey provider. The 2018 season is Majestic's final year manufacturing jerseys for Major League Baseball.
Beyond that, one of the most notable changes comes with the Fourth of July weekend caps, which will have "We The People" embroidered on the underbill:
Fourth of July uniforms are back, and one cool tweak: The underbill of the caps say "We The People." pic.twitter.com/rLEKgWiZQs

— Big League Stew (@bigleaguestew) March 19, 2018
Of course, that wouldn't really make sense for the Toronto Blue Jays, MLB's only Canadian-based team. Instead, they'll have "Canada" and a Canadian flag embroidered on the underbill of their caps.
Those caps will also have a maple leaf on the front, a contrast to the American teams that will have their logo in U.S. flag colors: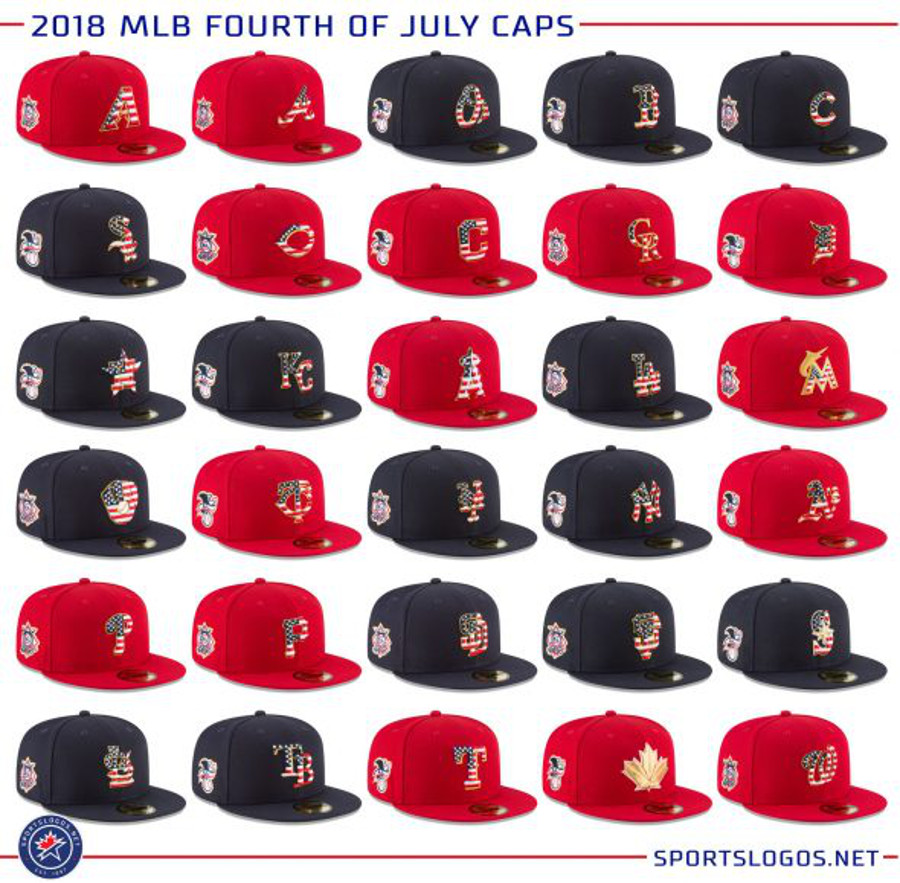 Another change comes for Jackie Robinson Day (April 15), where teams will now go beyond just wearing #42 on their jerseys, but will also wear special socks and feature a #42 patch on their sleeves and caps. Here's a look at those socks and the patch:
And a look at what that will look like on some caps and jerseys:
New this year: MLB is debuting Jackie Robinson patches on jerseys and caps for its annual Jackie Robinson Day on 4/15. pic.twitter.com/qxMRHYgyxb

— Big League Stew (@bigleaguestew) March 19, 2018
It's interesting overall that MLB's scaling back the custom jerseys a bit, going to just the caps and socks for Mother's Day and Father's Day with just a ribbon to go with them. But there are still plenty of unique designs here, and there will undoubtedly be plenty of people looking to buy them.