The MMA Ten keeps you updated on the latest news from the world of the UFC and beyond!
This week: The Karate Hottie scores the cover of the ESPN the Magazine Body Issue, MMA fights in the pit at Daytona, Cris Cyborg spars with Olympic boxer, a look at Floyd Mayweather training and more!
Checking In On Floyd Mayweather
Let's take a look at Floyd Mayweather working the double-end bag. Speed, check. Rhythm, check. Head movement, check. Floyd looks great, and you have to love the caption he posted too.
Mitrione Finishes Fedor After Double Knockdown
Former UFC fighter/New York Giants offensive lineman Matt Mitrione served legend Fedor Emelianenko a beating at Bellator NYC after both fighters connected on punches, simultaneously causing the rare double knockdown. Mitrione was the first to regain his faculties and seized the moment, attacking Fedor and battering him until the ref stopped the fight.
Fedor Emelianenko vs Matt Mitrione #BellatorNYC WOW!!!! pic.twitter.com/7ojfSU6FjD

— Fancy Combat (@FancyCombat) June 25, 2017
The calls for Fedor to retire returned in full after the loss, but "The Last Emperor" said he has plans to return to the cage and continue his storied career.
Reyes Debuts in UFC with Quick Knockout
Dominick Reyes made his UFC debut at their event in Oklahoma City last Sunday, and it was as impressive as any in recent memory.
"There's a new force to be reckoned with and his name is @DOMREYES!" — @Jon_Anik

What. A. Finish. #UFCOKC https://t.co/ypp5yYv76P

— FOX Sports: UFC (@UFCONFOX) June 26, 2017
Reyes is having quite a year. He won a regional title with HFC in February, needed less than a minute to score a head kick KO at LFA 13 earlier this month, then annhilated Joachim Christensen in just :29 in his UFC debut.
Cris Cyborg Spars with Olympian Claressa Shields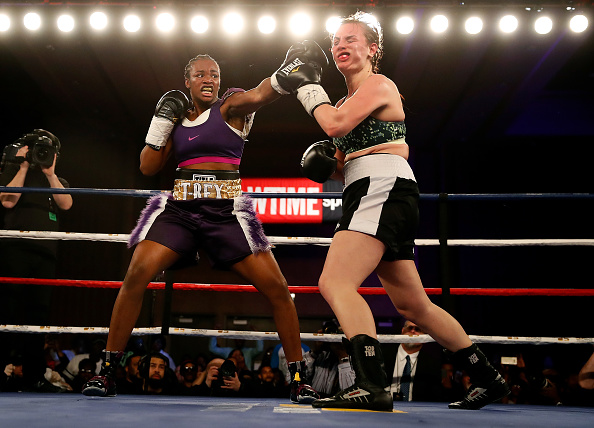 Cris Cyborg has competed in MMA, Jiu Jitsu, and Muay Thai fights, and perhaps boxing will be next. She'll fight Tonya Evinger for the first-ever UFC women's featherweight title first, but she recently sparred with two-time Olympic Gold Medalist Claressa Shields.
To the death! No one has to die,but today it was to the death! @Claressashields thank you for the training ahead of #ufc214 @maxkellerman pic.twitter.com/gqlLsohZNw

— #UFC214 #LetsGoChamp (@criscyborg) June 26, 2017
Cyborg fights for the title on July 29. Shields, in just her fourth professional bout, fights Nikki Adler for the WBC super middleweight on August 4.
Karate Hottie is the ESPN Body Issue Cover Star

UFC fighter Michelle Waterson, aka "The Karate Hottie," will be the featured athlete on this year's ESPN the Magazine Body Issue, which apparently is an acceptable form of looking at naked people.
Waterson is currently ranked sixth in the UFC strawweight division, and she garnered a lot of attention after choking out Paige VanZant in the first round of their last December. Here is the obligatory "Behind the Scenes" teaser:
Professional Fighters League Debuts at Daytona Speedway
The Professional Fighters League, formerly known as the World Series of Fighting, makes its debut Friday night on the infield of the Daytona International Speedway following the conclusion of the Coca Cola Firecracker 250. It can be seen live on NBCSN with an estimated start time of 10:30 p.m. ET. The card will feature four fights with the main event featuring former UFC fighters Jon Fitch and Brian Foster in a battle to determine the top seed for the 2018 regular season.
Wait, what — a regular season? Yes, the PFL will have a regular season and then playoffs, just like most other sports leagues. Fighters also get paid every month, so the concept is definitely intriguing. The league will have seven different weight classes and the top fighters in each division will advance to the playoffs. The champions of each division will be rewarded with a cool $1 million. Non-champion fighters will divide a pot of $3 million.
PFL will hold three more small events before the end of 2017 and then they will kick off in full in the new year.
Your MMA Nickname Battle of the Week
This week's MMA nickname battle of the week will take place at the debut for the Professional Fighters League and it features Caros "The Future" Fodor and Jason "The Kansas City Bandit" High.
Herein lies the problem with some nicknames: they have expiration dates. When Fodor made his pro debut in 2009 his nickname was appropriate, but that isn't the case anymore. Fodor, now 33, is an entertaining fighter but mostly a journeyman at this point. High should still be in the UFC but was released following his 2014 fight with Rafael dos Anjos. He was upset with what he considered an early stoppage and pushed the ref, a no-no regardless of the provocation. High is from Kansas City, hence the nickname.
This should be a fun, fast-paced fight with two highly-skilled vets going at it. It can be seen on NBCSN on Friday night.
When You Find Out Jiu Jitsu Really Works… the Hard Way
Rener Gracie, from the famed Gracie Jiu Jitsu family, welcomed into his school 16-year-old high school basketball star Carl Lewis, who was convinced Jiu Jitsu would not be able to work on him and his 6-foot-10 frame. Lewis first tried his hand with Gracie, and then also grappled with UFC fighter Brian "T-City" Ortega.
Gracie noted, "Once the fight hits the ground, we're all the same height!" Lewis would be an amazing Jiu Jitsu player with those long limbs, and I think it's safe to say he was converted after his experience.
If You Can't Beat Them…Ref Them?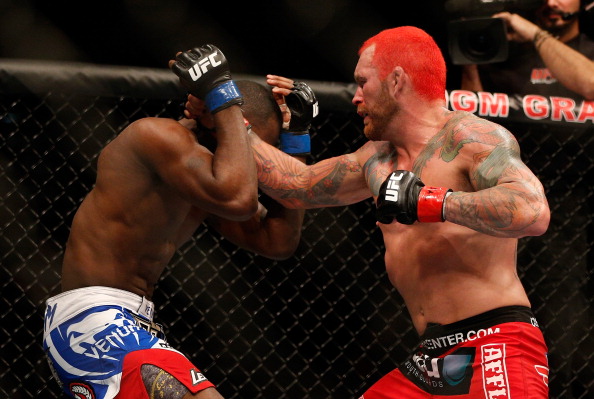 Chris "The Crippler" Leben was a favorite among fight fans for his fighting style. Leben always moved forward and initiated the action, and he got into brawls that weren't always in his best interest. Leben retired after his UFC 168 loss to Uriah Hall, which was his fourth straight loss.
But now, Leben is taking a different path to potentially get back in the cage. He recently told his Facebook fans that he was "super excited" to be on his way to Los Angeles to take Herb Dean's referee training course. MMA is still a relatively young sport, and many of its judges and referees initially came from boxing. It's good to see someone like Leben, once a contender in the UFC, work to become one of the guardians of the cage.
MMA Calendar
Bellator had their big night last week with the combo of what they called Bellator 180 on Spike and then the Bellator NYC pay-per-view. The promotion will return on July 14 for Bellator 181 which features a rubber match between Brandon Girtz vs. Derek Campos, as well as BJJ world champion and undefeated MMA fighter Rafael Lovato Jr.
This season of UFC's reality show The Ultimate Fighter has one episode remaining and that will air next Wednesday. There is one semi-final fight left and that will determine who will fight in the finals when The Ultimate Fighter Season 25 Finale goes down on July 7. Former WSOF champ Justin Gaethje will make his UFC debut in the main event against Michael Johnson. Gaethje is undefeated at 17-0, and both fighters work at a break-neck pace. Then UFC 213 takes place the next day on July 8, with Amanda Nunes defending her bantamweight title against Valentina Shevchenko. Plus, former UFC heavyweight champion Fabricio Werdum fights Alistair Overeem.