The MMA Ten keeps you updated on the latest news from the world of the UFC and beyond. This week: Conor McGregor tries a second sport, Michael Bisping is Harry Potter, The Simpsons teach an MMA fighter English and much more!
Conor McGregor, The 13th Jockey
Conor McGregor is making a huge move. The UFC champion has decided to go the route of Bo Jackson, Deion Sanders, and Michael Jordan. McGregor is entering the world of horse racing and testing his talents as a jockey. He'll need a coach for this grand experiment, so he went for the best: Jon Lovitz. Watch the first short from "The 13th Jockey."
Sport of Kings – meet your new King! @PegasusWorldCup @realjonlovitz pic.twitter.com/IOiqHw8ImC

— Conor McGregor (@TheNotoriousMMA) January 4, 2017
The Simpsons Taught Junior dos Santos English
Former UFC heavyweight champion Junior dos Santos learned English in a unique way: by watching The Simpsons. Listen as he explains in this video from Champions.co.
This might explain some of Junior's trash talk earlier in his career. Who can forget when he told Cain Velasquez this:
"Listen, you stupid, sexy Flanders. You will eat my shorts and have a cow when I punch your face many times. I will make your face Bleeding Gums Murphy and take your belt. Ha ha! (Krusty laugh)"
Dos Santos is the last man to beat current heavyweight champion Stipe Miocic, but he is just 3-3 over his last six fights. He'll battle Stefan "Skyscraper" Struve at UFC Fight Night on Feb. 19.
Michael Bisping is Your Next Harry Potter
UFC middleweight champion Michael Bisping didn't waste much time after celebrating the new year, getting right back to shredding fighters on social media. Bisping reposted this killer illustration of him as Harry Potter called Sexy Wizard vs Steroid Cheat. He's shrinking Yoel Romero and telling him no more steroids!
This is also funny because Bisping's face looked like Voldemort after his last fight with Dan Henderson. He can mock Yoel Romero all he wants, but Romero has all the tools necessary to end Bisping's reign (if) when they fight.
Woodley and Bisping Agree to Superfight
Superfights are all the rage, so why shouldn't Bisping and UFC welterweight champion Tyron Woodley get in on the action? The two spoke backstage at UFC 207 and agreed to fight at 180 lbs.
Woodley elaborated on the potential bout for Fox Sports:
"I would knock Bisping out. I didn't even think about it until he started running his mouth in the back. I'm like damn, does he really understand that I would whoop his ass? This is not a good fight for him. This is a horrible fight for him. But if he wants to do it, I'll gladly take your belt."
The New Kid in Town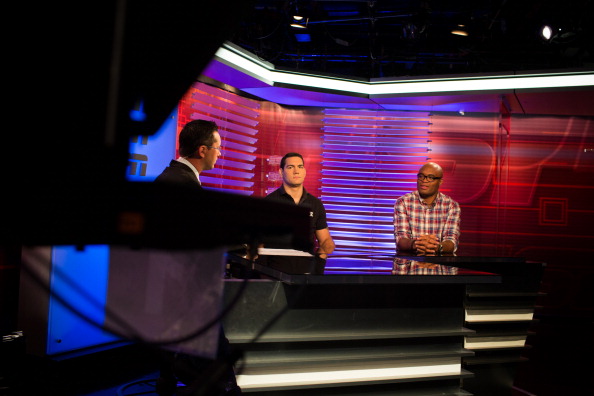 ESPN's Todd Grisham is the latest addition to the growing stable of UFC commentators, according to multiple reports. The former WWE announcer and SportsCenter anchor isn't the sole replacement for Mike Goldberg — those Jim Rome rumors are still brewing — but he will do some play-by-play, as well as work the desk on studio shows. MMA Fighting reports that Grisham's first event will be Jan. 15 for the UFC Fight Night 103 in Phoenix.
Grisham caught some flak last year for a tweet he posted about Ichiro Suzuki after his 3000th hit. "As impressive as Ichiro's 3000 hits are, his unwillingness to learn English after 15 years in America amazes me more," Grisham said in the since deleted tweet. Besides being potentially insensitive, it was simply wrong, as Ichiro does speak English. Grisham apologized in full, and apparently did not hurt his prospects for getting his new gig.
MVP Mocks Ronda Rousey with New Dance
Bellator's Michael "Venom" Page, aka MVP, may have had the knockout of the year in 2016 with his flying knee KO of Evangelista "Cyborg" Santos, but he started off 2017 with a despicable and rather lame post making fun of Ronda Rousey's loss at UFC 207.
MVP is an exciting, dynamic fighter and he's undefeated at 12-0. But he's yet to face someone that can really challenge him and test him. He was a complete dud in his last fight against Fernando Gonzalez. People can make fun of Rousey if that's what flips their water bottle (new expression I just made up!), but her legacy and record can't be gainsaid. She changed the sport and made a lot of people a lot of money in the process.
Mike Goldberg Leaves UFC Without Any Send Off
A number of people were upset by the lack of a send-off for UFC announcer Mike Goldberg, who called his final UFC event last weekend at UFC 207. Chael Sonnen voiced his displeasure, as did many other fighters and pundits. Even Mike Goldberg's son commented on it on Twitter.
my dad did so much for the UFC over the past 13 years and they can't even give him a proper goodbye. what a joke @ufc

— kole (@kolegoldberg) December 31, 2016
It brought to mind the famous "Hard Times" promo from Dusty Rhodes. "Hard times are when a man has worked at a job for 30 years — 30 years! They give him a watch, kick him in the butt and say 'Hey, a computer took your job'."
I don't think anyone was expecting a ton of fanfare, but the guy worked for the UFC for 20 years. Couldn't they edit together a two-minute clip of some of his memorable calls? Maybe a package with fighters saying goodbye? Give Rogan 90 seconds to pay him a bit of tribute? That was a pretty low blow.
Tito Ortiz to Retire After Sonnen Fight
It's hard to believe fighters when they announce their retirement because so many of them change their minds and come back, sometimes on multiple occasions. I take retirement announcements with a grain of salt. They are about as believable as Jon Jones when he says he won't get in any more trouble. Nevertheless, 41-year-old Tito Ortiz says his next fight with Chael Sonnen at Bellator 170 will be his last. He announced it during the Bellator 170 conference call.
Ortiz was one of the biggest stars in the UFC before injuries got the better of him, and he was already inducted into the UFC Hall of Fame back in 2012. "The Huntington Bad Boy" described some of his injuries on the call:
"I've had an ACL replacement in my left knee, an ACL replacement in my right knee, 50 percent of my meniscus taken out of my right knee, (surgery on my back and neck), C5, C4, disc replacement, C4-C3 fused, reattached retina in my left eye…Probably about 26, 27 concussions, and thousands of stitches. I've been through the grinder."
You might look at his 18-12 record and wonder what all the fuss is about. But Ortiz started his career on a fierce 15-4 run that made him one of the most popular fighters in the UFC. He made his UFC debut in 1997 at UFC 13, then fought the best of the best over a 10-year period until the injuries took away a lot of his game. Ken Shamrock, Frank Shamrock, Vitor Belfort, Wanderlei Silva, Evan Tanner, Randy Couture, and Chuck Liddell are some of the big names he fought. He won the UFC light heavyweight title at UFC 25, then defended it successfully five times before losing it to Couture.
Make sure you watch Ortiz in his final fight on Jan. 21 at Bellator 170.
Mark Hunt Is Getting Kinda Weird
Mark Hunt is a fan favorite. "The Super Samoan" is always entertaining, in both victory and defeat. He is an old-school brawler, and one of the best power punchers in MMA history. But lately he's having all kinds of issues with the UFC, and now he's actually threatened to sue upcoming opponent Alistair Overeem if he pops hot on a pre- or post-fight drug test. Hunt spoke with Stuff.co.nz and Bloody Elbow posted part of the piece.
"I'm not young, I'm 42 years old. In six months I've already missed out on a couple of fights, I've already missed out on a couple million dollars. At the end of the day I've stuck to my word. I've got no option, I'm in a contract that I can't get out of. I had no other option. I can't work anywhere else so what am I supposed to do, let my family starve? Every fighter I fight, if he gets caught through the process then I'll sue him personally. If I don't get help from the company I'll do it myself. They (dopers) should be struck from the records and taken everything off them. They don't deserve to get a cent. This sport is already harsh enough as it is. When you add in steroid use it makes it even worse."
Hunt lost to Brock Lesnar at UFC 200, but Lesnar failed his post-fight drug test, resulting in a one-year ban from USADA. Hunt has been wanting a rematch with Overeem for a long time. He was submitted quickly into their fight at DREAM 5 back in 2008, and Hunt badly wants to right the record. Overeem has been busted before, and Hunt has faced his share of juiced fighters. But a lawsuit seems a bit much unless we can get it televised on FS1. Or The People's Court.
MMA in January
No UFC or Bellator events this weekend, but the UFC returns next week with UFC Fight Night 103 on Jan. 15. UFC Hall of Famer B.J. Penn makes his return against up-and-comer Yair Rodriguez in the main event. Then on Jan. 28, UFC on FOX 23 goes down with Valentina Shevchenko taking on Julianna Pena in a battle between the top two UFC bantamweight contenders.
Bellator returns on Jan. 21 with a star-studded card, including the aforementioned Ortiz vs. Sonnen bout. Paul Daley vs. Brennan Ward is a must-see fight and Georgi "Insane" Karakhanyan will fight Emmanuel Sanchez. Young fighters Hisaki Kato, Derek Anderson, and Derek Campos seem to always put on exciting fights. Bellator is back just six days later with Bellator 171 from Kansas, where David "Caveman" Rickels will fight Aaron Derrow in the main event.