The MMA Ten keeps you updated on the latest news from the world of the UFC and beyond!
This week: Paulie Malignaggi says see ya to Conor, Your UFC Fake News of the Week, Hawkeye makes his MayMac pic, the world famous UFC Nickname Battle of the Week and more!
Paulie Malignaggi Leaves Conor McGregor Camp
Conor McGregor lost a valued sparring partner because of a mix of social media and arrogance. McGregor and his handlers so badly want to show that he can compete in the boxing ring that they actually released this picture from a sparring session.
Malignaggi was not pleased with the photo and demanded that Conor release the full video of the sparring session to tell the complete story of what happened that day.
"I wanted to be part of this event, but I didn't want to become the story, and that's what this has turned into. I won't release any information about his game plan or what he's working on — I wouldn't do that. But this has become a fiasco. It's a circus. And I do want that sparring video released. The UFC's PI definitely has that video. I understand it can't come out now, but Conor, if you have any balls, release what really happened," Malignaggi told ESPN.com.
Jon Jones vs. Brock Lesnar?
When Jon Jones finished his heartfelt speech about Daniel Cormier — after knocking him unconscious last week at UFC 214 — he had one final thing to say. He responded to the rumors of a potential superfight with former UFC heavyweight champion Brock Lesnar.
"Brock Lesnar — You want to know what it feels like to get your ass kicked by someone 40 pounds lighter? Meet me in the Octagon."
My reaction:
Jones owes it to the rest of the light heavyweight division to defend his title. A superfight with Lesnar means nothing, accomplishes nothing, and it would last all of about thirty seconds.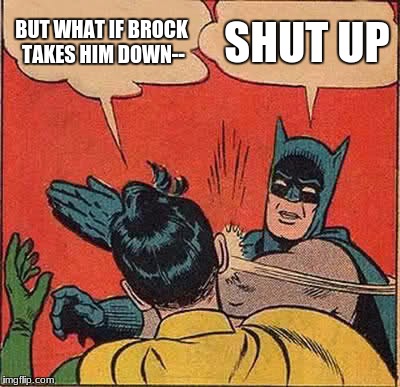 There is no chance Lesnar beats Jones. None. Zero. Let's move on.
WWE Sets the Stage For Lesnar vs. Jones
I may not like it, but that doesn't mean it won't happen. Lesnar is pay-per-view gold, whether he is competing in pro wrestling sports entertainment or the UFC. The most recent episode of WWE Raw set up Lesnar's (temporary) exit from the WWE, further fueling the rumors of Lesnar meeting Jones in the Octagon.
Your UFC Fake News of the Week
I love WWE legend Jim Ross, and I've never met anyone who doesn't. But this piece from one of his recent blog posts seems like complete bogus.
"Ironically, word on the street is that Jones is also interested in a WWE payday some day in the future which adds some irony to the Bones-Brock UFC scenario."
Jones, should he stay healthy and clean, could move up to heavyweight in a few years and fight in the UFC for probably eight to 10 more years. "Word on the street" means whoever mentioned it doesn't want to put their name on it. That would be understandable if it was something to do with the fate of the world and its leaders. But a WWE story? C'mon, J.R.
UFC 214 in Fight Motion
The UFC does an amazing job of promoting their product. There's a ton of content to look at after big events. One I never miss is their Fight Motion videos, which offer a detailed, slo-mo look at some of the biggest moments from their most recent events.
Bisping vs. GSP Is On Again (Maybe)
The Bisping vs. GSP story took yet another turn this week with Bisping saying the fight is indeed on again. This after Dana White had stated publicly that ship had sailed. This is such a soap opera that there should be some commercials for Activia and promos for Judge Joe Brown.
Bisping told MMAJunkie.com:
"This is actually the third time I've been offered this fight, so the ship's sailed twice. On this occasion, on the third occasion, it set off sailing but did a U-turn and it pulled up at New York City. I've got a chirpy little Englishman who's going to fight Georges St-Pierre, Madison Square Garden, Nov. 4. It is official. Do not miss it. We're taking over."
Dana White seems to agree with his middleweight champion after he was non-plussed by welterweight champion Tyron Woodley's performance against Demian Maia at UFC 214. That fight set the record for the least amount of significant strikes in a UFC title bout. Speaking about Bisping/GSP at the UFC 214 post-fight press conference, White acknowledged he had second (or third) thoughts about the matchup, "That ship turned around and f—ing sailed back." So that fight is set for UFC 217 on November 4. We think.
UFC Champ Miocic Calls Out Boxing Champ Joshua
UFC heavyweight champion Stipe Miocic is trying to negotiate a superfight of his own. He recently tweeted at boxing champ Anthony Joshua with a challenge.
. @anthonyfjoshua looks like your schedule is wide open. No excuses, let's dance! #BaddestManOnThePlanet

— Stipe Miocic (@stipemiocicufc) August 3, 2017
Jones vs. Lesnar = pass. Miocic vs. Joshua? Yes!
Your UFC Nickname Battle of the Week
This week's battle features two fighters making their UFC debuts. Joseph "Bopo" Morales vs. Roberto "Little Fury" Sanchez. These fighters will kick off the UFC Fight Night prelims on UFC Fight Pass Saturday at 7 p.m. ET. Morales told UFC.com his nickname came from his little brother, who had difficulty pronouncing his name. He would call him "Bopo" and it stuck.
Reminds me of me and my brother, although to this day I still can't figure out how he thought a$%#&!e sounded like Matt. Oh well — life's mysteries, amirite? Sanchez has the best nickname story ever. "It was the name of my Retribution Dwarf Paladin in World of Warcraft before I decided to pursue MMA," he said. I'm dead.
Another UFC Comeback?
Former UFC heavyweight Shane Carwin has been dropping hints that he'd like to get back in the game.

Carwin was dominating Brock Lesnar in round one of their UFC 116 fight. But Carwin had a massive adrenaline dump heading into the second round and that's when Lesnar put him down and choked him out. He'd love another shot at the former UFC heavyweight champion. He dropped another post that made it seem a comeback was nearing:

The UFC heavyweight division could use a guy like Carwin, one of the biggest power-punchers in heavyweight history. Here's hoping Carwin gets back in the Octagon at least one more time.
Hawkeye Wants Conor McGregor to KO Mayweather
Jeremy Renner appeared on ESPN's First Take and discussed how he would like to see Conor annhilate Floyd Mayweather.