UFC 198 goes down Saturday night on PPV, featuring the heavyweight title fight between champion Fabricio Werdum and challenger Stipe Miocic. Cris "Cyborg" Justino makes her long-awaited UFC debut, and old-school legends Vitor Belfort and Shogun Rua will also fight on the card.
Here is your completely epic UFC 198 preview.
You've Got a Lot of Gall
Let's start with the bad news. Anderson Silva was scheduled to fight Uriah Hall, but had to withdraw due to abdominal pain that required surgery to remove his gall bladder Wednesday. Silva, 41, is largely considered the GOAT, but he's gone through some tough sledding in the last few years. He suffered a horrible leg injury in his fight against Chris Weidman, failed two drug tests, and hasn't posted a win since beating Stephan Bonnar at UFC 153 in 2012.
None of us want to remember the greats in their down years, so let's reminisce about the good 'ol days of Anderson Silva. Like the time he rocked out some jams in the Octagon against Demian Maia.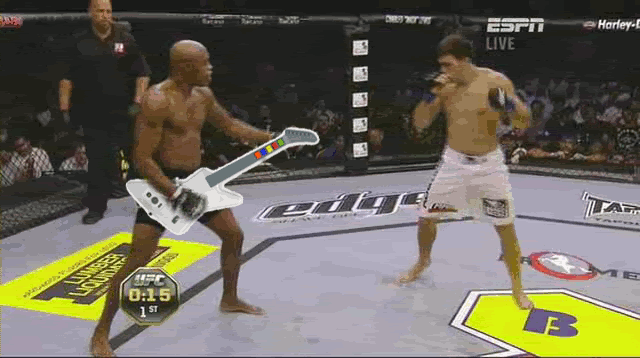 Cyborg Will Dominate in Debut
Cris "Cyborg" Justino will finally throw down in the Octagon, and poor Leslie Smith will be the recipient of what should be a violent beatdown. Smith doesn't lack confidence, and she's certainly talking the talk. "I remember watching her fight against Gina Carano and thinking, I would fight her," Smith said in her UFC 198 promotional video.
I'm not sure what she saw in that fight that made her want to step in the cage with Cyborg. Carano, then considered the best women's MMA fighter in the world, was left in a heap on the canvas with her face all bruised up, completely dominated by Cyborg. Carano has not fought since.
Smith added, "After this fight, people are going to know me as the woman that destroyed Cyborg." That could actually be true. She might destroy Cyborg's hands with her face. Leslie Smith absorbs over eight significant strikes per minute, and she once took a record 232 strikes from Sarah Kaufman back in 2014.
My guess is Cyborg finishes this in less than a minute. If Smith somehow wins, it will be the equivalent of Buster Douglas beating Mike Tyson. Cyborg is currently a -1800 favorite.
Face Palm of the Week: The Slavery Comparison
Athletes making outlandish statements and ridiculous comparisons regarding their work conditions is nothing new. Latrell Sprewell belly-aching about having a family to feed while earning $14.6 million comes to mind. UFC fighters have consistently pushed back against the UFC's sponsorship deal with Reebok, and rightfully so. The multiple sponsorships they could secure for themselves are worth far more than the paltry pay received from the Reebok deal. But comparing it to slavery is basically insane. That's what former UFC champ Vitor Belfort did in an interview recently.
"MMA is a lot closer to entertainment than sport these days. I'm not satisfied with the way the company is handling sponsorship," Belfort told Sportv. "We are pretty much living in slavery. We can't use our own sponsors, they are banned inside the Octagon. We have no properties."
I'm not so thick as to not understand his point, but slaves were considered owned property, regardless of their wages. Belfort could simply choose not to fight for the UFC and could also choose to not accept the payment or donate it to charity. He could start his own league. He could buy out his own contract. Has anyone ever made a comparison to slavery that wasn't ridiculous? Belfort will fight Ronaldo "Jacare" Souza at UFC 198, which is my pick for…
Fight of the Night
Jacare is the #No. 2-ranked middleweight and Belfort is ranked third. The winner is likely to receive the next title shot.
Belfort has the most knockouts in UFC history, as well as the most first-round finishes. How long has Belfort been doing this? So long that he actually beat two fighters in one night back at UFC 12. He was the youngest fighter to ever earn a victory in the UFC at age 19. He will eventually be in the UFC Hall of Fame.
Jacare is considered one of the best Jiu Jitsu players to ever fight MMA. He is an excellent defensive fighter, has serious power in his right hand and if he gets you to the ground, the fight is basically over. He has 16 submission victories and 22 overall. He can take down anyone. He put Yoel Romero on the mat in his last fight, and Romero is a two-time Olympic wrestler. Do not miss this bout.
Best Nickname Battle of the Night
The best nickname battle of the night is also an important fight in the UFC light heavyweight division, with Mauricio "Shogun" Rua battling Corey "Beastin' 25/8" Anderson.
Shogun needs a win to stay in the top-10 and work his way back to another title shot against Jon Jones. A win for Anderson would mean a jump into the top-10, and an enormous amount of cred in beating a legend. Shogun has won by knockout 19 times in his 23 career wins, but the Pride legend is just 7-8 in the UFC and he's lost four of his last six.
Anderson is a wrestling specialist that has been developing into a well-balanced mixed martial artist. He really pushes the pace, as you might expect from someone nicknamed "Beastin' 25/8." His bread and butter is getting the takedown, then administering some violent ground and pound.
Shogun has had problems with takedown defense in his career, most recently in his fights with Ovince St. Preux and Alexander Gustafsson. Anything past the first round will likely favor Anderson, but he'll have to endure a barrage from Shogun in round one, who will be the best fighter he has ever faced.
Here Comes the Money
UFC heavyweight champion Fabricio Werdum recently inked an eight-fight, seven-figure deal, and will defend his title against Stipe Miocic at UFC 198. Werdum is arguably the most-underrated fighter in the history of the game. He was the first to ever defeat the legendary Fedor Emelianenko, and owns wins over big names like Mark Hunt, Cain Velasquez, Alistair Overeem, Travis Browne, and Roy Nelson, to name just a few.
Werdum has won six consecutive fights and is favored to win Saturday night. A former two-time Jiu Jitsu world champion, Werdum has gone from being a ground fighter to one with exceptional kickboxing skills, honed under famed instructor Rafael Cordeiro. He owns black belts in Judo, Jiu Jitsu and Muay Thai. "Seven figures" is a mysterious number, but needless to say, Werdum is completely worth it. I expect him to beat Stipe Miocic and successfully defend his title.
Five for Fighting
Five other fighters you'll want to watch at UFC 198:
Matt Brown. He may end up tapping to Brazilian Jiu Jitsu standout Demian Maia, but no one brings the fight like "The Immortal." He will gladly eat punches to get inside and land his own, and is non-stop excitement. He won seven straight fights before dropping two in a row, one to current champ Robbie Lawler and one to former champ Johny Hendricks. But he is as dangerous a man as there is in the UFC.
John Lineker. The aptly-named "Hands of Stone" repeatedly had trouble making 125 lbs., so he has permanently moved to bantamweight, where he will fight Rob Font Saturday night. Lineker stands just 5-foot-3, so the move to bantamweight was considered risky since he will almost always be at a height and reach disadvantage. But he choked out Francisco Rivera in his debut at that weight class and has killer power.
Bryan Barbarena. "Bam Bam" upset the ecosystem and altered flight patterns (not really) when he beat wunderkind Sage Northcutt in January. Now he gets the undefeated Warlley Alves Saturday night and is listed as a massive underdog. I won't be surprised if he wins again.
Nate Marquardt. The former Strikeforce welterweight champion knocked out C.B. Dollaway in December, but had lost five of six prior to that win. Now 37, Marquardt serves more as gatekeeper than contender, but he remains dangerous. He's listed as an underdog against Thiago Santos, in what will be his 50th pro fight.
Antonio Rogerio Nogueira. Noguiera, aka "Little Nog," twin brother of Antonio Rodrigo Noguiera, will fight Pat Cummins at UFC 198. His brother recently retired, and the guess here is a loss against Cummins will be the last time we see him fight, at least in the UFC. But people go into survival mode when their back is against the wall, so it will be interesting to see how he fares in this fight.
You can watch the main card of UFC 198 on PPV beginning at 10 p.m. ET. The prelims begin on UFC Fight Pass at 6:15 ET, then move to FS1 at 8 ET.