The NBA Trade Deadline is looming, and teams all over the NBA are trying to figure out how to make their teams better. Some might be looking for the long-term improvement a deadline deal can bring, shedding hefty salaries for the cap space to sign prized free agents this off-season, or looking to jettison veteran players with expiring contracts for drafts picks and young budding talent that can turn into the next great NBA Superstar.
Other teams—those with a chance to contend this year—are looking to bolster their roster for the stretch run, trying to figure out some way to eventually, inexplicably, compete with and beat the Golden State Warriors. Is there any player in the NBA a team could trade for that would help them beat the Warriors?
Sure. Steph Curry.
The old saying goes if you can't beat 'em, trade for 'em, right? Now, with a team friendly $11 million salary there is no way the Warriors will ever trade Curry. There's no way, which is why using the ESPN Trade Machine can be so much fun. Here, then, are 10 utterly ridiculous trades that will never happen, but according to the numbers, totally could.
Curry to the Sixers for Embiid, Stauskas and McConnell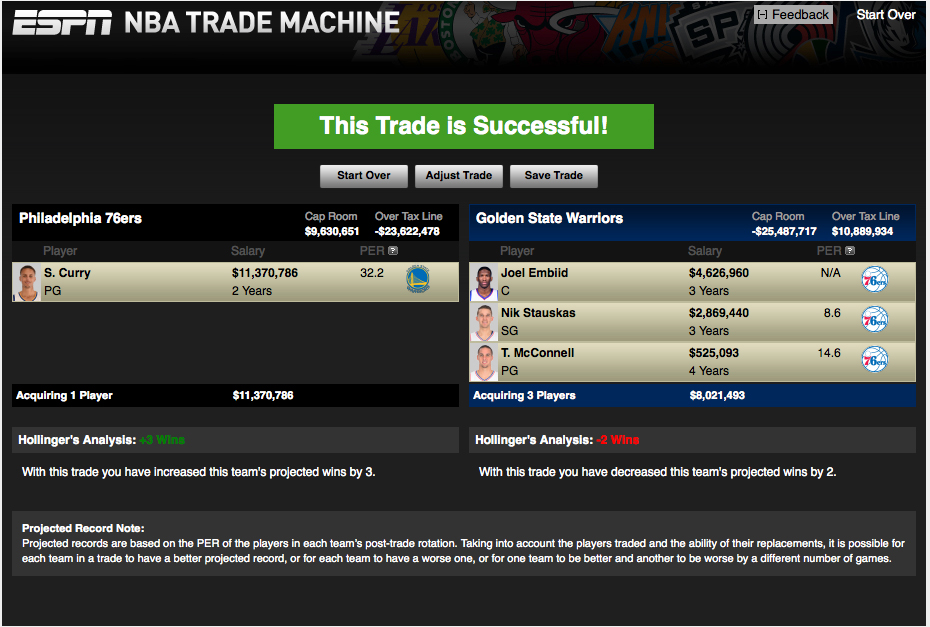 This is the trade that started the idea to see just how ridiculous we can get. Steph Curry and his $11.3 million salary could go to the Sixers for Joel Embiid—who at this point will probably never play—Nik Stauskas and T.J. McConnell. The best part of this trade is that not only would the money work out to the point where it could actually get approved, but per the ESPN trade analysis, the Warriors would still be on pace for more than 72 wins, dropping only two victories per former ESPN scribe turned NBA executive John Hollinger's analysis. (Psst…John…you might want to ask your old employer to fix the algorithm after this one.)
The Sixers, however, are so bad that adding the best player on the planet would only increase the number of wins by three. That's…sad.
Curry to the Bulls for Derrick Rose
It wasn't actually that long ago that Derrick Rose was viewed as the best point guard in the game, and yet it feels like it was a decade ago, after all the injuries and tumult Rose's career has taken in Chicago. Rose makes A TON of money with the Bulls, so the only way this trade would be successful is if the Warriors also shipped back-up point guard Shaun Livingston along with Steph. And somehow, the drop off would only be three wins? Come on.
Curry to the Clippers for Chris Paul
Speaking of aging point guards, Chris Paul's favor around the league goes up and down by the minute, but at some point in the last four or five seasons, he was recognized as one of the game's best. Hell, he may still be, but Curry has certainly passed him by over the last two seasons for tops on this or any point guard list. And yet, with Curry's crazy team-friendly contract, the Warriors would have to throw in Andre Iguodala just to make the numbers work on the deal. Somehow adding both Curry and Iguodala would only increase the Clippers win total by one, but without Iggy, and replacing Steph with CP3, the Warriors wouldn't even win the West.
Sending Steph back home
Curry is a Charlotte guy, so what would it take to send him back home, to play for Michael Jordan's Hornets? Not a lot, actually, at least in terms of talent leaving Charlotte.
Who wouldn't take Spencer Hawes, Jeremy Lin and Tyler Hansbrough for Steph Curry?!? The Warriors, that's who.
The Rockets Blockbuster that hurts everyone
This might be my favorite trade that could actually happen but never will, if only because the deal is HORRIBLE, per Hollinger's analysis, for both teams. The Splash Brothers and Andrew Bogut to Houston for Dwight Howard, James Harden and Patrick Beverly. In a lot of ways, the trade is totally balanced, but it's just hilarious how bad it would potentially be for both teams.
Curry for Anthony Davis
This is where things start to get a little complicated. Anthony Davis is on an extremely team-friendly deal in New Orleans right now and the length of the contact wouldn't allow for a straight-up trade for Curry. Plus, as good as Davis is with the ball, it doesn't make sense for either team to trade a franchise center for a franchise guard. So we had to get creative, adding in Draymond Green, Mo Speights' contract and Brandon Rush to New Orleans in exchange for Davis, Jrue Holiday, Quincy Pondexter's deal and Norris Cole's one-year contract.
This probably could have worked without all of the extra parts, but again it's interesting how this hurts both teams as much as it does. Frankly, as good as Davis is, and as well as Holiday can play when he's on the court, it doesn't make any sense how adding Green, Curry and Speights wouldn't make New Orleans better, or at least a little less worse.
Curry and Melo to the Lakers, Kobe to the Knicks
I love everything about this trade. Golden State loses 15 wins by replacing Curry with D'Angelo Russell and Kristaps Porzingis in the short term, but in the long term, who knows the upside for those two players. (Note: probably not as high as Curry.) But what makes this deal so great is that Kobe Bryant gets to be reunited with Phil Jackson to end his NBA career, and all the Knicks had to give up was Carmelo Anthony and their future. Plus, the Lakers instantly become contenders, even this year, with Melo and Curry.
Tell me how replacing Russell and Bryant with Melo and Curry only makes the Lakers five wins better. Please.
Let's add in the Cavs, to get Melo and LeBron together
Okay this is getting fun. In one trade we've successfully re-written the entire history of the NBA. Curry is the only player from the Warriors in this four-team trade, and Golden State gets Mo Williams from Cleveland and Porzingis from the Knicks and they still drop by 15 in the wins column, per Hollinger's analysis. The Lakers don't get the same return as the trade above, instead getting Kevin Love and Cleanthony Early's contract in exchange for Kobe. Bryant goes to the Knicks to end his career with Phil and, for the trouble, the Knicks get Iman Shumpert back for the next four years at a reasonable rate.
And Curry? Well he and Carmelo go to Cleveland to team up with LeBron and Kyrie Irving.
Who would say no the fastest? Certainly not Cavs fans!
Let's replace the Lakers with the Heat and see what happens
Okay, fine. Kobe isn't getting traded from the Lakers, even if it's to the Knicks. But what if Dwyane Wade gets dealt to the Cavs as well, to team up with Curry and Carmelo and LeBron? In order to make the deal work, the Cavs would have to trade both Kevin Love—this time to the Knicks—and Kyrie Irving—he goes to the Heat in this deal—to make it work and, somehow, per Hollinger's analysis, the Cavs would be better by one win with Wade than if they had Curry, Melo LeBron and Irving.
Love would go to the Knicks with J.R. Smith and Mo Williams (maybe the real reason the Cavs are better) while Ian Clark's contract heads to the Heat to balance the money. The Warriors would get Goran Dragic and Richard Jefferson's contract in exchange for Curry and Clark. This would almost work for everyone, being bad but not horrible for most teams, and really good for the Cavs. Of course, it's hilarious to think that shedding Carmelo's contract and replacing it with Love, Smith and Williams would make the Knicks six games worse. Keep chuckin', J.R.
The Thunder deal for the ages
Rumors have been swirling for some time that Kevin Durant is interested in joining the Warriors, but what would it take to get him to Golden State before the trade deadline? A lot.
This trade is amazing for a ton of reasons, most notably the fact that Durant and Russell Westbrook going to Golden State in exchange for Steph Curry, Klay Thompson and Draymond Green would actually net the Warriors two wins, and four in the standings over the Thunder. Nothing about this makes any sense, which is why for the next two days I totally hope it happens.
Wait. What about the Spurs?
We've done 10 trades already, but how can we have a ridiculous NBA Trade Deadline post involving Steph Curry in every trade and not at least once send him to the Spurs? And since we upped the ante for the Thunder deal, let's do the same here, sending the Splash Brothers and Draymond to the Spurs for Kawhi Leonard, Tony Parker, Tim Duncan and Manu Ginobili. We did the Spurs a favor in letting them keep LaMarcus Aldridge, and while the Thunder would get two games worse by taking those three Warriors for their two All-Stars, the Spurs get a game to the better going four for three. What's amazing, though, is how much worse the Warriors get, losing SEVEN games in the win column.
Per Hollinger's analysis, the Warriors losing Curry, Thompson and Green and replacing them with just Durant and Westbrook would net nine wins more than replacing those three with the reigning DPOY and three aging Hall of Famers. Would the win totals change if we could trade Steve Kerr for Gregg Popovich too?
All of these trades are ridiculous, if only because the Warriors are more likely to trade every other player on their roster, maybe in one deal, than Curry. Still, it's fun to dream, and maybe after reading these wonderful options for Curry the Warriors' front office will consider one of them. Like the Sixers trade. That seems like the best one, guys.
Please?