Last week we looked as the best rookies in the league, but this week it's the point guards who get a chance to shine. Here are our power rankings of the best point guards in the NBA.
Of course there are more than just 10 point guards in the league, but after the top 10-15 names, it starts to become so muddled that the exercise becomes a waste of time. I mean, is it really necessary to try and figure out if George Hill is better than Kemba Walker or if either are better than Jarrett Jack or Patrick Beverley? I don't think so, and I'm guessing many of you don't think so either. So, that's why we decided to just go ahead and pick the top 10. Onto the list!
10. Rajon Rondo
Rondo has put up some monster stat lines, and is leading the league at 10.9 assists per night. He's clearly more locked in than he was in Dallas, and has shown he can still be an effective player in the league.
Unfortunately his play hasn't translated into much success for the Kings, as their offensive rating is actually better when Rondo is on the bench, jumping from 101.1 to 102.7 when he sits. And of course, the team is just 7-15 on the season.
9. Mike Conley
Conley has been as solid as ever, putting up 15 points and 6 assists a night and running the show for the Grizzlies. Winners of 7 of their last 10, Memphis is 12-9 as of Tuesday, right in the middle of the pack in the Western Conference where they belong.
8. Eric Bledsoe/Brandon Knight
Despite beating the Chicago Bulls Monday night, Phoenix Suns are just 2-8 in their last 10 games. The combination point guard situation they're running with certainly hasn't been to blame, however. Bledsoe and Knight have carried the team thus far, combining for over 43 points, 11 assists, and 8 rebounds a night on the season.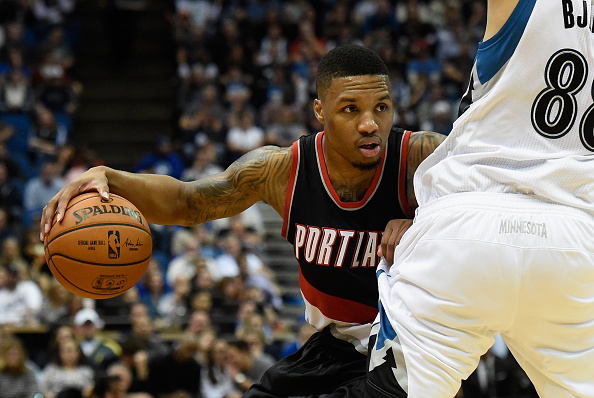 7. Damian Lillard
When the rest of the starting lineup was either shipped out of town or left on their own accord, it became quite obvious that the Trail Blazers were Damian Lillard's team. And although they've come back to reality after storming out of the gate, this team looks much better than some were predicting.
There was a lot of pressure placed on Lillard's shoulders, and so far the Blazers couldn't be happier about his response. With C.J. McCollum as the only other scorer on the roster, Lillard faces the dilemma of having to be the team's main offensive threat while also facilitating the offense.
But so far he hasn't seemed to have much trouble adapting to the new responsibilities. His 24 points a game are best on the team, and eighth in the league. Likewise, he leads the Blazers with seven assists a night, also good for eighth in the league.
6. Reggie Jackson
The reigning Eastern Conference Player of the Week has been playing some unbelievable basketball (Monday night's loss aside). His 34-point, 16-assist performance in the Pistons' big overtime win against the Suns was the first 30-plus point, 15-plus assist game by a Pistons point guard since Isiah Thomas.
5. John Wall
There aren't too many players more dynamic than Wall, and the former Kentucky man is playing some great basketball once again this season, averaging 19 points and 8 assists a night. Unfortunately it hasn't translated into success for the Wizards, as they sit at just 9-10. It was good to see his knee injury was not serious.
4. Kyle Lowry
If it wasn't for Reggie Jackson's ridiculous week, Skinny Kyle Lowry could have taken home the Eastern Conference Player of the Week honors. He had 41 points in a duel with Steph Curry on Saturday, in which the Raptors once again came up just a few points short of the Warriors. Plus he scored 22 points in the fourth quarter to cap off his 31-point, five-rebound, five-assist performance in the Raptors' comeback win in Atlanta last Wednesday. Over his last five games, Lowry is putting up about 26 points, six assists, and six rebounds a night.
There was a lot made about Lowry's weight loss over the offseason, but it seems to have paid off, at least so far. He's been the catalyst to this team's 13-9 start, which finds Toronto just one game out of the top spot in the muddled Eastern Conference. And it's not as if the Raptors have been gorging themselves on weak opponents. Sure, they have two wins against the Lakers, which is nice, but they've also beaten the Cavaliers, the Thunder, the Pacers, the Mavericks, and the Clippers.
Besides the weight loss, which has helped him become much quicker and explosive, the most notable difference in Lowry's game, is that he's shooting 42 percent from three. Before this year, his best three-point shooting season came two seasons ago when he connected on 38 percent of his attempts from deep. His 22-plus points per game are also a career-high, and a clear indication that this is his team. The Raptors will go as he goes, and so far things are going pretty well.
3. Chris Paul
Something doesn't seem quite right in Lob City this year, both with Paul and the Clippers as a whole. Still, even though he's been dealing with injuries, Paul is without a doubt one of the best point guards in the league. I just can't keep him out of the top three.
2. Russell Westbrook
While Steph Curry is busy dribbling and shooting circles around people until they can't see straight, the 6'3", 200 pound Russell Westbrook is busy destroying everything and everyone in his path like a human wrecking ball.
When Westbrook gets a head of steam in transition, there is honestly nothing the defense can do. He's so quick, so agile that he will move around you if you try to take a charge, but he's so powerful that trying to foul him will far too often result in a three-point play. Or he might just find a teammate streaking down the court along with him. It will be over in the blink of an eye, but there's nothing quite like the Russell Westbrook fastbreak experience.
Even though it didn't seem possible, Westbrook has been even better this year than he was last year. Through the first five weeks or so of the season, he's shooting 47 percent from the field, up almost five percent from last year, and if it stands, would be by far the best shooting performance of his career. He's also averaging a full assist more than last season, handing out 9.6 of them a night, good for second in the league. Oh, right, and he's still averaging 27.1 points and 7.5 rebounds per game as well.
And if you wanted a reminder of how important he is to Oklahoma City, especially on the offensive end, then here you go: OKC's offensive rating jumps from 94.7 when Westbrook is on the bench, to 110.8 when he's on the floor.
1. Steph Curry
Curry is in the midst of one of the greatest single season performances of all time, averaging 32.4 points, 5.8 assists, and 4.9 rebounds per game. He's shooting a ridiculous 47 percent from behind the arc, even while taking over 11 threes per game. Through 22 games he already has seven 40-plus point performances, and has scored less than 20 points just two times. Incredibly, he hasn't even needed that many minutes to accomplish all these feats, as he plays just 34 minutes a night because the Warriors are routinely routing teams.
There are all sorts of statistics that can demonstrate just how dominant Curry has been, but I think I'll let the Warriors Net Rating do the talking. When Curry is on the bench, the Warriors are a modest plus-3.1. When Curry is on the court? Plus-21.5! Twenty. One. Point. Five. The Warriors are 21.5 points better than their opponents when Curry is on the court this season. What on Earth!?
The league has truly never seen a player like him. It's simply amazing to watch how casually he destroys teams. And best of all, he does it with a smile on his face the whole time.