The first glimmers of progress only ever materialize in vague blurs and visions, deciphered as either signal or noise, until it all crashes down like a ton of bricks, crystallizing a collective hunch.
Two years after Donald Sterling was handed a lifetime ban from the NBA — which even then considered the easiest move in sports history, given the critical mass that swelled up in opposition to him — commissioner Adam Silver has opted to move the 2017 All-Star Game from Charlotte, on account of North Carolina's House Bill 2, which limits protections of discrimination against gay, lesbian, bisexual and transgender people.
Since Sterling's ban, social activism has flared among players and been met with mixed reviews, from the Miami Heat posing in hoodies in deference to Trayvon Martin, a black teenager slain by neighbourhood watch captain George Zimmerman, to Derrick Rose wearing a Black Lives Matters shirt in solidarity with Eric Garner, who choked to death at the hands of the NYPD. This offseason, four of the biggest stars in the league — LeBron James, Chris Paul, Dwyane Wade, Carmelo Anthony — took the stage at the ESPYs to plead for athletes to take a stand against the gun violence and racial profiling ravaging the country. That the chief criticism of the message, if any, was that it wasn't controversial enough only points to how much things have changed.
WATCH: "We all have to do better." – @KingJames #ESPYS https://t.co/PsqLjsutZg

— Good Morning America (@GMA) July 14, 2016
Across the street, NFL quarterback Colin Kaepernick took their cue, refusing to stand for the national anthem and "show pride in a flag for a country that oppresses black people and people of color," sparking the most polarizing controversy in sports this year. He's been dubbed a patriot and a traitor, yet his jersey sales have skyrocketed while even his blackness has been called into question.
It's undeniable that the NBA is now the most progressive league in major sports, and it might even be among the most progressive of American institutions, a stride it never would have been able to make without its fans. On the internet of 2016, with its infinite niches, there is no singular, reliable definition for what constitutes "mainstream." What's clear, though, is that the mainstream NBA fan is more diverse, young and internet-savvy than ever, which has given the league the space to alter its decision-making.
The same league that once instituted a racist dress-code a decade ago — trying to pander to a more, shall-we-say, NFL-inclined base — now boasts fans that gave Silver agency to oust Sterling and support players taking social stands, encouraging more to follow suit. The current demographic is made up of the same people who allow celebrities to work progressivism into their personas, from feminism to black empowerment, and actually have a crack at gaining, not losing, sponsors. More than ever, civil rights align with the profit motive.
Hell, Carmelo Anthony's offseason activism has culminated in a brand resurgence. Summer of Melo, anyone? You can consider this version of progress cynical, but under the framework of the society we live in, this is how change happens.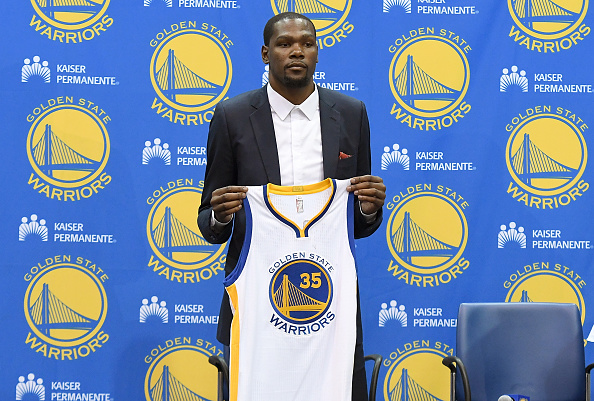 Change has even seeped into the way basketball-related decisions are scrutinized. On July 4, Kevin Durant penned his departure from Oklahoma City to the Golden State Warriors, the league's standard-bearer for pushing the envelope, led by Steph Curry, the sharpest long-range shooter the league has ever seen, alongside a 6-foot-7 center in Draymond Green, with head coach Steve Kerr at the mantle, a guy who would more accurately be described as a hippy dervish than a stern workman.
The Decision saga was truly instructive. Durant's decision to go to the Warriors was met with as many people defending his right to do what he wants as those who were upset with his "can't beat 'em, join 'em" thought process. When Russell Westbrook re-negotiated to extend his contract with the Thunder, the Midwestern middle-of-the-pack franchise that drafted him — a decidedly old school move — he was met with the same news cycle that ruled Durant's decision: some praise, some reflexive reactions to the assumption that he would be praised, arguments over the "type" of people who would praise him vs. the "type" who wouldn't, the narrative and the counter-narrative drowning each other out.
But most of all, Westbrook's decision was met with the question of why? Sports fans and analysts, rather than heaping him with undulating praise, were confused, wanting an explanation for why he would work against his own presumed self-interest like that. Like Tim Duncan, who announced his retirement on the same afternoon Durant announced his departure, and maybe like Kevin Garnett — who is ruminating on retirement — to a fault, Westbrook displayed loyalty to the franchise that drafted him. Like Kobe, he displays maniacal work ethic and self-belief, his playing style a double-edged sword.
What ended this offseason was not so much an era of players who saw in loyalty and punishment virtues in and of themselves, but of our valorization of that ethic.
As groan-worthy as the discussion over the narrative and counter-narrative can be, especially in the Twitter echo chamber era, we like to gauge which is dominant because we believe it tells us something about society. The fact that, for the first time, nobody could figure out which was louder marks a signal change in the way fans and analysts process the NBA. With the counter-narrative and narrative waged in a battle of equals, what we're essentially left with is a blank slate, the revolutionary potential for fans to completely change the way we think about this sport. For all the boundaries that have been shattered, even more will be pushed this season.