This column is mostly about Stephen Curry, but before discussing the NBA MVP, one of his teammmates illustrates why No. 30 must lead the Golden State Warriors out of a 3-1 deficit in the Western Conference Finals.
An element of karma sometimes becomes a part of sports. A guy gets a foul call he doesn't deserve, and he misses the free throws. People who believe in that sort of thing must be smiling today thinking about Draymond Green.
After almost 24 hours of speculation about whether he'd be suspended, followed by 24 hours of commentary (supportive and critical) on the NBA's decision to not suspend him, Green went out and made the whole matter a moot point. With his team needing a win to avoid its first elimination game in seven playoff series, Green laid a complete egg on the floor of the Chesapeake Energy Center Tuesday night. He scored just six points and had the same number of turnovers, as the Oklahoma City Thunder took a commanding lead in the Western Conference Finals over Golden State.
Throughout this season, Green has been one of the league leaders in plus-minus, tallying a number over 1,000 this year. But in the last two games, he is minus-72. Green was by no means alone in his abysmal (lack of) production, but he has often been called the spirit of this Warriors team, which is now in danger of packing up for the summer.
However, while Green may be the spirit of the team, the heart and soul is Steph Curry, and he has been just as bad as Green these past two games. It's not just that his shots aren't falling, but Curry is making defensive mistakes we haven't seen in years. Like Green, he was very sloppy with the basketball. These two players handle the ball the most for the Warriors, and they combined for 12 turnovers.
There are teams which won't punish an opponent for a stat like that. This version of the Oklahoma City Thunder is not one of them.
Suddenly, the San Antonio Spurs are feeling pretty good about themselves. After losing in six games to the Thunder, the last three being consecutive losses, the NBA wise guys (and pretenders like me) had the Spurs dead and buried. We saw their failure against the Thunder as just that — their failure — rather than the first glimpse of an OKC team which has always had the physical talent to play at the highest level, but never had the mental or emotional strength to get the job done. Looks like we missed that one.
For two full games and half of a third, the Warriors have seen the Thunder do to them what they have spent the better part of two seasons doing to other teams. One of those things is playing suffocating defense that creates easy baskets on offense. That has been the Warriors' stock-in-trade since the day Steve Kerr took over, and yet the script has been flipped on them during the past two games.
The physical matchup is brutal for the Warriors. They've generally been able to go small against anybody, switch all picks and screens, and run opponents out of the gym. Most teams don't have five players who can hang with the Warriors' small-ball lineup. Oklahoma City, on the other hand, isn't really that small when it goes small. Kevin Durant is 6-foot-11, Serge Ibaka is 6-foot-10, and Andre Roberson (who?) is 6-foot-7. These guys are also very long, and have made the paint a dangerous place for the Warriors. Unfortunately, the Thunder have also committed to running the Warriors off the 3-point line, so that doesn't leave them much room to operate.
I heard something on the Warriors' radio broadcast Tuesday night that almost made me drive off the road. In the middle of the second quarter, when the game was a six- to eight-point affair, play-by-play announcer Tim Roye told partner Tom Tolbert, "What the Warriors have done well in this game is force the Thunder to play in the half-court." Wait, what?
The Warriors are the team that wants to get out and run. Now suddenly, they're slowing the tempo to make the Thunder run an offense? That's crazy, but it's what has developed in this series. Golden State has become the conservative, careful team, afraid to crash the offensive boards because their floor balance would be off and they wouldn't be able to stop Russell Westbrook in the open floor.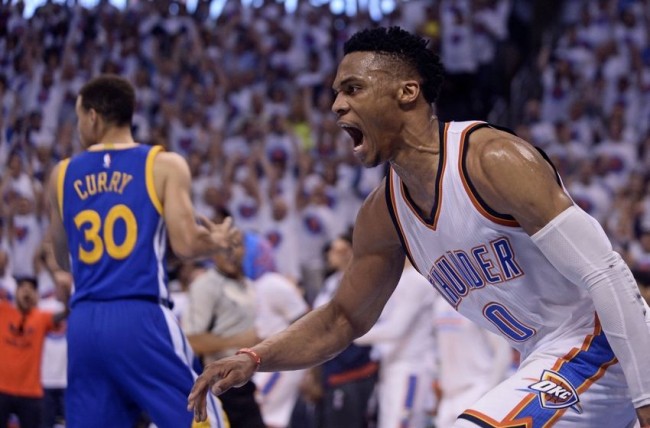 This is a "be careful what you wish for" moment for the Warriors. They wanted to be considered the best team in basketball and have bristled at the many criticisms lobbed their way this season. Now they need to show the critics they're wrong.
It's frustrating following a team that plays with the brilliance the Warriors showed in the first half of the season, only to see them struggle so mightily in the playoffs. The truth is that they haven't really been the same since Andre Iguodala's injury in March. He missed 17 games and came back just before the end of the season. Steph Curry got hurt in the first game of the playoffs (MAN, does that seem like a long time ago), and again in his first game back (Game 4 against Houston), so the Warriors had very little time to try to get their rhythm back.
Against Houston, it didn't even matter that they didn't have Curry. Against Portland, in a battle which was alarmingly close for a 4-1 series, you could argue they would have lost without him. Now Golden State is facing an opponent playing so well that Curry's return to the lineup doesn't matter.
Things getting crazy in Game 4 as Thunder go on early 16–0 first-quarter run (via @NBATV) https://t.co/0xZymk8GSl https://t.co/hByrkRxpQy

— The Crossover (@TheCrossover) May 25, 2016
Curry has now played six games since returning from his knee injury. He doesn't look like he has the usual first step. His ability to create a shot, and even his ability to finish at the rim, seem compromised. While these margins seem to be so great that the Warriors would fall short with a normal "Steph-like" performance, there's an emotional lift he gives this team when playing like his best self. I can't even count all of the games the Warriors won this year solely because he made something happen, filling a void with his luminous displays. When Curry doesn't play like that, it sends a chill through every Warrior fan — and player. They start to think "uh-oh," and suddenly get tight and try to do too much.
So as important as Draymond Green and Klay Thompson are to this team, it all comes down to the MVP. If Curry can't hit five threes, his average in the regular season, there's no use in sugarcoating this thing: The Warriors are in serious trouble.
But if they can figure this out and get some confidence in Game 5, while OKC comes in a little flat because they're everybody's new favorite team, Golden State can force a Game 6. If they can do that, they can win and force a Game 7 in which anything could happen.
I've seen it done. I covered the Phoenix Suns in 1995 when they faced the Houston Rockets in the second round. The Suns had a 3-1 lead going into Game 5 at home. They lost that game, lost to the Rockets at Houston in Game 6, and lost at home in Game 7.
The Rockets were defending champions. They won 47 regular season games. The Warriors won 73.
Is this team done? Maybe… but stranger things have certainly happened.
Steph Curry needs to give himself a chance to rise — and the Thunder a chance to crack — in Game 6. We'll see what he has in his arsenal — and his heart — in Game 5.