If last year was the season of Steph Curry's ascendance, this year is the season Curry claimed the NBA as his own. It's clear that last season wasn't a fluke – if anything, it was a harbinger of what was to come. And just as Curry's status in the NBA has grown to previously unreached heights, so too has his popularity.
The adulation thrown upon him is every bit deserved, but it's also a bit shocking. Save for Mark Jackson, Oscar Robertson and the other grouches of basketball's past, Curry is unassailable as a character and a player. Every shot, every pass, every moment with his family is met with praise and little else. He is as untouchable in the media and to fans as he is on the court.
And it makes me wonder: will this end?  Do we ever reach a point of diminishing returns when it comes to Steph Curry? Will his unfathomable range, his supreme self-confidence, his redefining play ever be anything less than thrilling? Can greatness become boring?
A record-breaking season… some of Steph Curry's best threes of the year! https://t.co/dQjq3gsrjZ

— NBA (@NBA) February 28, 2016
Curry is something the basketball world has never witnessed before. There have been great shooters, splendid passers, those who possess unbreakable confidence, but a blend of all three at the highest levels is something that hasn't graced the league until Curry came along. Now that he's here, fully arrived, we are left in awe of what he's accomplished and the possibilities before him.
His numbers this year are staggering. 30 points, six assists, nearly 47 percent from beyond the arc, a 64.3 eFG and 90 percent from the line. His range is unlimited, to the point where a halfcourt shot, for him, is technically more efficient than a two-point shot. He hasn't so much redefined basketball as he has warped the game to his needs and strengths. Even before this ridiculous season, Steve Nash, one of the greatest shooters of all time, told Ric Bucher of Bleacher Report that Curry was "The Best."
"The only pause I have is from fear of being ignorant," he said. "Am I missing someone? Does he need to play longer or do it longer? Does he have to do it in the playoffs more years? But my first reaction is, 'Why not?' He's as good as anyone I can think of on every level—pure shooting, array of shots, percentage, getting hot, plays to the end—he checks all the boxes."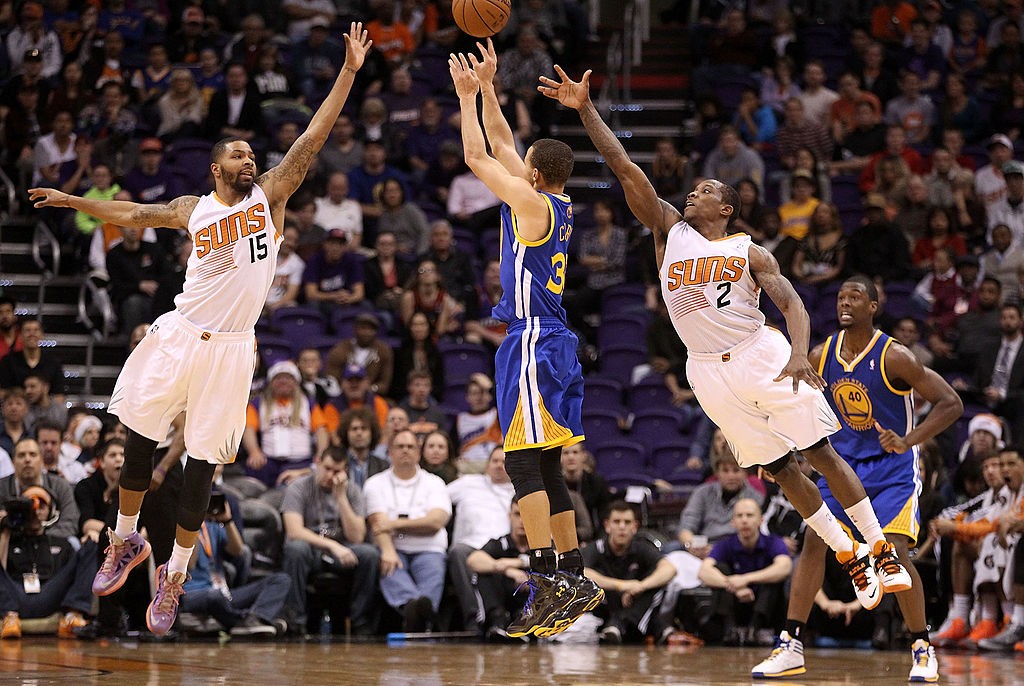 Perhaps that's why Curry is so captivating, even more so than LeBron James or Kevin Durant. In them, we see superstars of the past molded into one. They're not any less unique, of course, but we at least have a frame of reference for them. We have no such frame for Curry.
Yet, especially in sports, even the brightest stars and strongest sensations aren't immune to fan fatigue.  Except, once again, for Curry. The presumptive MVP's game-winner in Oklahoma City, indeed his entire game, was without a doubt one of the best performances in recent NBA history: 46 points on just 14-24 shooting, including 12 three pointers. In that game alone, Curry broke the NBA's record for most threes made in a single season (a record which Curry already held) and tied the record for most threes made in a single game.
Except…it wasn't anything particularly new from Curry himself. The buzzer-beaters, the half-court heaves, the twisting, floating, contorting layups at the rim ­– Curry's put those weapons on display time and again. But was there any less excitement or wonderment when Curry's shot sailed through the net as time expired? Of course not.
This Curry complex, whereby few, if any are exhausted by Curry's constant heroics and previously unimaginable feats, is perhaps as amazing as any of his shots. We're going on two years of Curry at his peak (is this even his peak? If not, god help us all), of him redefining what is possible on a basketball court, and only handful are even the least bit fed up with it. The only group that seems to begrudge Curry his greatness are some former players and coaches. Charles Barkley continues to call him "just a shooter" despite overwhelming evidence to the contrary, while Oscar Robertson said Curry benefits from poor defense and bad coaching. Of course, neither of these are true, and the ill-informed nature of their criticisms makes Curry shine all the brighter.
There are those who are exhausted at the Warriors' success, and how it almost makes the NBA less enjoyable. Those whose job it is to aggregate and post highlights will tell you they're tired of posting every time Curry dribbles between his legs or makes a three-pointer from a foot behind the line, and that's certainly understandable – I'm among them. But when we're separated from our jobs, just watching a Warriors game for fun, even we can't hold back, at the very least, our joyous bewilderment.
Curry isn't divisive to fans, not like other greats before him. For LeBron, it was always the lack of rings or perceived clutch ability that idiotically subtracted from his greatness. Decisions, and such. In the case of Kobe, the analytics crowd sought to illustrate that he wasn't really as clutch as everyone made him out to be. Plus the off-the-court stuff. These disagreements boiled into arguments and then into wars, full of memes and idiocy.
Curry seems to satisfy every possible viewpoint. His shot chart is the Mona Lisa of analytics, with the majority of his attempts coming either at the rim or beyond the arc.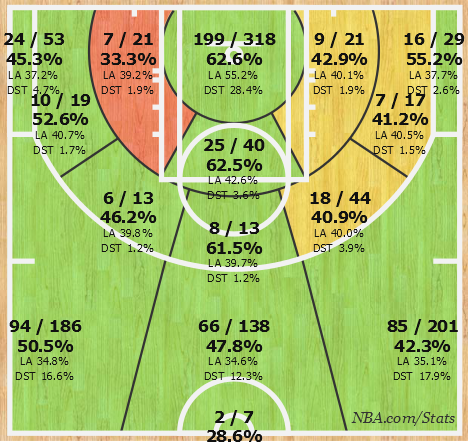 He's a late-game assassin, scoring a league-leading 5.6 points per game in the last five minutes of a game, according to the NBA's stat site. He already has a ring, and barring a complete meltdown, will have another before the end of June, so the "rings" crowd has to hold back a bit before diminishing him with Bryant or Jordan's accomplishments. Add in the fact that he's just an overall good person, which placates those who still foolishly cling to the notion that athletes should also be role models, and there's very little to dislike about Curry, or even to point to in a discussion as to why he is lesser than his current status implies.
Until that happens – until Curry falters in one of these facets, which seems unlikely – there's little reason for anyone to turn against him.