The Alabama Crimson Tide and USC Trojans meet for a big college football game on September 3 in Arlington, and earlier this week, USC started selling a "Roll Tears Roll" shirt at their bookstore mocking Alabama's "Roll Tide Roll" phrase.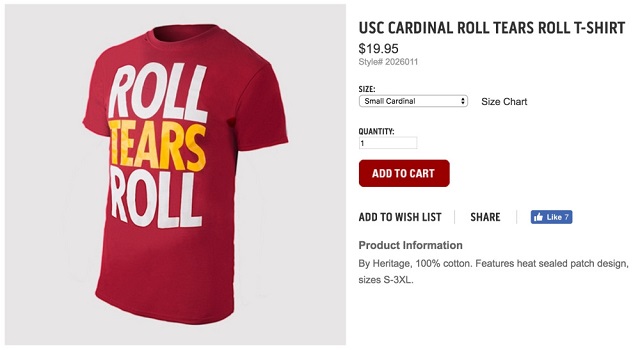 Some trash-talking can be fun, but this was probably a bad idea for USC:
Alabama is the defending national champion.
Alabama is considered the team to beat again this year,.
Alabama is currently 10-point favorites vs USC.
You had to figure Alabama fans would respond to the shirt.
Welp, Alabama fans indeed responded, and quickly, with this shirt:
Um, wow. You likely at least understand the O.J. Simpson reference here, as he was a Heisman Trophy-winning running back at USC in the late 60s. The Alabama "O.J." being referred to in the shirt is O.J. Howard, a now-senior tight end that went off vs Clemson in the National Championship Game, with five receptions for 208 yards and two touchdowns.
It's probably time to end the t-shirt wars, guys. And if USC has a response in store, I don't even want to try to imagine what it could be.
[FTW]