Are you an FBS college football program? If so, chances are you need a new head coach. Lucky for you, there are plenty of candidates more than happy to fill the empty void atop your barren coaching tree.
As of the time of this writing, there are 14 open FBS head coaching vacancies. USC's decision to remove the interim tag from Clay Helton's job title means one of the most coveted open positions is now off the board. Taking a look at the hiring landscape from the view of all the potential head coaches, we're going to rank out the remaining spots to get a sense of which jobs will probably be next to go and which schools will have a tough time getting the guy they really want.
No. 14 – Louisiana–Monroe Warhawks
Forget about the fact that you're inheriting a 1-11 team that's been on a downward slide for three years. Forget about the fact that you'll be tasked with getting ULM out of the Sun Belt basement. Forget about the fact that your salary will be among the lowest among all FBS head coaches, perhaps even THE lowest (Todd Barry made $360K), and you won't have much leftover for assistants. Just look at the list of guys who preceded you. Do you recognize any of those names? This is where FBS head coaching careers go to die.
No. 13 – Tulane Green Wave
A tough sell to anyone who isn't looking for their first head coaching gig. You'll never be the big ticket in town even if you get things going. The program has only had three winning seasons since the turn of the century and you're coming in after back-to-back 3-9 years. The AAC is improving by leaps and bounds all around Tulane and the Green Wave has some serious work to do if it wants to become competitive. The only saving grace? They tend to give their coaches more time than other programs.
No. 12 – North Texas Mean Green
In theory, North Texas should be a place you can at least be mediocre. You're replacing a guy who went 9-4 as recently as 2013. However, the wheels came off this season and they finished 1-11. You'll have to rebuild this team from the ground up, but being in the heart of Texas should at least give you hope. You'll never be the big game in town but there's no reason you can't turn the Mean Green back into winners and then shuffle off to a Big 12 gig.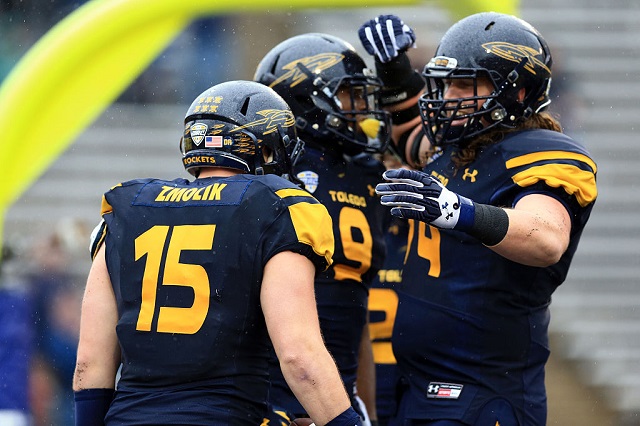 No. 11 – Toledo Rockets
On paper, this actually looks like a decent situation to walk into. The Rockets are 9-2, about to go bowling and your predecessor was so accomplished that a Power Five program (Iowa State) snatched him up as its new head coach. Here's the problem, though: There's almost nowhere for you to go but down. The MAC is super-competitive and eats its own if coaches stick around too long. Since you'd be coming in as a continuity hire, anything less than nine wins every year will be seen as a step backwards. If you take this job, you better be ready.
No. 10 – UCF Knights
All due respect to Mike Bianchi, UCF is still more potential than progress. George O'Leary did some great things in Orlando, but he stayed one season too long and now the football program has to dig itself out of an 0-12 hole while teams like Houston, Memphis, Navy and USF lap them. You're also walking into a situation where they still have to hire a new AD as well. It's a whole lot of regime change, which could be good or bad. The saving grace is that you're located in recruit-rich Florida. It'll take time but you should be able to rebuild here. [Ed. – Sounds like Oregon OC Scott Frost is taking on the challenge.]
No. 9 – Rutgers Scarlet Knights
The most dysfunctional athletics program in America just cleaned house and the new boss is known for tidying up messes, so there's really nowhere to go but up. However, a yearly schedule loaded with some of the best football teams in the nation is going to severely limit how quickly the Scarlet Knights can work their way out of the basement. The recruiting base that Rutgers commanded under Greg Schiano has eroded some, but hey, it's still a Big Ten gig, right?
No. 8 – Syracuse Orange
Here's what's good about the Syracuse job. It's in a P5 conference. The right person can take the program from basement to bowl eligibility rather quickly. (Doug Marrone did it in two.) It's a program with a lot of tradition (18th-winningest, 1959 National Title). Here's what's bad about the Syracuse job. Your schedule comes pre-loaded with FSU, Clemson and Louisville every season. Being a private school in the Northeast puts a limit on what it can do financially and competitively. Syracuse seems destined to be a stop-gap job for the foreseeable future, either because you succeed and move on or because you don't and you're fired.
No. 7 – Memphis Tigers
How in the world is taking over an AAC program a better opportunity than an ACC or even a Big Ten one? Because it's so much easier to win here. Justin Fuentes proved it can be done and the new guy will take over a program at its height in terms of talent. The AAC is competitive, but not full of world-beaters. If anything, the AAC is taking on a reputation as the premiere proving ground for head coaches who want a shot at the big programs. Keep it up and you'll be the head coach at an ACC or Big 12 school in no time. Fail and your sins won't be nearly as known as if you committed them at Rutgers or Syracuse.
No. 6 – Virginia Cavaliers
Virginia is not a place that likes to hire and fire coaches willy-nilly. They've only had three since 1982 and Mike London made it six seasons when most schools probably would have fired him after four. So if you're looking for a place that actually gives you time to grow your program, this is it. You're in the right division (Coastal) of the right P5 conference (ACC) and you're Virginia, for Pete's sake, so you should be able to get back to mediocrity. That should be enough for a while.
No. 5 – Maryland Terrapins
The same issues that should concern you at Rutgers should also concern you here. However, Maryland has something most schools don't: Money and an alumnus dedicated to turning your program into a powerhouse (Under Armour CEO Kevin Plank). You will have facilities. You will be able to pay assistants. You've got a senior-laden team welcoming you to town. The stakes are high, but so are the tools to make it happen. The rest is up to you.
No. 4 – Missouri Tigers
If you become the head coach at Missouri, you're taking on more than just trying to win the SEC. You're taking on all of the issues that have gone down at the school in recent months and a lot of people will be looking to you to see how you handle it. Remember what happened to the last high-ranking school official who tried to brush things off? You're also replacing a beloved coach, so the stakes are pretty high. All of that said, this is an SEC job and that is nothing to sneeze at. You're also in the SEC East which means you have just as much of a chance to win the division as anyone else. Recruiting will be tough, but a veteran squad should help you acclimatize.
No. 3 – Georgia Bulldogs
Originally, Georgia was No. 2 on this list but there was one thing nagging at us about the position. It's the Nebraska Problem. Your predecessor set an expectation where winning 10+ games is the norm, and the school and fanbase responded by telling him "that's not enough." So what in the world are you going to do impress them? Anything short of winning the SEC East is disappointing. Hell, anything short of making the College Football Playoff might not be enough to justify your existence. You're not gonna turn down the job, but you better know what you're getting into. Just ask Frank Solich and Bo Pelini.
No. 2 – South Carolina Gamecocks
On paper, Georgia is the better job, but for all the reasons Athens asks the impossible, the Gamecocks make your life simple by comparison. South Carolina had earned a reputation for being a place where great football coaches go to be good. Expectations are high but if you can come in here, with a team full of talent, and take things one step further, you'll be a man-god. At least for a little while. The pay isn't too shabby either.
No. 1 – Miami Hurricanes
Don't care what the state of the program is. It's Miami. The U. And getting to be the guy who returned The U to glory gives this job more upside than anything else still available. Get those wins up and the recruits will come. The alumni will back you up. The region will rally behind you. Yeah, it's not the most money you could get and the stadium situation leaves a lot to be desired, but if you can re-U this place, people will come and you'll have your choice of NFL gigs if you want it.