Donte DiVincenzo was the star of the NCAA Men's Basketball Tournament as he led Villanova to a second championship in three seasons. The sophomore came off the bench and scored a career high 31 points in their title win against Michigan but while the game was going on, tweets from DiVincenzo's dormant Twitter account resurfaced with tweets that contained the n-word.
DiVincenzo's Twitter account hadn't been used in over two years but he acknowledged that the account was his. DiVincenzo however claimed that he didn't remember using the n-word. DiVincenzo deleted the offending tweets and eventually deleted his account.
Screenshots of the tweets are from BSO: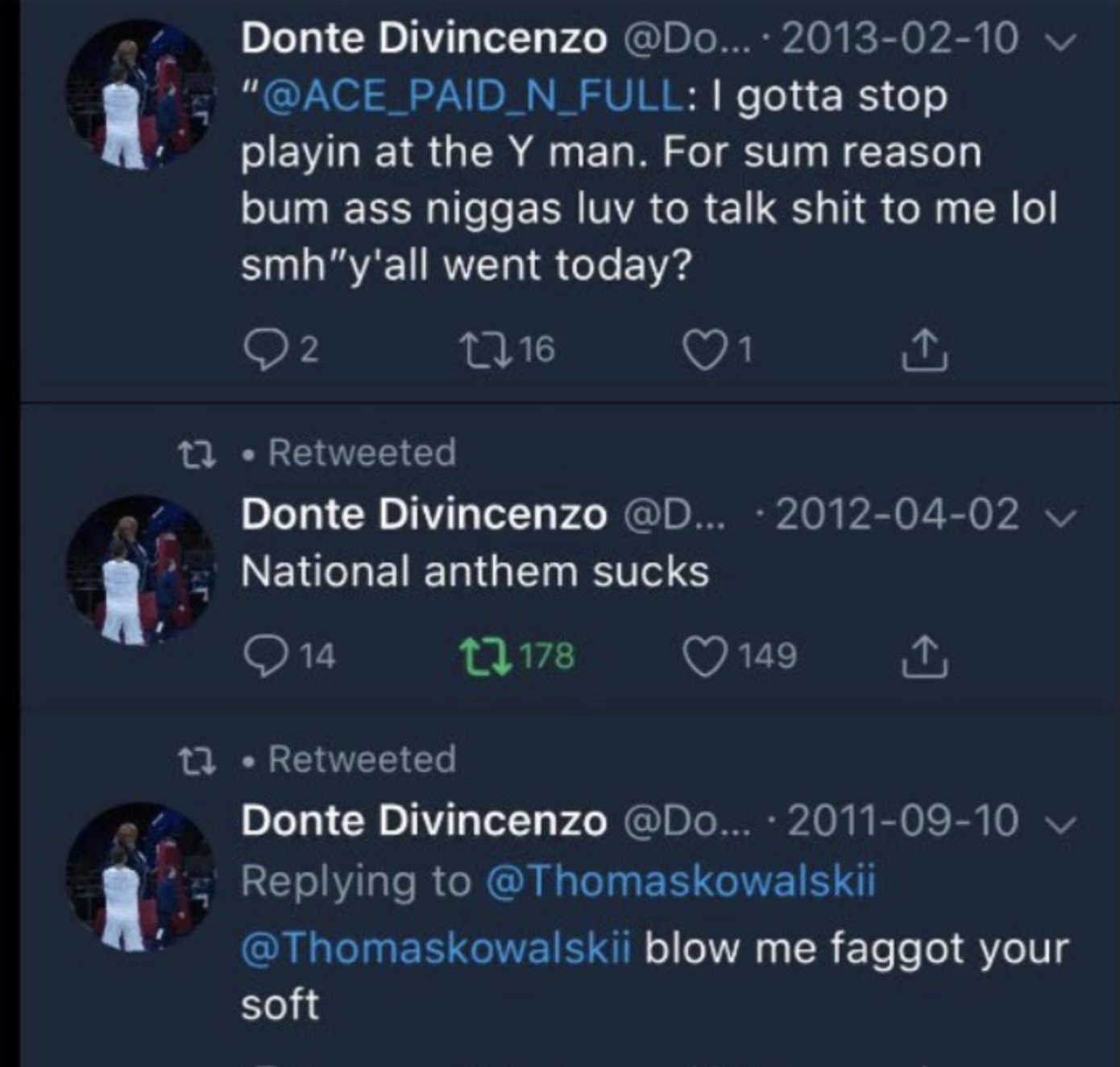 It's important to note that these tweets were from 2011 and 2012 when DiVincenzo was 14, but while that should be noted, it still doesn't excuse him for talking like an immature brat. At the same time, DiVincenzo is now 21 and I imagine he has matured over the past seven years.
Villanova tried to go with the "He was hacked" excuse that nobody buys anymore and that's now deleted. Also, it's tough to convince people DiVincenzo's account was hacked when the tweets had been up for seven years. And whether or not DiVincenzo actually tweeted the things he tweeted, it was still stupid to either say that or let someone else say that on an account that has your name attached.
If he had said what he said, Donte DiVincenzo isn't the first 14-year-old to say something completely stupid and horrible and he isn't going to be the last. Like I said, hopefully in the seven years since, DiVincenzo has learned from that and matured since high school. Some people have a rule to not post things you wouldn't want your parents to see but maybe there should be another rule. Post as if you are telling what you're posting to billions of people.
While you may think only a few people are listening, there's a chance that millions could be listening so if you don't want something to come back and haunt you, maybe don't tweet. And if you fear that has already happened, delete your account and start over. It's a much better alternative than having to answer questions about seven-year-old tweets after winning a National Championship.