Ever since the Ed O'Bannon ruling, college football fans have had to deal with the fact that a fully licensed college football video game is probably not going to happen anytime soon (and even if it did, they should want the players to be compensated for their likenesses).
Desperate for anything resembling a college football game, fans were overjoyed to hear IMackulate Vision Gaming is creating a college football video game called "Gridiron Champions," set to launch for PC, PS4 and Xbox One in 2020. Because of licensing issues, the game will not feature actual colleges and it certainly won't include the likeness of any current coaches or players, but hey, it's better than nothing, right?
Gridiron Champions will feature
• 126+ generic colleges
• Customization for players, teams, uniforms, conferences and stadiums
• Available on Xbox One, PS4 and PC
• Story Mode where you start in high school
• 16 team playoff system

Hopefully the release date will be soon

— △⃒⃘ (@ItsPaoloni) April 21, 2018
The announcement did come with some sample screens that showed off how the game might look. It also showed off the kinds of school names and nicknames that they might potentially populate the game with. And their choices are… fascinating.
According to various screenshots and videos, the potential school names include the Oklahoma Tech Cyclones, Mississippi A&M Raptors, Nevada Southern Hornets, Detroit Tech Bulldogs, Central Georgia Rattlesnakes (we're guessing on that last one based on the helmet). Now, these may just be placeholder names for now, but the official announcement does say that the game will feature over 126 generic college teams before you start customizing everything.
So that got us thinking…assuming they want to hew as closely as possible to the actual college football programs that fans know and love without getting sued, what might those team names end up being?
Looking at the game's given names, it looks like we can rely on a couple safe bets:
They're going to go heavy on the A&M, Tech, and directional school designations.
When in doubt, use a well-known, generic college nickname.
Steer clear of old Native American nicknames because that's a whole set of issues.
But also, don't be afraid to get modern and weird (See: Raptors).
Let's run down the FBS schools by conference (all due respect to the MWC, MAC, Sun Belt, and CUSA, but we'll be here all day if we include everyone) and try, based on this, to figure out what the fake version of every actual college football team will be.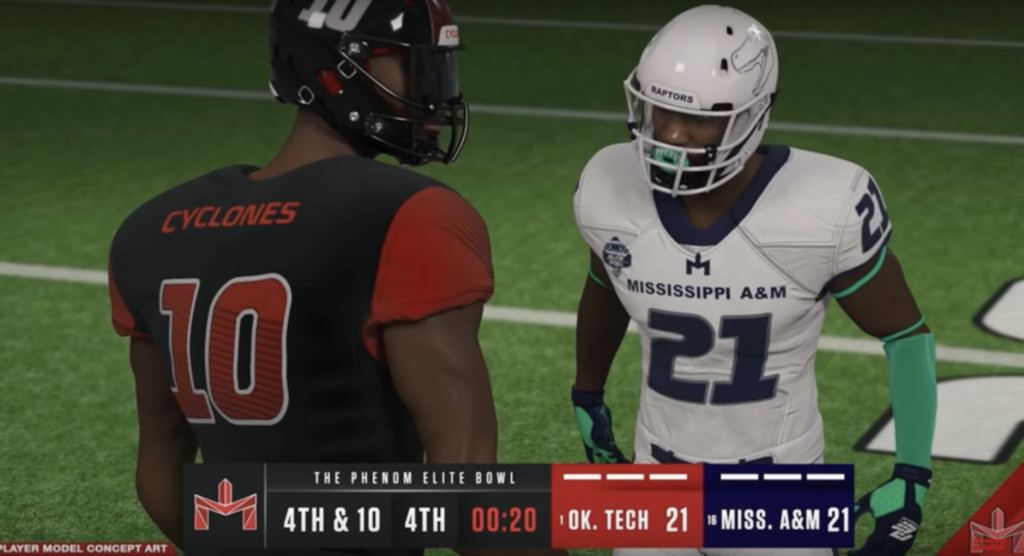 ACC
Boston College Eagles – Boston State Revolutionaries
Clemson Tigers – South Carolina A&M Wrens
Duke Blue Devils – Durham Univ. Cardinals
Florida St. Seminoles – Western Florida Panthers
Georgia Tech Yellow Jackets – Atlanta Univ. Tree Frogs
Louisville Cardinals – Kentucky A&M Thoroughbreds
Miami Hurricanes – Ft. Lauderdale A&M Sharks
North Carolina Tar Heels – Northern Carolina Squirrels
NC State Wolfpack – Raleigh Tech T-Rexes
Pittsburgh Panthers – Western Pennsylvania Ruffed Grouses
Syracuse Orange – New York State Emporers
Virginia Cavaliers – North Virginia Foxhounds
Virginia Tech Hokies – Virginia A&M Cougars
Wake Forest Demon Deacons – Central Carolina Camels
AAC
UCF Knights – Middle Florida Alligators
Cincinnati Bearcats – Ohio River Univ. Salamanders
UConn Huskies – Connecticut Tech Tigers
East Carolina Pirates – NC Coast Univ. Opossums
Houston Cougars – Eastern Texas Oilers
Memphis Tigers – Southwest Tennessee Bulldogs
Navy Midshipmen – Annapolis Univ. Fightin' Crabs
South Florida Bulls – Tampa A&M Manatees
SMU Mustangs – Dallas Tech Desperados
Tulane Green Wave – New Orleans State Crawfish
Tulsa Golden Hurricanes – Northeast Oklahoma Tigers
Big 12
Baylor Bears – Middle Texas Armadillos
Iowa State Cyclones – Iowa A&M Bison
Kansas Jayhawks – Eastern Kansas Meadowlarks
Kansas St. Wildcats  – Middle Kansas Coyotes
Oklahoma Sooners – Middle Oklahoma Buffaloes
Oklahoma St. Cowboys – Oklahoma A&M Bullfrogs
TCU Horned Frogs – Fort Worth Univ. Panthers
Texas Longhorns – Southwest Texas St. Flying Bats
Texas Tech Red Raiders – Texas Northern Badgers
West Virginia Mountaineers – West Virginia A&M Bobcats
Big 10
Illinois Fightin' Illini – Central Illinois Red Foxes
Indiana Hoosiers – Indiana A&M Allegheny Woodrats
Iowa Hawkeyes – Iowa City Univ. Raccoons
Maryland Terrapins – Middle Maryland Martens
Michigan Wolverines – Southeast Michigan Wolves
Michigan St. Spartans – Detroit Tech Bulldogs
Minnesota Golden Gophers – Central Minnesota Lynx
Nebraska Cornhuskers – Nebraska A&M Bighorns
Northwestern Wildcats – Lake Michigan Univ. Hawks
Ohio St. Buckeyes – Columbus Univ. Muskrats
Penn St. Nittany Lions – Middle Pensylvania Weasels (sorry, couldn't help myself)
Purdue Boilermakers – Northwestern Indiana Fireflies
Rutgers Scarlet Knights – New Jersey St. Mallards
Wisconsin Badgers – Wisconsin A&M Ospreys
Independents
Army Black Knights – New York Southern Black Bears
BYU Cougars – Utah Tech Mountain Lions
Notre Dame Fightin' Irish – North Indiana Tigers
Pac-12
Arizona Wildcats – Southern Arizona Rattlesnakes
Arizona St. Sun Devils – Valley of the Sun Univ. Conquistadors
California Bears – Bay Area St. Seals
UCLA Bruins – Los Angeles A&M Cougars
Colorado Buffaloes – North Colorado Burros
Oregon Ducks – Middle Oregon Porcupines
Oregon St. Beavers – Oregon A&M Sea Lions
USC Trojans – Eastern LA Grizzlies
Stanford Cardinal – Palo Alto St. Whales
Utah Utes – Salt Lake Univ. Gray Foxes
Washington Huskies – Seattle St. Eagles
Washington St. Cougars – Washington A&M Runnin' Salmon
SEC
Alabama Crimson Tide – Tuscaloosa Tech Tigers
Arkansas Razorbacks – Northwest Arkansas Bulldogs
Auburn Tigers – Alabama Eastern Hawks
Florida Gators – North Central Florida Dinosaurs
Georgia Bulldogs – Central Georgia Rattlesnakes
Kentucky Wildcats – Kentucky A&M Deer
LSU Tigers – South Louisiana Snappin' Turtles
Ole Miss Rebels – North Mississippi Wild Hogs
Mississippi St. Bulldogs – Mississippi A&M Raptors
Missouri Tigers – Columbia St. Bobcats
South Carolina Gamecocks – Carolina Tech Ducks
Tennessee Volunteers – Knoxville A&M Cormorants
Texas A&M Aggies – Texas Central Pronghorns
Vanderbilt Commodores – Nashville Univ. Eastern Cougars