2015 Record: 11-3 Overall, 8-0 in ACC (Lost to 49-38 to Baylor in the Citrus Bowl)
1 Burning Question: Will North Carolina win 10 games for the second straight season?
After winning more than 10 games for the first time in almost two decades, the only thing that Tar Heels fans want to know is whether the team can do it again in 2016.
There are plenty of reasons to think so. The offense — which led the nation in yards per play last season — is loaded with talent again this fall. Quarterback Marquise Williams departs, but Mitch Trubisky played well when given the opportunity last year, completing 40 of 47 passes for 555 yards and six touchdowns, while rushing 16 times for 101 yards and three touchdowns. He'll throw to an experienced group of receivers that includes third-team All-ACC selection Ryan Switzer (55 catches, 697 yards, 6 TD), top deep threat Mack Hollins (30 catches, 745 yards, 24.84 ypc, 8 TDs), and Bug Howard (28 catches, 488 yards, 4 TD).
Like the receiving corps, the ground game is also in excellent shape with the return of All-ACC performer Elijah Hood (1,463 yards, 17 TDs) and T.J. Logan (400 yards, 5 TDs). They'll run behind a veteran offensive line — led second-team All-ACC performers Jon Heck and Caleb Peterson — that has 129 career starts under its belt, despite losing All-American guard Landon Turner.
North Carolina is just as experienced on the other side of the ball. The defensive line welcomes back third-team All-ACC performer Nazair Jones (4 TFL, 1 forced fumble), top pass rusher Mikey Bart (6.5 sacks), Dajaun Drennon (5 TFL, 1.5 sacks), and Jeremiah Clarke (2 TFL, 1 sack). Although Shakeel Rashad and Jeff Schoettmer have exhausted their eligibility, the linebacker corps will still be solid, as Andre Smith and Cayson Collins — who both played well in limited action last season — will take over as starters this season. The UNC secondary might be one of the best units in the conference this fall, led by second-team All-ACC selection M.J. Stewart (4 interceptions, 14 passes broken up), third-team All-ACC selection Des Lawrence (2 interceptions, 14 passes broken up), and Donnie Miles (128 tackles, 2 passes broken up).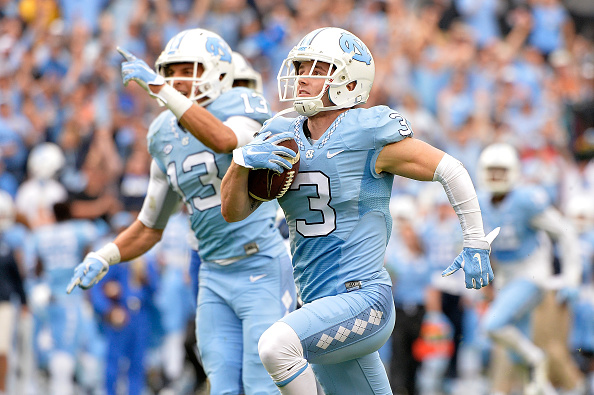 2 Key Stats
1 – The number of times that the North Carolina offense failed to eclipse the 400-yard barrier last season. It was also the Tar Heels' national ranking in yards per play. Make no mistake about it: UNC had the most explosive offense in college football last year. Yes, the 'Heels were "only" 18th in the nation in yards per game, but they did average 7.28 yards per play, which was tops in the nation in 2015. The running game was especially impressive, averaging 224.43 yards per game and 5.96 yards per carry. Although it'll be tough to improve these numbers, Carolina will at least need to match last season's production if it's going to win the ACC title in 2016.
9 – The number of times that the defense allowed more than 200 yards rushing last year. There's no way to sugarcoat it: the Tar Heels run defense wasn't very good last year, allowing an average 247.36 yards per game, which ranked No. 122 nationally. Stopping the run was especially difficult against elite competition, as the defense gave up 964 yards and 10 touchdowns in two games versus ranked opponents last season. While the Carolina offense is good enough to outscore most of its opponents, this number must improve in order to win the Coastal Division crown.
3 Key Games That Will Make or Break the Season
Full 2016 Schedule
9/3 — Georgia (in Atlanta)
9/10 — at Illinois
9/17 — James Madison
9/24 — Pittsburgh
10/1 — at Florida State
10/8 — Virginia Tech
10/15 — at Miami (FL)
10/22 — at Virginia
11/5 — Georgia Tech (HC)
11/10 — at Duke
11/19 — The Citadel
11/25 — NC State
Sept. 3 vs. Georgia (in Atlanta)
Record in Last 5 Meetings: 1-4
Last Year's Result:  Did not play. The last meeting was in the 1971 Gator Bowl, which Georgia won 7-3.
Why it Matters: Last year's Coastal Division championship team was a lot like Rodney Dangerfield in that it didn't get the respect it deserved. Sure, North Carolina finished in the top 10 of the final College Football Playoff standings. Yet, most fans — especially those in the Southeast — didn't think of the 'Heels like a top 10 team because of their season-opening loss to South Carolina. UNC can change this perception immediately with a victory over Georgia, which was won at least 10 games in four of the last five seasons.
Oct. 15 at Miami
Record in Last 5 Meetings: 2-3
Last Year's Result:  W, 59-21
Why it Matters: Although their win-loss record doesn't show it, the Hurricanes have been one of the most talented programs in college football over the past few years, with a whopping 37 players currently on NFL rosters heading into 2015. While previous Miami teams have underachieved, new head coach Mark Richt will have the team in contention for the conference crown. That makes this a "must win" game for the 'Heels if they're going to repeat as Coastal Division champions.
Nov. 10 vs. Duke
Record in Last 5 Meetings: 3-2
Last Year's Result:  W, 66-31
Why it Matters: As Dick Vitale would say, "It's Duke-Carolina, it's awesome, baby." All kidding aside, the Battle for the Victory Bell is no laughing matter to the players, who want to win this game every year. While UNC won every meeting in the series between 2004 and 2011, the teams have split the last four meetings, making this rivalry a lot more intriguing. Duke will come into this season's contest more fired up than usual after getting trashed by the 'Heels last year. If North Carolina is going to return to the ACC title game, it cannot afford a loss in this game.
4 Key Players
Elijah Hood, RB – Hood was one of the most pleasant surprises in college football last season. After playing sparingly as a true freshman, he took over the starting role and ranked third in the league in rushing yards per game (104.5) and second in rushing TDs with 17. He was especially dangerous on first downs last year, averaging 7.34 yards per carry. Hood will be the feature back for the 'Heels this fall and should have another big season running behind a seasoned offensive line.
Mitch Trubisky, QB – With Marquise Williams off to the NFL, Trubisky takes over as the starting quarterback this fall. He played extremely well when given the opportunity last year, completing 40 of 48 passes for 555 yards and six TDs, while running 16 times for 101 yards and three TDs. More impressively, he excelled in third down situations last season, connecting on 17 of 20 passes for 230 yards, with 13 of those catches resulting in a first down. Those are the types of numbers that cause defensive coordinators to pull their hair out.
M.J. Stewart, CB – The Tar Heels' top cornerback a year ago, Stewart earned second-team All-ACC honors in 2015. He was one of the top cover corners in the league, ranking first in passes defensed (18) and fourth in interceptions (4). He also recorded 2.5 TFL, 1 sack, and 1 forced fumble. He'll team up with Des Lawrence (2 INT, 14 pbu), Donnie Miles (102 tackles), and Dominique Green (2 INT, 2 pbu) to form what should be one the conference's best secondaries this season.
Mikey Bart, DE – Bart was the UNC's top pass rusher last year, leading the team with 6.5 sacks. He took his play to another level against ACC opponents, recording 2.5 sacks in a win over Virginia Tech, while turning in a seven-tackle performance versus Clemson in the conference championship game. He'll be a key player for the Carolina defensive line as it seeks to improve against the run this season.
5 Bold Predictions
5. North Carolina's run defense improves.
This probably isn't that bold of a prediction. After all, the Tar Heels ranked 122nd against the run in 2015, which suggests that the only direction that they can go is up. However, I think they'll be noticeably better this year. Remember, defensive coordinator Gene Chizik turned around a struggling Iowa State program when he took over in 2007, helping it improve from 102nd to 65th in total defense. Last year's squad showed similar progress, allowing 65 fewer yards per game than in 2014. This season, the UNC will put it all together, and finish in the top half of the country in total defense. Don't be surprised if the front four of Dajuan Drennon, Nazair Jones, Jeremiah Clarke, and Mikey Bart is one of the top units in the ACC in 2016.
4. Mitch Trubisky puts up comparable numbers to Marquise Williams.
Make no mistake about it: Williams was outstanding for the Tar Heels last season. He did just about anything that you could ask for throwing for 3,072 yards and 24 touchdowns, while rushing for an additional 948 yards and 13 scores. Trubisky will match those totals this fall. Although he didn't receive much playing time behind Williams last season, Trubisky made the most of his opportunities, throwing for 555 yards (11.8 yards per attempt) and running for 101 yards with three touchdowns on 16 carries. Since his average yards per pass attempt and yards per rush were just slightly better than what Williams did last year, I expect the offense to pick up right where it left off in 2015, when it ranked 18th in the country in total offense.
3. North Carolina beats Georgia.
The Tar Heels will establish themselves as contender in the ACC and College Football Playoff races with a season opening win over the Dawgs. Georgia running backs Nick Chubb and Sony Michel are questionable for this game, which will make it more difficult to run against the improved UNC front seven. That means that the Bulldogs will have to make a few big plays in the passing game to stay close. Considering that Georgia's quarterbacks weren't able to do that last year, North Carolina has to like its chances.
2. At least one school tries to lure away Gene Chizik at the end of the season.
North Carolina's improvement on defense won't go unnoticed by football people around the nation. Chizik's impressive resume — which includes a national championship at Texas (as coordinator) and at Auburn — will make him an intriguing choice for a number of high-profile openings. While he's said publicly that he's not looking to be a head coach again, at least one school will offer Chizik the job and make him turn it down.
1. North Carolina wins 10 games.
Powered by an electric offense and improved defense, the Tar Heels will win 10 games in consecutive seasons for the first time since Mack Brown's squad did it in 1996 and 1997.