Here we are, the second half of the 2017 NFL season. The first half has already been full of a bunch of surprises, both on and off the field. Let's hope the majority of surprises in the upcoming weeks occur during the actual games.
As for Week 9, there are a number of intriguing matchups including the Buffalo Bills facing the New York Jets on Thursday night, the Atlanta Falcons traveling to Carolina to play the Panthers, the Seattle Seahawks hosting the Washington Redskins, and the Kansas City Chiefs heading on the road to challenge the Dallas Cowboys.
As for the rest of the games on the Week 9 schedule, well, that's why we have this trusty guide here for you to enjoy and possibly learn a thing or two.
Thursday, November 2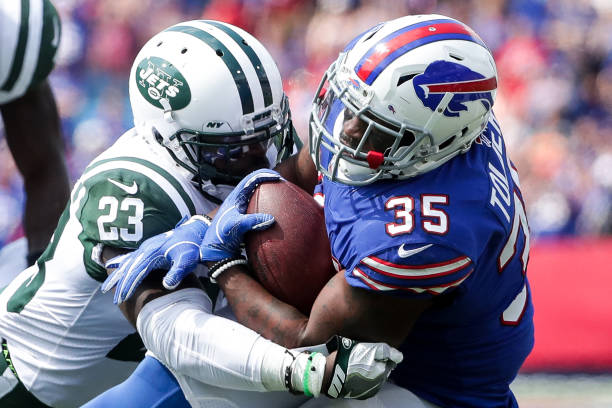 Buffalo Bills (5-2) at New York Jets (3-5) – 8:25pm ET, NFLN
Bills notes – After an impressive start to the year, Buffalo's pass defense has struggled a bit in their last few matchups. In the first four weeks of the season, the Bills' defense was only allowing their opponents to throw for an average of 212.8 yards. But in their last three games, that average has jumped to 338 per game.
Jets notes – When these two teams first met back in Week 1, New York was only able to score a measly 12 points. That point total is still the lowest amount the Jets have finished with in any game this season.
Sunday, November 5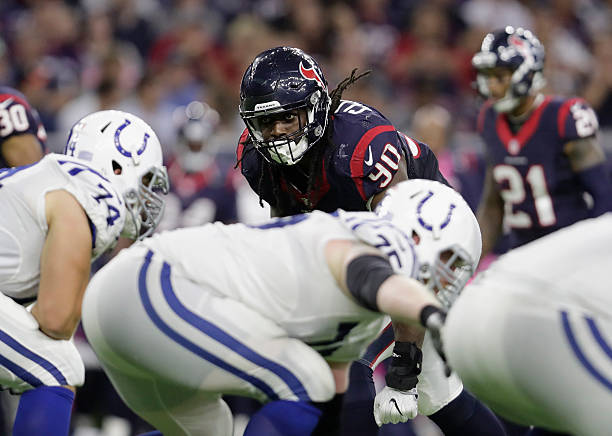 Indianapolis Colts (2-6) at Houston Texans (3-4) – 1:00pm ET, CBS
Colts notes – After last week, Indianapolis is now allowing the most points to opposing offenses in the NFL this year. Just one of their opponents has failed to score at least 20 points this year (Arizona Cardinals in Week 2) and they still ended that game with a loss.
Texans notes – A matchup with the Colts is just what the league's top scoring offense in Houston needs to get a win this week. The Texans have not scored less than 33 points in a game since Week 2 against the Cincinnati Bengals.
Tampa Bay Buccaneers (2-5) at New Orleans (5-2) – 1:00pm ET, FOX
Bucs notes – Of the three road games Tampa Bay has played this year, none of them have resulted in a victory. The last time the Bucs failed to win a single away game in a season was back in 1991 when they finished the year 3-13.
Saints notes – Currently sitting at first in the NFC South, New Orleans is in the driver's seat to win their first division crown since 2011. Two of the last three times the Saints have won the NFC South, it resulted in them playing in the NFC Championship.
Los Angeles Rams (5-2) at New York Giants (1-6) – 1:00pm ET, FOX
Rams notes – New Los Angeles head coach Sean McVay already has his team off to a great start this year. The Rams are also hoping McVay can change the team's recent fortunes when it comes to playing after their bye week. Since 2010, Los Angeles has only been able to win twice during their first game back after having a week off.
Giants notes – Since he came into the NFL in 2004, New York quarterback Eli Manning has never lost a game to the Rams. In fact, the last time the Giants fell to their Week 9 opponent was in 2001 when the Rams were located in St. Louis.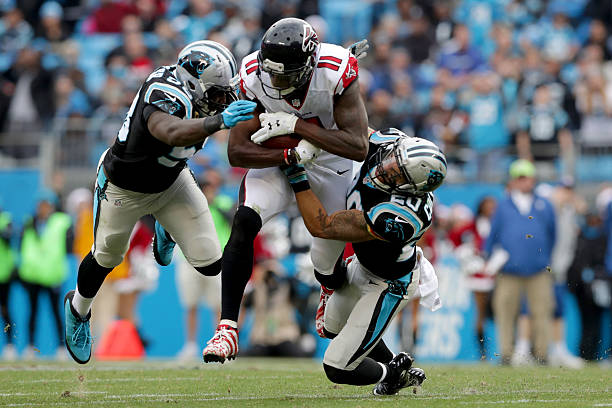 Atlanta Falcons (4-3) at Carolina Panthers (5-3) – 1:00pm ET, FOX
Falcons notes – For the past few years, the Panthers have seemed to have Atlanta's number when the two teams would meet. But this was not the case in 2016 as the Falcons swept the season series between the two for the first time since 2011.
Panthers notes – After an off year in 2016, Carolina's pass defense is back to being one of the NFL's best this season. Other than New England's Tom Brady in Week 4, the Panthers have not allowed an opposing quarterback to throw for more than 230 yards in a game this year.
Denver Broncos (3-4) at Philadelphia Eagles (7-1) – 1:00pm ET, FOX
Broncos notes – Having lost four of their last five games, Denver has decided to make a quarterback switch this week. Starting under center for the Broncos on Sunday will be Brock Osweiler, who has thrown six interceptions and just two touchdowns in his last four career starts.
Eagles notes – Philadelphia's offense has been the driving force behind their success this season. The Eagles' offense has yet to gain less than 300 total yards in a game this year and they have scored at least 25 points in all seven of their wins.
Baltimore Ravens (4-4) at Tennessee Titans (4-3) – 1:00pm ET, CBS
Ravens notes – Last Thursday, quarterback Joe Flacco left Baltimore's game against the Miami Dolphins with a concussion. Despite how bad the hit he sustained looked, it seems like Flacco will be good to go for the Ravens on Sunday.
Titans notes – Tennessee rookie wide receiver Corey Davis is expected to return to the lineup this week after missing the team's last five games with a hamstring injury. The Titans hope Davis can provide a spark to their passing offense which is currently the seventh-worst in the NFL.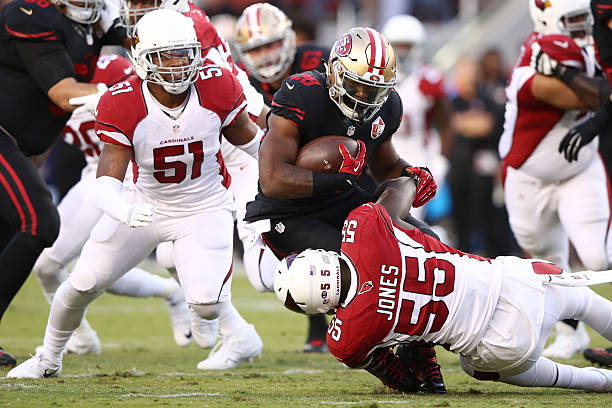 Arizona Cardinals (3-4) at San Francisco 49ers (0-8) – 4:05pm ET, FOX
Cardinals notes – Arizona quarterback Drew Stanton will make his 14th career start this Sunday against the 49ers. Stanton has actually won six of his last nine starts for the Cardinals and he has a good shot to add to that win total when he faces a winless team this weekend.
49ers notes – Do not expect the recently acquired Jimmy Garoppolo to be out on the field for San Francisco anytime soon. Those who follow the team closely think the earliest the quarterback will make his 49ers debut would be in Week 12 after the team is coming off their bye.
Washington Redskins (3-4) at Seattle Seahawks (5-2) – 4:05pm ET, FOX
Redskins notes – DeAngelo Hall revealed to reporters on Wednesday that he will be in action on Sunday for the first time since last year. The Washington defensive back has been recovering from a torn ACL he suffered in Week 3 last season.
Seahawks notes – If not for Russell Wilson's game-winning touchdown pass to Jimmy Graham, last week against the Houston Texans would have been Seattle's first loss at home this season. It should not be too surprising that the Seahawks found a way to win either as they have only lost six games (out of 43) in front of their home crowd during the regular season since 2012.
Kansas City Chiefs (6-2) at Dallas Cowboys (4-3) – 4:25pm ET, CBS
Chiefs notes – Kansas City got back on track with a win last week after two straight losses. However, after gaining at least 110 rushing yards in their first five games (all wins), the Chiefs' offense has not rushed for more than 95 yards in the last three weeks.
Cowboys notes – As of Wednesday evening, Ezekiel Elliott is set to begin serving his six-game suspension from the league this week. However, the Dallas running back could have his suspension postponed once again on Friday if a recent motion filed by the NFLPA on Elliott's behalf is not denied by the 2nd U.S. Circuit Court of Appeals. If so, he would be available to play on Sunday against Kansas City.
Oakland Raiders (3–5) at Miami Dolphins (4-3) – 8:30pm ET, NBC
Raiders notes – A lot of Oakland's success in 2016 came from their defense's ability to generate turnovers (30, to be exact).This season, the Raiders' defense has only been able to force a total of five turnovers. It likely is a big reason for why they have lost five of their last six games.
Dolphins notes – Jay Cutler is expected to be back starting under center for Miami this week. The quarterback is in the middle of arguably the worst statistical season of his career. Cutler is averaging just 165.8 passing yards per game this year, 65 yards below his career average.
Monday, November 6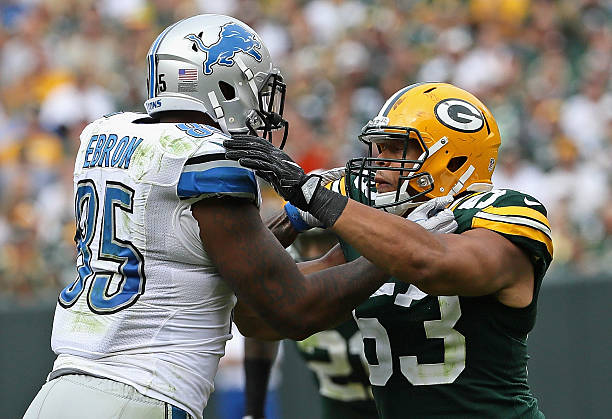 Detroit Lions (3-4) at Green Bay Packers (4-3) – 8:30pm ET, ESPN
Lions notes – Detroit's running game is one of the worst in the NFL this year. Coincidentally, the Lions' highest single-game rushing totals this season have all come in the three games they have won. Crazy how Detroit's offense can actually be successful when Matthew Stafford doesn't have to do all of the work by himself.
Packers notes – Luckily for Green Bay, they get to face a poor rushing offense like the Lions' this week. The Packers' rush defense has been horrible this season as they are allowing their opponents to average 125.7 yards on the ground per game (seventh worst in the league).
[Bye week: Chicago Bears, Cleveland Browns, Los Angeles Chargers, Minnesota Vikings, New England Patriots, Pittsburgh Steelers]