The biggest day of the NFL offseason is here: Draft Day. Around 8:00 pm ET tonight, the Cleveland Browns will be put on the clock they've been on for months and shortly after that, picks will begin to roll in.
As picks are announced, two types of tweets emerge: tweets critiquing and commenting on the pick itself, and some critiquing and commenting on the player's past ill-advised tweets.
We see it happen every single year. A player gets drafted or is about to be selected, and then all of a sudden, past tweets emerge on timelines around the world from the player's high school or early college days. More often than not, these past tweets do more harm than good.
Shortly after he was selected second overall last season, Mitchell Trubisky was smiling on stage with Roger Goodell holding a Chicago Bears jersey. After that, he may have opened up Twitter and saw notifications piling up, not congratulating him, but roasting him for this this stupid and silly tweet from five and a half years earlier.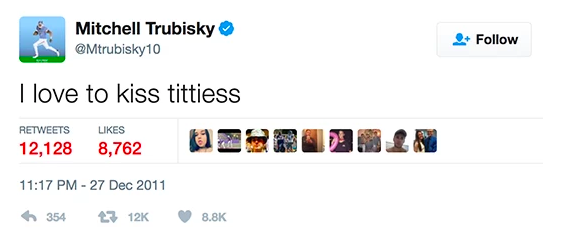 Yeah, that sure does sound like something a 17-year old would tweet. Eventually, the tweet was deleted, likely under the advisement of the Bears' PR staff. But it also begs the question: why wasn't this tweet caught by Trubisky's agency, PR, or publicity team before the draft?
The same situation pops up heading into the NBA Draft. After he was selected 9th overall in the 2017 NBA Draft, Dennis Smith Jr. saw this tweet from his 14-year old self resurface.
The examples don't end there, and this storyline will continue during the 2018 NFL Draft. In fact, it's already playing a role in when players may get drafted, most notably with Wyoming quarterback Josh Allen.
A theory two people in the past hour now have floated: another team plotted to have Josh Allen's racially insensitive tweets put out just before the draft in order to increase the chances he would fall in the draft to that team.

— Adam Schefter (@AdamSchefter) April 26, 2018
First off, that strategy is gross. Second, this continues my search for an answer to a very simple question: why aren't these tweets deleted by a player's agency or publicity teams *before* the draft?
I have never worked at an agency, but I do know people who have worked at agencies as both interns and full-time employees, and they did a lot of coffee runs and other simple tasks during their employment. If there is enough time to have an employee make coffee runs and copies, isn't there also time for employees to find and delete a player's old tweets deleted?
Screenshots can and will be taken before these tweets are eventually deleted, and the internet archive also makes it impossible for these tweets to be truly erased. However, the fact that they are still up on players' Twitter accounts before the draft is extremely confusing.
These are the tweets if anyone wanted to know. pic.twitter.com/763nm7rEhE

— QB & CHUBB NO MATTER WHAT (@PrimeJrSwish) April 26, 2018
That being said, there is one reason I can think of as to why these tweets aren't deleted: teams don't really care about them and the player's agency/PR/publicity teams don't think it's worth it to delete them beforehand.
That could really be it. If the Cleveland Browns passed on Trubisky because of his silly 17-year old self's tweet, that would be another story. However, the chances that was the reason why they didn't select him are zero. If these teams are willing to employ players who have been arrested for domestic violence or other crimes, they truly won't care about stupid tweets from the player's teenage days.
And if that's the truth (which it probably is), the agencies representing these players (and in a way their beliefs) probably don't care either. What ends up happening on draft night is a player gets taken, their old tweets resurface, a couple stories are written about how bad the tweets are are, the tweets get deleted and the news cycle moves on to another topic. This will happen again during the NFL Draft this week, and will probably happen later this year during the 2018 NBA Draft.
Despite this sound logic, it's still comical to me that these tweets aren't deleted beforehand. You would think that a player or an agency would want to avoid this all together. Sadly, this doesn't happen and at some point this weekend, you'll probably open up Twitter and see a very bad old tweet from a new NFL player. Welcome to the internet, folks.