Between announcing his separation from Kristin Cavallari, to documenting a days-long manhunt for a mysterious chicken slayer, Jay Cutler's Instagram account has been a welcome distraction and source of entertainment during the hellscape known as 2020. After a brief hiatus from the platform in early-August, Cutler is back and once again embroiled in an Instagram caper. The stakes? An overdue apology and one cow from his farm.
This whole situation began last week when Cutler received a totally normal DM from a well-adjusted stranger who definitely doesn't take fantasy football too seriously. Essentially this person, we'll call him Aggrieved Fantasy Guy, is still nursing a wound from an undisclosed game in which Cutler scored -2 points, causing him to lose his fantasy football championship.
In any negotiation, you should ask for at least one extra, outside-the-box item. Aggrieved Fantasy Guy settled on an apology… and a cow. Cutler responded with a simple challenge: message him every day for a whole year and "Maybe we can talk."
We're nearly six months into a pandemic, and so I was on tenterhooks awaiting the next development because 2020's vibe is finding new ways to distract yourself from the world burning around you. Plus, I can empathize with losing a fantasy championship game at the hands of a quarterback having an abysmal day (I'm looking at you, Aaron Rodgers).
While Aggrieved Fantasy Guy did not divulge the game in question, my best guess dates back to December 20, 2009 where the Cutler-led Chicago Bears lost 31-7 to the Baltimore Ravens, with Cutler completing just 10-27 passes for 94 yards and three interceptions. If correct, I'm genuinely impressed that anyone still has the emotional fortitude to hold a grudge for over a decade. And I am here for this delightfully petty feud.
The following day, Aggrieved Fantasy Guy was strong out of the gate with all the enthusiasm and commitment of someone starting a new diet. He chose to taunt on Day 2 ("thinking of some names for my new cow") and guilt trip on Day 3 ("today hurts a little more because it's my draft day"). I assume he learned these tactics from my father.     
But by Day 4, enthusiasm seemed to wane and the daily check-in arrived much later, comprising just four sad words:
"This aint (sic) going the distance," Cutler retorted.
On Day 5, the situation was touch-and-go when the afternoon passed without a message. By 8 pm, Cutler took to openly goading Aggrieved Fantasy Guy in his story, just daring him to reach out.
This mocking only intensified when Cutler spotted him online a short while later: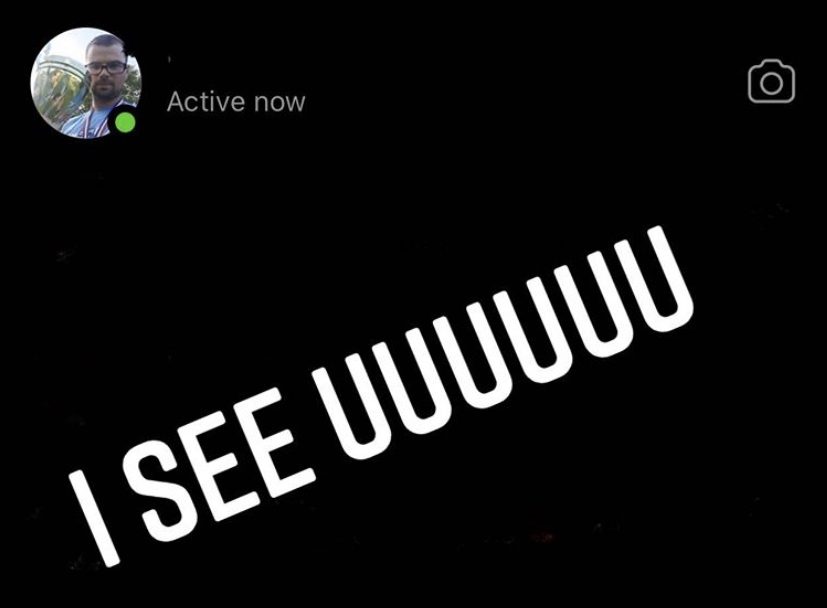 This obviously wasn't a good sign, and I started to wonder if Aggrieved Fantasy Guy had given up (as one does on Day 5 of a diet because fries are delicious), but the long-anticipated note arrived shortly after 9 pm:
This underwhelming line did little to instill confidence, as one message a day for a year seems like a monumental task for someone who nearly forgot before the end of the first work week. I hope this man doesn't have children who depend on him for sustenance.
I waited anxiously for the Day 6 note, constantly refreshing Instagram like some kind of social media junkie. Would the message come early? Late? Would it arrive at all? And, more importantly, has he decided on a name for the cow?
Well, the message did arrive. At 5:37 pm to be exact, and it came in the form of the most pitiful surrender: "I give up, you win." In an ending somehow worse than The Sopranos, Aggrieved Fantasy Guy abandoned the cause just six days in. He didn't forget (as we all expected); he just quit.
I'm sure it won't be long until Cutler is involved in yet another Instagram escapade, and I for one welcome the entertainment, particularly this year. But this fantasy football beef is officially squashed.
Final Score: Cutler: 2, Aggrieved Fantasy Guy: 0.
And while zero points is woefully bad, it's still better than -2 in a championship game.