The Johnny Manziel saga took yet another turn over the Christmas weekend, with another video of the second-year quarterback partying in what appeared to be his house, or at the very least some private property. Manziel is seen drinking a Four Loko while singing to Future's hit "March Madness" with a Mike Evans jersey on the wall in a frame.
Browns head coach Mike Pettine was asked about the video, and said via ESPN:
"These circumstances are different from the incident that occurred before. I'm just not going to go into a ton of detail with it until I get a little bit more information about it, but it's something that I'm sure privately we'll discuss if it needs to be discussed."
In his start Sunday, Manziel went 13-for-32 passing with 136 yards, and threw one pick. The Browns lost 17-13 to a playoff-bound Kansas City Chiefs team. Outside of some fancy scrambling here and there, Manziel hasn't shown too many flashes on the field.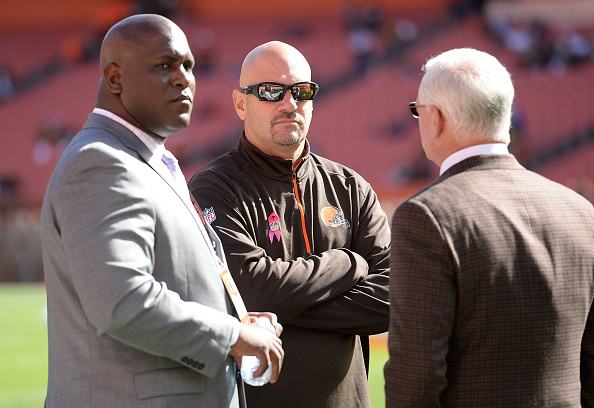 With the Browns as bad as they are, questions understandably loom around the job security of head coach Mike Pettine for his handling of the team this season, particularly the quarterback situation. The video of Manziel on Christmas was not the first video we have seen of the quarterback partying this season. In November, Manziel was seen partying in Austin, Texas with a bottle of champagne in his hand. For that, he was benched.
This obviously came after Manziel spent 10 weeks in rehab last January. Manziel also faced criticism in October after having an argument with his girlfriend that reportedly turned physical. Despite the incidents, Manziel has remained on the team with little to no repercussions, outside of one week on the bench after initially being named the starter.
This really is a no-win situation for Pettine. The team waffled on parting ways with Manziel because of his potential on the field, and because he was was picked in the first round by the team in 2014. The sheer number of incidents and lack of discipline he's shown since being drafted, while still getting a chance to play, shows some indecision on Pettine's part, and the coach's willingness to look the other way if it helps his team win. The only problem is, his team isn't winning.
Maybe the best thing for Pettine's career will be to get fired.
Pettine needs to find a way to get himself out of the Johnny Manziel business, and if the team won't cut him (they probably won't) and there isn't much of a trade market for him, then Pettine will be stuck with the biggest headache in the NFL for as long as they both stay in Cleveland.
Pettine will be able to find a job. He had his successes as an assistant before taking the Browns job. He was key in his tenures with the Baltimore Ravens, New York Jets, and Buffalo Bills on the defensive side of the ball. It just hasn't translated to success for the Browns, especially on the defensive end, where the team ranks 26th in total defense in the league.
With a report from Bleacher Report's Jason Cole saying that GM Ray Farmer is gone, it's clear the new GM will want to hire his own coach. Pettine hasn't shown any reason to be retained, especially the way he's been unable to handle the Manziel rollercoaster.
Depending on how things go, if Pettine is fired, he might see greener pastures away from Manziel. If he has success as an assistant, there's a chance he could get back on the short list for future head coaching jobs sooner rather than later. Even if he doesn't, getting away from Manziel wouldn't be the worst thing for his career by any means.