The most unglamorous of NFL traditions is upon us—firing season, when head coaches, their staffs and front offices are turned over in hopes for a better tomorrow. Typically, only struggling teams make these drastic changes, though winners, such as the 2006 San Diego Chargers, do sometimes undertake such moves.
As of now, six teams are looking for at least a new coach, if not more, for the 2016 NFL season. Here is the Black Monday Fallout and what it means for the teams now hunting for new and improved leadership.

New York Giants
After 12 years as the New York Giants' head coach and two Super Bowl victories, the team and head coach Tom Coughlin parted ways on Monday. In a statement from Coughlin the coach said, "I informed them that it is in the best interest of the organization that I step down as head coach," adding, "It has been an honor and a privilege to serve as head coach of the New York Football Giants. This is a not a sad occasion for me. I have spent 15 years with this organization as an assistant and head coach and was fortunate to be part of three Super Bowl winning teams. A Lombardi Trophy every five years is an achievement in which we all take great pride."
The Giants finished 6-10 in 2015, their third straight losing season and their longest losing streak since the 1970s. Struggles with health both on offense and defense and a lack of quality depth had been plaguing the team in recent years and the whole operation seemed to stagnate under the direction of Coughlin, who is well known for being a taskmaster.
Though Coughlin's resume is an impressive one and his tenure in the NFL long, it was becoming more and more obvious that the game was moving past him, the oldest coach in the league. And no team is going to reward a losing coach with additional job security. It seemed clear, as early as midseason, that Coughlin's seat was hot and that very little aside from a divisional title could cool it off enough for him to remain with the team for another season.
This should be a desirable job for any candidate the Giants choose to interview in the coming days and weeks. Though the injuries and lack of depth need to be addressed, there is an established quarterback in place in Eli Manning, Super Bowl victories not too far off in the recent past and a superstar receiver in Odell Beckham Jr. Expect perhaps a more player-friendly coach to take over, though, simply because NFL teams like to overcorrect in the opposite direction, personality-wise, when making coaching changes.
Also, expect the Giants' brass to place a premium on defensive-minded coaches, given the team's bottom-barrel passing defense and not-far-behind ability to stop the run. Injuries were to blame for some of these woes, particularly in the secondary, but it's clear that this was the team's biggest weakness. Others, though, will be tougher to turn around, such as lackluster play, inability to stay focused through four quarters and the fact that the Giants were only outscored by 22 points this year, meaning they were in close games they could not finish. The Giants need to reestablish a culture of winning under their new head coach, whoever it will be.
San Francisco 49ers
San Francisco 49ers head coach Jim Tomsula has been a never-ending source of amusing quotes and visuals since taking over for Jim Harbaugh in 2015. But that's not enough to save his job. The longtime defensive line coach was a strange choice to promote to head coach last year and the results were much as expected. The Niners finished 5-11 and had enough drama to power an entire afternoon lineup on your local ABC station.
Harbaugh's ouster led to numerous Niners jumping ship, many all the way to retirement from the game. Offseason arrests contributed to more players losses. Quarterback Colin Kaepernick found himself benched, before landing on injured reserve and having to undergo shoulder surgery (other ailments were revealed on Monday as well). In his place? Blaine Gabbert, last seen cowering in Jacksonville. Running backs Carlos Hyde and Reggie Bush landed on injured reserve, as well, and Frank Gore left for Indianapolis in the offseason. Tight end Vernon Davis was offloaded to the Denver Broncos. The Niners were near the bottom of the league in almost every statistical category, on both offense and defense. The Harbaugh era, and the championship-caliber play, was long gone.
Tomsula never had a chance. Indeed, he felt set up to fail, someone who should have been given the title of "interim" head coach while the Niners tried to find the real head coach.
The NFL Network has reported that fired Philadelphia Eagles head coach Chip Kelly and Mike Shanahan, formerly of Denver and Washington, are interested in going to San Francisco in what could be general manager Trent Baalke's final season. There's certainly a lot of rebuilding to do with the shambolic Niners and one of these two control freaks could have a strong enough vision to make that happen. But there's also been a history of disfunction, from the top down in this organization, and a control freak might be too threatening to Baalke and owner Jed York's my-way-or-the-highway manner of running the team. Matt Barrows of the Sacramento Bee reported on Monday that in-house candidates are not a possibility for the Niners, so we can now rule out Eric Mangini and Tony Sparano's potential promotions.

Philadelphia Eagles
The Philadelphia Eagles didn't wait until Black Monday or even after Week 17 to move on from head coach Chip Kelly after three seasons—they did it in the days between Weeks 16 and 17 in an effort to better handle the player fallout. And the press conference held by Eagles owner Jeff Lurie painted a scathing picture of just how poorly the experiment with giving Kelly full personnel control in 2015 went.
So, now with a Kelly-gutted roster, a Sam Bradford at quarterback and a sieve at defense, the Eagles forge on in their search to find a new head coach—a "collaborative" one with an "open heart" to his players. This means that one-week interim head coach Pat Shurmur, Chicago Bears offensive coordinator Adam Gase, Detroit Lions defensive coordinator Teryl Austin, Giants offensive coordinator Ben McAdoo and current Eagles running backs coach Duce Staley, according to reports, are among those the Eagles believe have those qualities that Kelly lacked.
Meanwhile, the front office will need retooling with Kelly's ouster. Former general manager Howie Roseman will not return to his former position, instead remaining vice president of football operations. Tom Donahoe is currently acting as head of personnel on an interim basis but a new personnel director will be brought aboard in addition to a new coach, with all hands working together. The Eagles learned a very important lesson by giving Kelly that much control that quickly; they'll be very wary of repeating that in the future.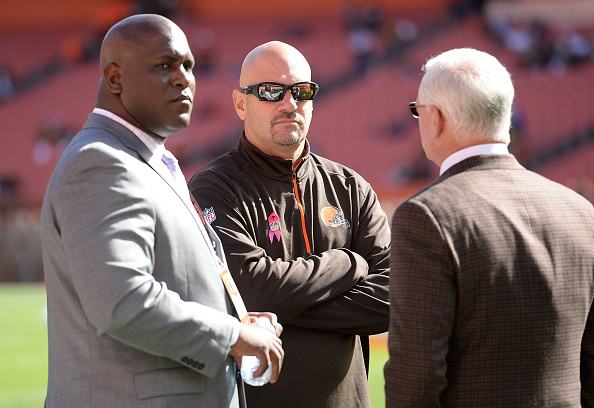 Cleveland Browns
After two years on the job and a combined 10-21 record, the Cleveland Browns chose to part ways with head coach Mike Pettine following the team's loss to the Pittsburgh Steelers on Sunday. General manager Ray Farmer was also relieved of his duties, along with other members of the front office, Morocco Brown and Bill Kuharich.
This turnover is nothing new. The Browns are embarking on their third head coaching search since Jimmy Haslam took over ownership in the fall of 2012 and whoever gets hired will be the team's ninth since returning to the league in 1999. And with the changes come all of the attendant accessories—new coordinators, new scheme, new philosophy, new personnel and a new approach to the quarterback position that could leave Johnny Manziel somewhere in Dallas for 2016.
The Browns have also decided to reorganize how they handle personnel control. Lawyer and salary cap guru Sashi Brown has been promoted to executive director of football operations, and will have final say over the 53-man roster. A head coach will be hired before the general manager, with the coach reporting to Haslam and the general manager, to Brown.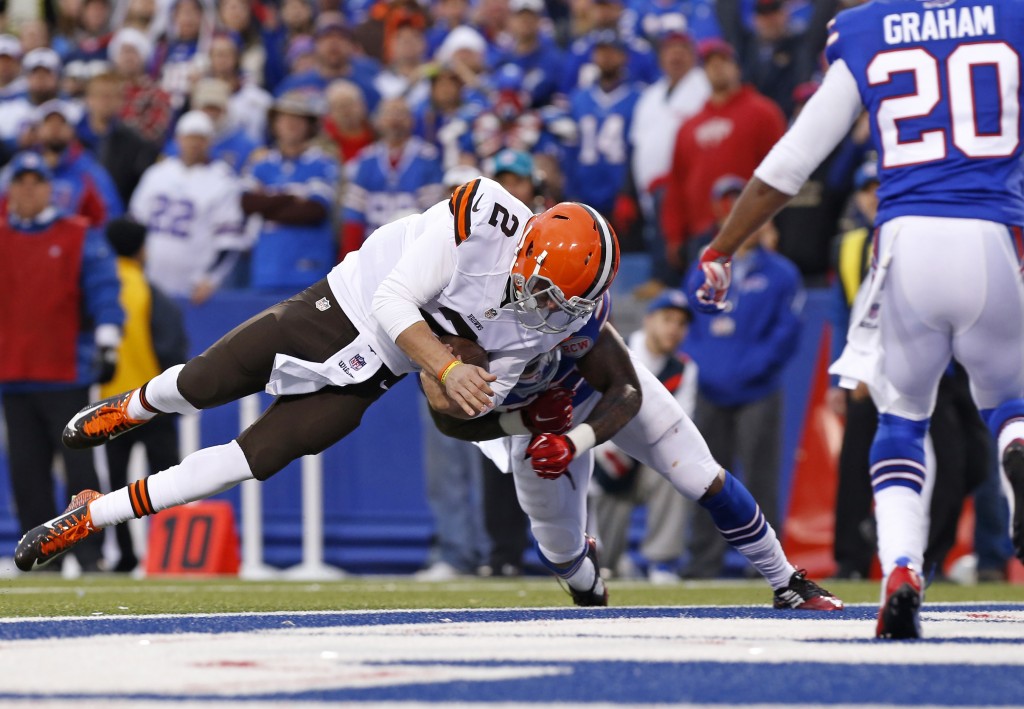 Coaching interviews have already been set up, and the names are familiar—Marrone, Austin and Gase are all coming to town this week, though they are also drawing interest from the other teams with coaching vacancies. The Browns will also interview Patriots defensive coordinator Matt Patricia, according to ESPN's Adam Schefter. Convincing any one of them to take an offer, though, will be tough given the Browns' endless turnover at the top and pressure to win quickly. This is not a desirable job, nor an easy one and it's possible the Browns do as they did with Pettine and Chudzinski before him and settle for a fringe candidate who says yes.

Miami Dolphins
Technically speaking, the Miami Dolphins made their coaching change early, moving on from Joe Philbin following the fourth game of the season and promoting tight ends coach Dan Campbell to interim head coach.
The change had little effect on the Dolphins' 2015, though, with the team going 6-10 after being enthusiastic favorites to unseat the New England Patriots as the AFC East's top team prior to the season's start.
Campbell will have an opportunity to interview for the job. Patricia isn't only coveted by Cleveland, as the Dolphins have him on their interview list, along with the Patriots offensive coordinator Josh McDaniels. Marrone and Austin are also in line to be interviewed, as well as Mike Shanahan and Bills running backs coach Anthony Lynn. Chris Grier, the team's college scouting director, will now serve as general manager, with Dennis Hickey fired last week.
The Dolphins are stuck in a rut between mediocrity and irrelevance, looking upward at not just the Patriots but also the New York Jets and the Bills. Time and time again they have tried to find the right combination of coaching and front office to not just get the most out of quarterback Ryan Tannehill but to improve all facets of the game. After repeated steps backward, the hope now is that the Dolphins can finally make the right choices.

Tennessee Titans
The Tennessee Titans also made an in-season coaching change, dropping Ken Whisenhunt after a 1-6 start and promoting tight ends coach Mike Mularkey. But the Titans ended with a 3-13 record, the top pick in the 2016 NFL draft and a need, much like the Dolphins, to no longer be one of the most overlooked teams in the league.
So, who will be the new coach? No one knows, as of now. Mularkey was confirmed as a legitimate candidate by the Titans themselves on Monday, but with general manager Ruston Webster let go on Monday, it's possible they hire there before moving onto head coach—the opposite of the Browns' approach and potentially the right one. The only caveat is that if the Titans dawdle, they could find themselves unable to make moves for some of the more coveted candidates around the league.

Everyone Else
As Black Monday turns to Tuesday, we're still awaiting word of the fates of Detroit Lions head coach Jim Caldwell and New Orleans Saints head coach Sean Payton.
Chuck Pagano met with Colts owner Jim Irsay on Monday and somewhat surprisingly saved his job on a day several others weren't able to do the same. Irsay was initially hesitant to make any quick decisions about the fate of  Pagano, who was at long at odds with general manager Ryan Grigson and who turned down an (by all reports) insulting one-year extension in 2015, but now the coach has some degree of job security in Indianapolis. Pagano received a four-year extension, and Grigson will be along for the ride. For better or for worse, this is the brain trust in Indianapolis. Perhaps one look at the options available helped spur making this work at the last minute.
Meanwhile, Caldwell's job depends on who the Lions hire to fill their vacant general manager job. And Payton seems to be available—perhaps to the 49ers, Giants or Eagles—but for the right price: A second-round draft pick. We'll soon know if there are any takers for this offer.
This is, to be sure, one of the most depressing times of the year in the NFL. But there are silver linings to these dark clouds—the potential for all of these teams seeking new head coaches to make the right hires and to turn their fortunes around. With the disappointment that wrought these changes also comes hope for the future.
It all comes down to finding the right men for these jobs.