The 2016 NFL season kicks off on Thursday night and Week 1's slate is packed with 16 games that stretch throughout the weekend. With only 16 games on the schedule for each team, every one matters and getting off to a good start is crucial.
But yet — barring ties — half of the league will be winless after Monday night. While it's too early in the season to know exactly what to expect from this week's games, there are certainly aspects that make them all compelling. Here is one thing to watch for in each of the Week 1 NFL matchups.
Denver Broncos vs. Carolina Panthers
The NFL brought out the big guns, as usual, for the traditional Thursday Night season kickoff, this time a rematch of Super Bowl 50. The Denver Broncos dominated the Carolina Panthers en route to winning the Lombardi Trophy, but this meeting could be quite different, thanks mainly to Trevor Siemian taking over at quarterback for the retired Peyton Manning.
However, the defenses are the keys to this game and get top billing in the "what-to-watch" category. For the Panthers, trying to stop Siemian should be easier than Manning in February, but the question is whether Carolina's offense has found a solution to the Von Miller-led Broncos defense that gave Cam Newton such a hard time in the Super Bowl. This is a game about who can affect the quarterback negatively the most often.
Jacksonville Jaguars vs. Green Bay Packers
Aaron Rodgers and the Green Bay Packers' offense will be an excellent test for the reworked Jacksonville Jaguars roster. Jacksonville proved last year that their offense is on the rise, but the defense left the team wanting more. They got that "more" in free agency and the draft, adding veterans Tashaun Gipson and Malik Jackson and bringing on rookies Jalen Ramsey and Myles Jack.
This game also serves as the regular-season debut for defensive end Dante Fowler Jr., who missed his rookie year with a torn ACL. Can the Jaguars build a defensive juggernaut? Staring down Rodgers will give us some indication as to how far advanced they have gotten in their efforts.
Baltimore Ravens vs. Buffalo Bills
The Baltimore Ravens won only five games in 2015, but it wasn't for lack of talent. It was because their most talented starters succumbed to season-ending injuries throughout the year. On Sunday, a vast majority of those injured players will return to the field to face the Buffalo Bills. Linebacker Terrell Suggs, quarterback Joe Flacco, running back Justin Forsett and receiver Steve Smith Sr., will be among those playing after landing on injured reserve at various points in 2015. Meanwhile, receiver Breshad Perriman will be making his first appearance for Baltimore after missing last year with a knee injury. Look for this healthier Ravens team to try to get back on the playoff trail beginning Sunday.
Houston Texans vs. Chicago Bears
The Chicago Bears' starting offense looked downright anemic during their brief stints in the preseason spotlight this summer and the offensive line is still being ironed out. Josh Sitton was just signed after his release by the Green Bay Packers and will now take over the left guard spot. Kyle Long will serve as the right guard, fresh off a shoulder injury.
All of this seems to add up for an opportunity for Texans' defensive end J.J. Watt to feast on Bears quarterback Jay Cutler. While Texans head coach Bill O'Brien hasn't outright said Watt, who had offseason back surgery, will play, but all signs are pointing to it happening. If Watt truly can "play every play," as he said on Wednesday, it could be a long, painful afternoon for Cutler and the men tasked with protecting him.
Philadelphia Eagles vs. Cleveland Browns
There are few things that make for more must-see football than the debut of a rookie quarterback. That's just what is the biggest must-watch when the Philadelphia Eagles host the Cleveland Browns on Sunday. This game marks the first regular-season contest for Eagles quarterback Carson Wentz who, in a clever twist, was only drafted by Philadelphia with the second-overall pick in April, thanks to a trade up with the Browns.
Typically, one would expect a first-year passer to falter against defenses schemed specifically to force him into making mistakes. However, Cleveland's team is about as young as it gets. Two rookies, Joe Schobert and Emmanuel Ogbah, are slotted in as their starting outside linebackers. Wentz may be able to stand tall in his first professional game.
Atlanta Falcons vs. Tampa Bay Buccaneers
It's year two for Tampa Bay Buccaneers quarterback Jameis Winston and all signs seem to indicate that he'll take another leap forward in his development. The first test of that assumption comes on Sunday when his Buccaneers host the Atlanta Falcons, whom the Buccaneers swept a season ago.
The key to a Falcons bounce-back this year is twofold. One is Matt Ryan's ability to be a consistent passer and the other is of more concern to Winston… whether or not Atlanta will have a pass-rush. The Falcons had a league-low 19 sacks in 2015 and haven't looked much improved in the preseason. Without a way to disrupt Winston's ability to throw, the Buccaneers may be able to coast into a one-game lead on a divisional rival.
Tennessee Titans vs. Minnesota Vikings
There is intrigue afoot with the Minnesota Vikings, and that intrigue translates into the biggest thing to pay attention to when they face the Tennessee Titans this week. The issue? Who will start at quarterback for the Vikings now that Teddy Bridgewater is done for the year after suffering a torn ACL and other damage to his left knee on Aug. 30? The Vikings quickly picked up Sam Bradford in trade from the Philadelphia Eagles to supplement backup Shaun Hill and this week the two are splitting first-team reps in practice in order to determine who will get the nod.
Vikings head coach Mike Zimmer said on Wednesday that he will not announce the starter until it's time to suit up on Sunday. The decision doesn't likely guarantee that whoever starts in this game will keep that job into week two. Who Zimmer chooses and how that quarterback performs will be the must-watch aspect of this game.
New York Jets vs. Cincinnati Bengals
Defense will be the name of the game when the New York Jets host the Cincinnati Bengals on Sunday afternoon. Both have strong defensive fronts that have long created havoc for opposing quarterbacks. The Bengals totaled 42 sacks a season ago and the Jets had 39. No quarterback performs well when facing near-constant pressure, so the defense that can make the opposing quarterback crack first will be the one to emerge victorious. In a world where defense can still win championships, these two teams are among the best at it in the league. There are bragging rights to go along with whichever team gets the victory.
New Orleans Saints vs. Oakland Raiders
Drew Brees and the New Orleans Saints should have no problem moving the ball down the field with abandon this season, but that's never been the issue. No, the real thing holding the Saints back season after season has been the defense. At first viewed as a problem with former coordinator Rob Ryan's scheme, Ryan recently pushed back in an interview with the MMQB.com's Jenny Vrentas, saying that the defense was forced upon him and was not of his own design.
Perhaps Dennis Allen can do better on Sunday against an Oakland Raiders offense that at times rivaled the Saints' explosiveness a year ago. Was the problem Ryan, or does it run deeper? We'll be one step closer to knowing after they stare down Derek Carr, Amari Cooper and Latavius Murray in Week 1.
San Diego Chargers at Kansas City Chiefs
Five games into the 2015 season, Kansas City Chiefs running back Jamaal Charles suffered an ACL tear and was placed on injured reserve. Somehow, the Chiefs' run game didn't slow down. Behind Charcandrick West and Spencer Ware, the Chiefs had the second-highest rushing yardage total on the season and led the league in rushing touchdowns with 19. The Chiefs are taking things slowly with Charles and he won't be playing on Sunday against the Chargers. The hope is that West and Ware can again shoulder the load. We'll see if they can keep the Charles-less run game on track in the 2016 season.
Seattle Seahawks vs. Miami Dolphins
The Seattle Seahawks are yet again favorites to reach the Super Bowl, and part of that is because of how completely dominant they play their opponents when on their home turf. The first test of this home-field advantage comes on Sunday afternoon when the Miami Dolphins come to town.
While there are many reasons, mostly Adam Gase-related, to think that this will be a better 2016 for the Miami Dolphins than 2015, waltzing out of CenturyLink Field in week one with a win over Seattle may be a bit above the team's pay grade. But if Seattle wants to continue to be taken seriously as contenders, they must not show signs of struggle on the field where they do their best work.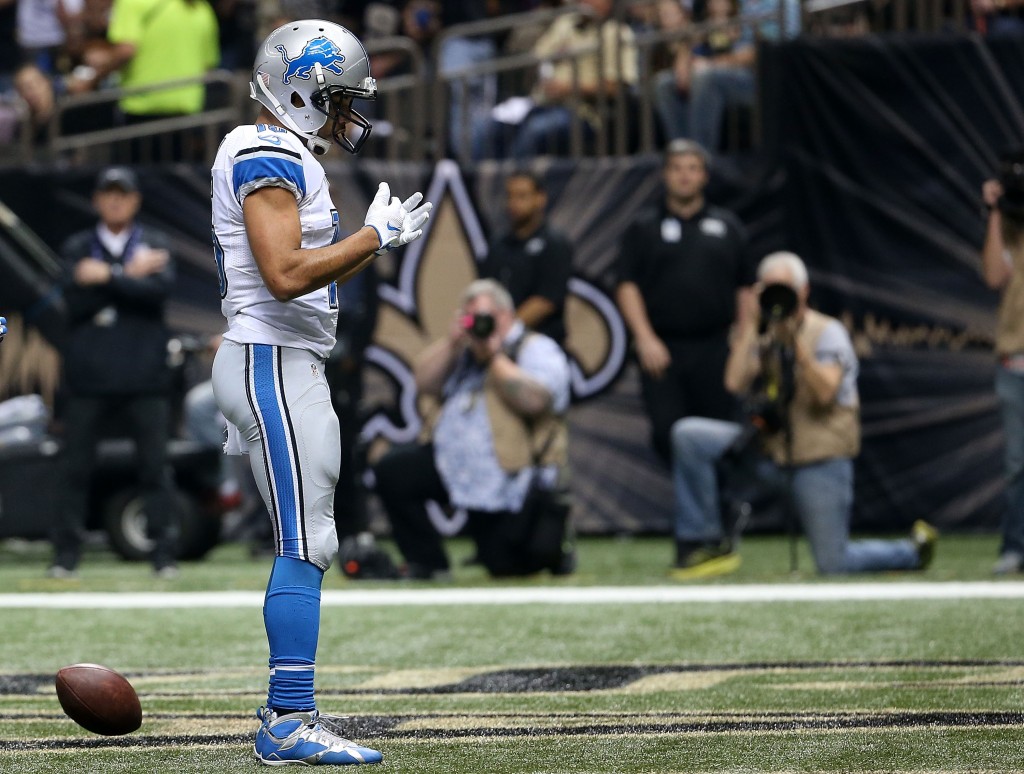 Indianapolis Colts vs. Detroit Lions
The 2016 season marks the first that Detroit Lions quarterback Matthew Stafford won't have the services of wideout Calvin Johnson, but no one on the team is particularly worried. Instead, Stafford is looking forward to what Johnson's absence opens up in the quick-paced offense designed by coordinator Jim Bob Cooter, saying in June that, "There's no guy to key in on. We're probably just going to spread the ball around a bunch, and a bunch of guys will get a ton of catches and we'll be all right."
That "bunch of guys" includes Golden Tate, running backs Theo Riddick and Ameer Abdullah, and free agent signing Marvin Jones. Indianapolis isn't known for its powerhouse defense, so Sunday's game is a good opportunity for the Lions to showcase what a Megatron-less offense will look like this year.
Dallas Cowboys vs. New York Giants
With Tony Romo out for half of the season, if not longer with fractures in his spine, it's the Dak Prescott Show for the Dallas Cowboys for the foreseeable future. The fourth-round 2016 draft pick has looked sharp in the preseason, completing 39 of his 50 pass attempts for 454 yards, five scores, and zero interceptions while taking only two sacks.
The good news? Most of this was with the Cowboys' first-team offense, so he's about as comfortable as he can be going into Sunday's divisional matchup against the New York Giants. The bad news? He was playing against vanilla-schemed defenses that will be nothing like what the Giants will have in store for him on Sunday. Will Prescott be as poised in Week 1 as he was during the month of August?
Arizona Cardinals vs. New England Patriots
While all the focus has been on Jimmy Garappolo spelling Tom Brady for four games while Touchdown Tom serves his Deflategate suspension, one aspect of the 2016 New England Patriots has been overlooked: the defense. It's that defense that will need to step up in Sunday night's road contest against the Arizona Cardinals in order to earn the Patriots their first win of the season.
Cardinals quarterback Carson Palmer is no stranger to taking big hits and getting back up to throw touchdown strikes, but constant waves of pressure still negatively affect his accuracy, as the NFC Championship game from last season illustrated. It's how Palmer handles the Patriots defense and not how well Garoppolo can do his best Brady impression that's the real thing to watch closely on Sunday night.
Washington vs. Pittsburgh Steelers
The Pittsburgh Steelers' Antonio Brown is the best receiver in the NFL. Washington cornerback Josh Norman is one of the best players at his position in the league and in 2015 was the very best. On Monday night, the two will square off one-on-one in what will undoubtedly be a physical battle for both men.
Brown has only played Washington once, in 2012, recording four catches on six targets for 38 yards and no scores. Norman, meanwhile, has faced the Steelers just once, in 2014 as a member of the Carolina Panthers, where he had one tackle in his first action of the season. Needless to say, one of these players is poised to have a big night in Week 1. May the better man prevail.
San Francisco 49ers vs. Los Angeles Rams
For now, Blaine Gabbert is the starting quarterback of the San Francisco 49ers while Colin Kaepernick is the backup. The summer battle between the two was lopsided in Gabbert's favor, however, with Kaepernick battling back from a trio of surgeries as well as a tense period in which Niners management tried to trade him to the Denver Broncos. When and if we could see a change back to Kaepernick as the starter begins on Monday night, when Gabbert faces the venerable Los Angeles Rams front seven.
Gabbert was sacked 25 times in eight games last year, or on 8.1 percent of his drop backs, while the Rams defense reached opposing quarterbacks 41 times and disrupted them numerous additional times. If Gabbert cannot handle the pressure, it may serve as the first step toward Kaepernick regaining his former job.